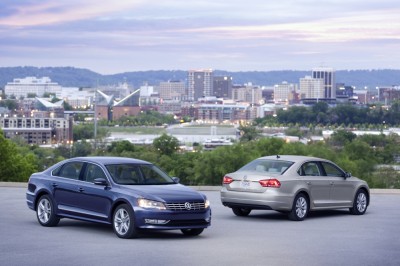 The Passat shows volks its big wagen.
Volkswagen has something big to show you, and it can even be viewed online. No, it's not the "Mini Vader" Super Bowl commercial, although it's pretty bitchin'! You can also forget about naughty pics of naughty politicians. During its recent media launch, VW's P.R. team gave a dissertation that contained references to inches, but fortunately they were discussing the 2012 Passat's longer shadow and not the size of its underpinnings.
Longer than the current model by four inches, the new Passat is sized for America. Nearly all of the additional space is hanging out in the rear compartment. To keep the car from looking like German Chancellor Angela Merkel's stretched A8, the Passat's B-pillar was moved rearward to balance the door widths. The shape is uber conservative and exhibits attention to detail in the way creases are cut through the fuel door, subtle rear spoiler, alloy wheels, and three chrome slats dicing up the grille.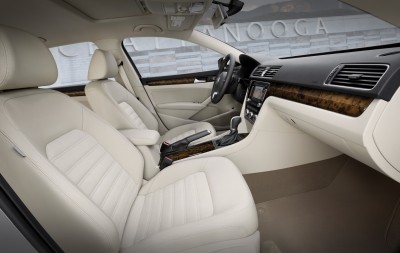 Designers must have had pin-ups of the discontinued VW Phaeton's cabin in their lockers as they contemplated the Passat's interior. Slabs of woodgrain on the dash and console slather visual munchies while soft-touch materials on most surfaces delight the touch. Authentic leatherette or intoxicating cowhide cover thickly-bolstered seats, which are optionally heated and power-adjustable. Large gauges, an analog clock, leather-wrapped steering wheel, and click-click gear selector are spot on, as are standard dual-zone automatic climate control, auto up/down windows, USB MP3 input, and Bluetooth. The net ambience is of affordable wealth.
I could buy a Passat just for the available Fender Premium Audio System. Every note is reproduced to create the raw sound of a live performance, meaning you hear it naturally from front instead of just around your head. The sound is crisp and clear, free of distortion, highlighting every guitar and violin. Nine speakers and 400 watts are plenty to cut through the clutter of exhaust notes and wind noise.
Under the smooth hood is more sweet music from a range of engines that includes a 170-HP 2.5-litre inline five-cylinder, 280-HP 3.6-litre VR6, and 2.0-litre TDI Clean Diesel. VW expects about 75% of buyers to choose the 5-cylinder that achieves 32-MPG Hwy., while only 12% or so will go diesel to enjoy 43-MPG and a nearly 800-mile range! A 5-speed manual transmission is standard; 6-speed automatics are optional.
Power from the five-cylinder engine moves crisply through the gears on the Interstate, but when moving the Passat's mass through mountains, it needs more gusto. Trying to pass a farm truck on a short stretch of Appalachian countryside required prayer and hastened breath. The VR6 is a scream, but the diesel's earth-tugging torque stomps off the line and the engine's turbo allows for easy high-speed running. VW will eventually need a 200-HP four-cylinder that achieves 35-MPG Hwy. if it wants the Passat to truly measure up. Tepid response from the five-cylinder engine is more than compensated by the car's agile chassis and steering that is light on-center, but tightens into corners. You rarely feel the car's heft when dropping curves.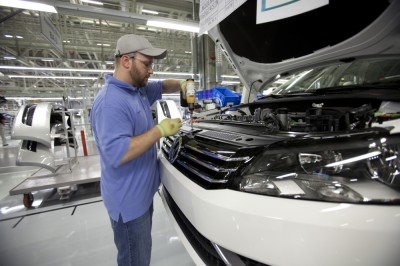 The Passat's Chattanooga, TN factory is as impressive as the car. During the depths of The Great Recession, Volkswagen wagered a cool billion that it could build a domestically-aimed mid-size sedan that could win against straight-faced rivals from Toyota, Honda, and Ford. The approximately 585,000 sq. ft. facility currently has the capacity to build 150,000 Passats annually, but can be expanded to produce up to 250,000 vehicles of three types. A Passat-based crossover would be a fine addition.
Without question, the roomy Passat is every inch a Volkswagen – a serious car you'll likely enjoy very much. Making it easier to take is VW's Care Free Maintenance program that provides service for "non-wear items" during the first 3 years/36,000 miles. A major bonus, prices are nearly $7,000 less than last year and will start under $20,000. Up-level VR6 models with all the trimmings will top $30k.
After a long drive from Chattanooga, stopping in Lynchburg, TN to sample some Jack Daniel's [ice cream], and arriving in Nashville for dinner at the Country Music Hall of Fame, journalists were treated to Grammy-winner Don Schlitz strumming a song he wrote for Kenney Rogers: The Gambler. We'll find out if the Passat makes it into the auto sales hall of fame, but Volkswagen built a very nice car. In any dimension, that should curb most risk. Before buying another car, be sure to compare your wagon to Volkswagen's.