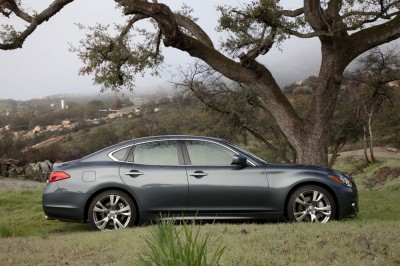 A unique spin on Japanese luxury
Luxury is not just about showing off with an old-world brand.  There's also exquisiteness in style, technology, and exciting performance.  The Infiniti M56 has all three.
Long, flowing front fenders and hood, a coupe-like roof and high tail give the car proportions that stand out on the road and are clearly distinguished from German and American competitors.  You'll also know it by the big chrome grille tucked into its front fascia.  The sculpted deck-lid increases downforce at speed, enables zero lift front and rear, and slips through the wind with an impressive 0.27 coefficient of drag.  Swiveling projector beams up front follow curves, while twin chrome exhaust tips leave other drivers with one last glimpse of the M56 as it dashes away.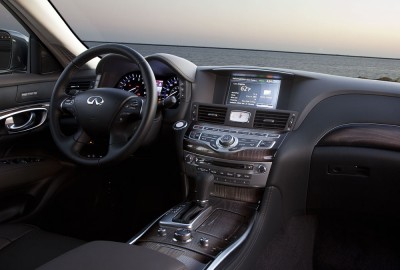 Step inside and the luxury theme continues.  Japanese White Ash wood on the center console, dash, and doors glimmers, thanks to real silver dust being used in its application.   My test car had supple leather in the darkest of chocolate-colored hues, along with heated and cooled front seats. Despite the spaceship command center style of the dash, the large analog gauges in fluted housings, voice controls, and machined metal knobs for the audio system make the controls easy to understand and elegant in appearance.  A Bose 5.1 16-speaker audio system offers crisp and clean sound.
That's only the start of this car's technology.  Active noise control electronically silences the cabin, Bluetooth connects phones, and a USB port wires iPods to the car's controls.  Navigation, audio, and the Zagat restaurant guide can all be accessed by voice commands.  Thankfully, our test car came without Infiniti's too-smart-for-its-own-good blind spot, forward warning, and crash intervention systems.  They're impressive in their use of sensors and cameras, but can drive you batty in city traffic.
You could choose an M with a 3.7-litre V6 or hybrid powertrains, but I'd suggest the 5.6-litre V8.  The engine's 420hp and 417lb.-ft. of torque give you a wide band of power that starts off the line and keeps going strong for as long as you like.  A distant thunder-like rumble from the exhaust encourages driving fun – or at least some lead-footed acceleration – and the 7-speed automatic transmission clicks off gears quickly.  Fuel economy is rated 16/23mpg city/hwy.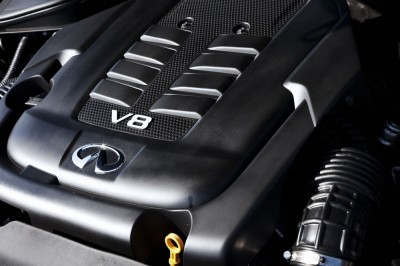 The M56 has a strong chassis to match its powertrain.  Its torque-shifting all-wheel-drive system, firm suspension, and 18-inch alloys provide a good balance between absorbing rough city streets and tackling smooth backroads.  A dial on the center console lets drivers adjust the throttle and transmission mapping for four different driving conditions, including snow and sport.  Although our car was not so equipped, rear-drive models can be selected with a Sport Package that includes 4-wheel Active Steer, a tighter suspension, and 20-inch wheels.
Infiniti has sometimes seemed a step behind rivals.  It tried to copy German automakers, but now appears to have embraced its Asian heritage.  While not a benchmark of the segment, like the Mercedes E550, or as outrageously quick as the 556-bhp Cadillac CTS-V, the M56 offers drivers plenty of luxury and performance with its own unique style.
2012 Infiniti M56 AWD
Five-passenger, AWD sedan
Powertrain:  420hp 5.6-litre V8, 7-speed automatic transmission
Suspension f/r:  Ind/ind
Wheels:  18"/18" alloy f/r
Brakes:  Disc fr/rr with ABS
Must-have feature:  Style, pace
Fuel economy (city/hwy.):  16/23 mpg
Manufacturing:  Japan
As tested price:  $66,925