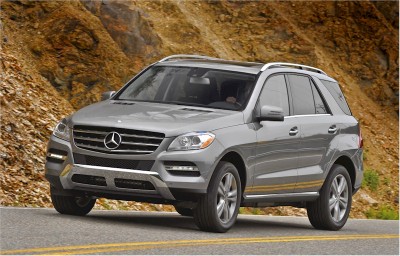 Mercedes-Benz didn't join the midsize luxury SUV craze, they invented it. The first M-Class introduced Americans to the idea that a luxury car could be a durable all weather, all road condition vehicle without requiring it to carry a six-digit price tag. Now, in its third generation, the M-Class has improved by leaps and bounds, shedding the original design's body-on-frame construction, somewhat bland interior, and obnoxious rough ride for a driving experience worthy of the Mercedes three-point star.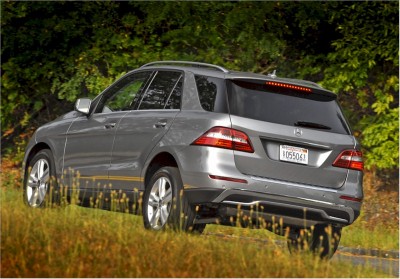 For 2012, the M-Class model lineup remains relatively unchanged, but everything else about the M-Class is new from the ground up. All new sheet metal displays a crisper, more purposeful look, one that seems to share the same aggressive stance as the SLK and S class cars. The grille is also new, as are the tail lamps, pronounced side sculpting and multi-spoke wheels, but the familiar flared C-pillar—a styling cue dating back to the first M-Class—is still in place. I like the look of the new M, but I must admit a fondness for the previous model's front end which I think was more detailed and somewhat more athletic. The 2012 M-Class is also a bit longer and wider than last year's model, which translates into improved interior and cargo space, although there is still no third-row seat.
Under the hood are two engine choices. The first is a 3.5-liter V6 engine that develops 302 horsepower and is EPA rated at 17-mpg city and 22-mpg highway. The second option is 3.0-liter BlueTEC diesel V6, generating a respectable 240 horsepower but a stump pulling 455 pounds-feet of torque. That second number is important because torque is the force needed to move an object quickly from a standing start, as well as pull heavy loads once in motion. Best of all, the new 3.0-liter diesel engine returns fuel economy figures of 20-mpg city and 25-mpg highway. The test cars were all 4MATIC all-wheel drive models, but I suspect the fuel economy numbers for the front-drive M-Class will be slightly higher. (Ed note: see correction in comments below.) As I spent most of my driving time behind the wheel of the diesel, I can say with some assurance that this is the best diesel V6 Mercedes has ever produced. Smooth, efficient and nearly silent (you can't hear the diesel clatter inside the M-Class, but its still audible standing outside the car) the BlueTEC diesel is only a $1,500 option that I would take in a heartbeat.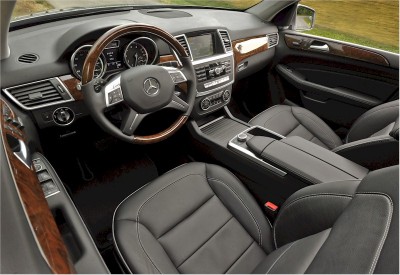 No matter which engine you choose, they are teamed to a new seven-speed automatic transmission with manual shift mode. Although this transmission works well and helps the M-Class achieve maximum fuel economy, I was still able to detect a bit of a lag when operating the manual mode, prompting me to just leave it in drive and let the computer make the all the decisions. Also new is the available Dynamic Handling Package that features a hydraulically-controlled front stabilizer bar that disconnects on straight roads but comes online in the curves helping to reduce body roll and lean. The package also continually adjusts the shock setting and ride height to ensure a smooth yet controlled ride.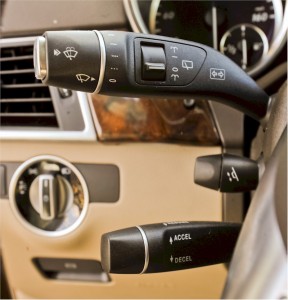 Inside, Mercedes has stepped up the M-Class' luxury look and feel, with more wood trim, a more contemporary looking dash and more detailed stitching on the seats and door panels. The long tradition of placing the cruise control stalk at the 10 o'clock position has been rethought, relocating it to a spot where it is less likely to be mistaken for the turn signal stalk. On diesel models, a laminated windshield greatly reduces noise from the diesel engine, while also shutting out wind and road noise. Of course, luxury features such as a power sunroof, rain-sensing wipers, keyless entry and go, and heated front seats are standard, but you can go hog wild and opt for heated and cooling front cup holders, leather seating, a panoramic glass moonroof, GPS navigation and a 830-watt, and a 14-speaker harman/kardon audio system. Check all the option boxes and your M-Class will run you about $65,000. You can even get an iPad docking station, which I think is pretty cool for just 65 large! Of course, all of Mercedes' legendary safety features are in place, as well as some optional aides such Lane Keeping Assist and Blind Spot Assist.
Look for the Alabama-built M-Class to go on sale this September. The first models to arrive will be the 4MATIC all-wheel drive cars, followed in about 12 months by the front drive variant. A V8 powered M Class should arrive by Spring of 2012 followed by a hybrid model shortly there after.