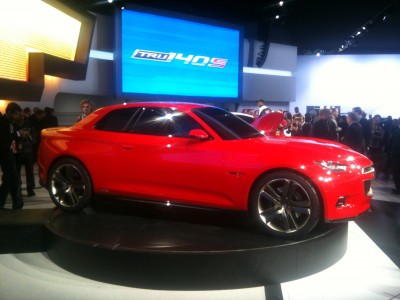 It was a long first day at the 2012 North American International Auto Show — and frankly, day #2 isn't going to be any easier. While I'm gearing up for another series of reveals and interviews, I thought I'd share a few images of rides that caught my eye during the show's first 24 hours.
In the interest of full disclosure, I should mention that I'm a guest of GM at NAIAS. But although I've been scheduled to attend a number of unveilings and to interview many outstanding employees (including GM's North American president, Mark Reuss), the company has also given me loads of time to wander the floor and see what else is going on in the automotive world. Bottom line: I feel like I'm getting a pretty balanced perspective on the Detroit show's offerings.
Here are a few of the more interesting sights so far. There were many, many others, but unfortunately, the huge crowds prevented me from getting clean shots of some of them. Scroll to the bottom for a peek at the gallery.
Audi e-Tron electric car concept: Previous versions of the e-Tron (an unfortunate naming choice, if you happen to speak French), have been based on smaller Audis. This one — modeled on the larger A3 — wasn't drawing much attention because it had already been revealed at another auto show, but a product professional told us that it was the concept's U.S. debut.
Audi R8 spyder: No matter how you slice it, the R8 is a looker. Perhaps best of all, the R8 says "badass" without looking quite as desperate and, um, compensatory as some other supercars (e.g. Ferraris, Lamborghinis, etc.). This model wasn't much different from the existing R8 convertible, but the blue matte paint job was stunning.
BMW i8: If you've seen Mission Impossible (or pics from European auto shows), you've already seen the i8, which is scheduled for model year 2014. We were prevented from actually sitting inside the ride, but even from a distance, it's a thing of beauty.
Cadillac ATS sedan: This reveal took place Sunday night, and it marks the arrival of Cadillac's new, entry-level model. I wasn't initially bowled over — at least not as much as Brett Berk was — but judging from the way that everyone in attendance was swarming to get next to it, the ATS has a very bright future ahead of it. We were told that the ATS will earn over 30 mpgs, which is the best of any Cadillac to date. As an added bonus, the designers have toned down the severity of the creasing. That's big in my book, since some of the recent Cadillacs have looked in need of some editing.
Chevrolet Code 130R concept: This was one of two concept rides designed specifically to appeal to Millennial shoppers. That's a tricky demographic to hit, since studies have shown that over 50% of them don't care much at all about cars. But for the 40% who do, this could be an interesting choice. Still, it's not as interesting as the…
Chevrolet Miray concept: Like the R8 spyder, the Miray wasn't drawing much attention, despite its stunning silhouette. We were told that it had already debuted in South Korea, and that GM wasn't doing much to hype it here in Detroit. In its current form, it's far too "concept-y" to make it into production, but we can dream, can't we?
Chevrolet Tru 140S concept: Like the Code 130R, the Tru is geared toward Millennials. Of the two coupes, I liked the lines of this one better — though since there was no interior to speak of, it was impossible to get a sense of what the whole package might entail. However, both rides fit the key needs of Generation Y that GM identified — namely, their desire to travel and occasionally take friends along for the ride.
Coda sedan: This all-electric ride comes from China, though it's technically built here in the U.S. That pedigree is interesting, but aesthetically speaking, the car is decidedly meh. For now, it's available only in California.
Dodge Dart: Dodge has revived the storied Dart name as a new, small performance sedan (kind of like the old Neon, but butcher). From the way this reveal was talked up, I'd hoped for something a bit more stylish and muscular, but the final product left me slightly underwhelmed. Still, since it's based on an Alfa Romeo, the Dart could be very, very fun to drive. I'd be curious to know what you guys think of the design.
Ford Escape: The new Escape looks great, no question about it. Sitting inside, the cabin felt a little small (and I'm just under 6′), but in fairness, I didn't tinker much with the seat adjustment. The revised model packs a lot of style into something that clocks in just over the $20,000 mark.
Ford Focus Electric: Like the Escape, the Focus looked great — though as far as I could tell, it's practically identical to its more conventional twin. (Maybe that's the point?) And the data indicate it's got a range equivalence of over 100 miles.
Lexus LFA: Nothing new to report here, since the LFA has been around for a while. Still, it was great to see this supercar up close and personal. The center stack screen was perhaps the most interesting part: at roughly 12″ across, it looked like the designers had embedded an iPad in the dash. Size doesn't really matter, but it was impressive.
Smart for-us concept: Smart is tanking in the U.S. market. Maybe it's because the fortwo doesn't perform quite as well as consumers would like, or maybe it's because gas prices seem to have stabilized, so people aren't as keen on small cars. As a result, smart is dreaming up new ways to appeal to American shoppers, and one of those ways is apparently with the for-us concept. The for-us basically turns the fortwo into a truck — a truck that can barely contain a bicycle in the bed. It's cute, but it looks like it's made for Weebles.
Subaru BRZ: In terms of pure aesthetics, this was easily one of the sexiest cars on the floor today. It looked a bit like an elongated Nissan 370Z (which was, by sheer coincidence, positioned about 20 yards away), and the extra length added a lot of oomph.
Toyota FCV: I'm a tech nerd at heart, so I love the thought of a mass-produced hydrogen fuel cell vehicle. We're years — nay, decades — away from the infrastructure needed to make FCVs viable for the mainstream population, but as an experiment, it's pretty exciting.
Stay tuned for more cars from the 2012 Detroit Auto Show tomorrow. I'll also be posting some interviews with GM personnel, who talk about the important role of LGBT workers at the company.