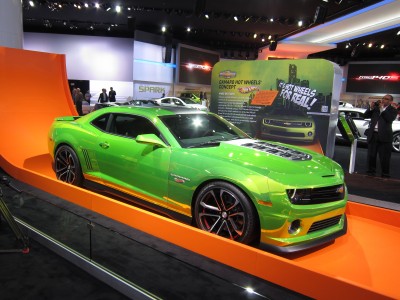 Technically speaking, there are only two press days at the North American Auto Show, but there's so much to see and do in those 48 hours, by the time you leave Detroit, it feels as if you've been here a week. After walking the floor countless times — alone, with friends, and with experts — I'm pleasantly exhausted.
Overall, I'd say that the tone of the show was one of excitement. Though there were a lot of concepts on display — perhaps more than usual — there were lots of very real cars, too, which we'll soon see in showrooms and on the roads. The Buick Encore, Dodge Dart, Ford Fusion, and Honda Accord are just a few new rides that are primed to become popular with shoppers.
I also had the chance to chat with some folks at the corporate level about LGBT equality. While I'm compiling those interviews and collecting my thoughts, have a look at these rides that caught my eye on Day 2. Be sure to scroll to the bottom to check out the gallery. If you missed my Day 1 recap, you can find it here.
Acura NSX hybrid concept: The NSX was killed off around 2005, but Acura may well revive it —  and to judge from the reveal of this concept in Detroit, the press is really excited. The unveiling was backed by thumpa-thumpa electro beats, and there was bona fide applause when the drapes came off (which is kind of a rarity).
Buick Encore: GM sees a growing demand for small SUVs and crossovers, and the new Encore is meant to appeal to shoppers in that market. Since Buick is particularly focused on drawing in LGBT consumers (more about that later), expect to see the Encore make appearances at special events throughout the country soon.
Buick Verano: If the Encore isn't your thing, maybe the Verano sedan will do the trick. We should see more of this one soon, too.
Chevrolet Camaro Hot Wheels Edition: Okay, including this one is pretty gratuitous. But scroll down and check out that paint job. Who wouldn't like a blazing green Camaro?
Chevrolet EN-V concept: If you keep up with the  auto news, you've probably seen the EN-V concept before. It's meant to be a people-mover for urban areas, and it runs on electricity. The EN-V is designed using a system of gyroscopics, so it's a little like motoring around in a two-seater Segway. Added bonus: it's autonomous, so once you tell it where you want to go, you're free to relax and check out Facebook.
Ford Fusion: This is a real beauty of a sedan — and it's great to see Ford develop a vehicle with true global potential. Personally, I was never blown away by the previous Fusion's design, but this one's entirely pic-worthy. And no, you're not the only one who sees more than a hint of Aston Martin in that grille.
Honda Accord coupe: Honda has suffered a few dings lately. In particular, the revamped Civic took a lot of hits thanks to its low-budget interior, and Honda has fast-tracked a refresh to fix it. The Accord coupe keeps Honda moving in the right direction. The lines of this model are great, and I wish you could seen that paint job in person. Jungle red!
Honda Fit EV: One of Honda's most highly praised models in recent memory is ready to be electrified. We couldn't imagine a better car to meet that end: the Fit is cute, it's got personality, it's very safe, and it's just the right size.
Maserati Kubang concept: Maserati is owned by Fiat, which also owns Jeep. Which explains why Maserati rolled out an SUV concept based on the Jeep Grand Cherokee. Nice, but will it see the light of day? If it does, let's hope Maserati finds a better name for it.
Mazda Miata Spyder concept: This hot little number rolled out in November at SEMA, but it's the first time I've gotten to see it in person. Like the Miatas that already roam the roads, it looks like a real blast to drive — though perhaps not in Detroit in January.
Scion FR-S: For years, Toyota and Subaru have been working together to develop a new sports car. Now, each company has officially rolled out its own version of the mythical "Toyobaru": Subaru's was the BRZ mentioned yesterday, and the FR-S is Toyota's model. The lines are strong and very sexy, and it borrows Subaru's flat-four engine for the powertrain. We're not sure how big a seller this will be, but it's sure to be a halo car that will pull non-owners into Scion showrooms.
Mercedes-Benz SL300 vintage: The vintage SL300 is drawing a lot of attention these days. For starters, Mercedes-Benz won its first Le Mans race 60 years ago, and it did so in an SL300. It was also a popular car among the Hollywood elite, including Natalie Wood, whose accidental death case was recently reopened by the LAPD.
Mercedes-Benz SLS AMG roadster: I suppose there's nothing special about the SLS AMG — except, of course, it's a work of art. The fuel economy of 14 city/20 highway is pretty dreadful, but if you've got nearly $227,000 to blow on a ride, that's probably not a concern.
Tesla Model S: This is Tesla's newest electric car, and it's set to be fairly competitive with other electrics on the road. At roughly $50,000, it's around $10,000 more expensive than the Nissan Leaf and the electric hybrid Chevy Volt, but it's full of luxury touches to justify the extra dough. Also, the battery pack can be upgraded to offer a range of 300 miles — far more than other EVs — though that upgrade pushes the price well beyond $70,000.
Toyota NS4 concept: This plug-in hybrid is a real looker. Around the same size as the Ford Fusion, we'd much rather see folks motoring around in this sleek sedan than the Toyota Avalon, which can be a little dull. Like the Accord coupe mentioned above, the paint job on this was a knockout — provided you like plums.
Volkswagen E-Bugster concept: German automakers have been late to the hybrid and electric vehicle game. (Remember when Audi's head honcho called the Chevrolet Volt "a car for idiots"?) And yet, here we have Germany's largest automaker debuting yet another electric concept. (Audi launched its own e-Tron concept some time ago.)  The irony, she is sweet.