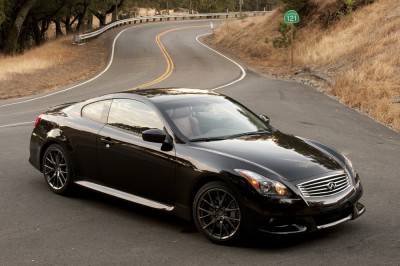 I enjoy the Nissan 370Z, but its hyper-tweak personality can wear me out. Revving the engine to a scream and lighting up the tires makes me giddy, but constantly getting thrashed by the suspension is a bit much. I can think of a number of more entertaining ways to get thumped that don't require a sports car. Coffee down the front of my shirt, throbbing headache, sore…never mind. There's not even a rear seat. Point is, I could go for sports car fun without all of the sports car drama.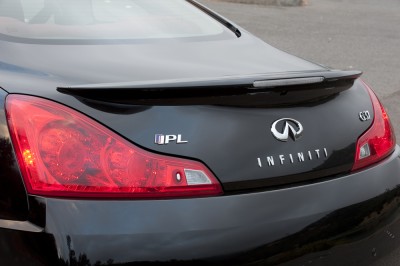 That's kinda the point of the Infiniti G37 IPL Coupe. It has the guts and glory of its more rambunctious sibling, but with a more compliant suspension, leather-lined cabin, four-place seating, and a trunk large enough for you and your sweetie to have that weekend away. It's for the 30- or 40-something who isn't ready for an old queen's home, but wants comfy digs.
Find the fun pedal to see how they take their 348hp 3.7-litre DOHC V6. That's as much power as a 5.7-litre V8-powered C5 Corvette and 18hp more than a non-IPL G. Infiniti's 7-speed automatic transmission might be the best choice in traffic, but that's for old people. I'd choose the firmly-clicked six-speed manual for my daily sugar. Clutch take-up is aggressive and requires attention; my partner killed it four times getting out of our driveway and I almost face-planted leaving a stoplight. Fuel economy with the manual transmission is rated 17/25 mpg city/hwy.
From the curb, neophytes would be hard-pressed to believe the Z and G have similar chassis and powertrains. Zero-lift front and rear aerodynamics, 19" graphite-finish alloy wheels, and dual chrome exhaust tips are mostly functional, but also to backlight a gentleman's style. You know the IPL is fast, but it could roll up in front of the Ritz-Carlton without embarrassing itself, too.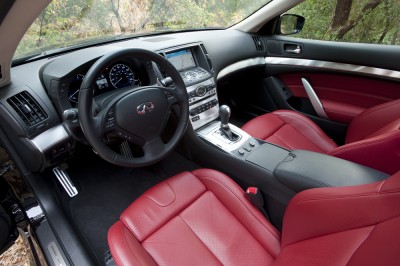 The G37's interior fits like custom sneaks. Extendable seat cushions fit almost anybody and gauges go up and down with the adjustable steering column. Navigation, USB, Bluetooth, Bose audio, and rear view camera are all here, but everything is simple. Large knobs on either side of the center stack actually control the volume and tune the radio. Amazing! Big knobs below have slivers of blue and red behind them so one can easily adjust the climate control. Aluminum kick plates add class.
Each IPL model has its own personality. The sedan has all of the coupe's style, but it's the sport sedan BMW would build if it were based in Japan. Convertibles, mostly due to their heavy hard tops, feel more substantial and luxurious with real wood inside. Coupes are only a little polish removed from the Nissan Z.
This Infiniti's problem is the same as every Infiniti's. How do you convince BMW, Mercedes, and Cadillac drivers to give it a try? Everybody makes his own choice, but none of those has the pure sports car feel of the G37. Hopefully, that's enough to watch $50,445 levitate from your gracefully-aging wallet.
Infiniti G37 IPL Coupe
Four-passenger, RWD Coupe
Powertrain: 348hp 3.7-litre V6, six-speed manual transmission
Suspension f/r: ind/ind
Wheels: 19"/19" f/r
Brakes: 4-wheel disc/ABS
Must-have feature: Power, style
Manufacturing: Japan
Fuel economy: 17/25 mpg city/hwy
As tested price: $50,445