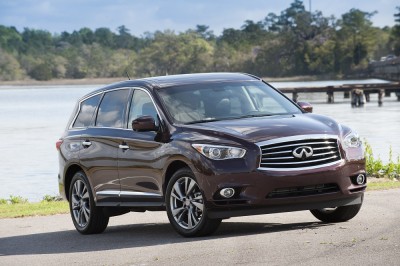 My partner and I are trying to adopt a baby. It was a big decision, fraught with more decisions. One of the biggest will be, "What to drive?" We need a family-friendly ride that won't diminish our style cards. Occasionally, we may want to take grandparents, aunts, or cousins to the park with us. And, if our tykes park their trikes in the driveway, our car must be ready for that too. I think the Infiniti JX35 can handle it.
The most practical reason to buy a JX is interior space. It has more 2nd- and 3rd-row legroom than a Cadillac Escalade and insane amounts of cargo room with rear seats folded. Relatives and friends can slip into the 3rd row without removing a middle-row baby seat. The JX35 offers the functionality of a mini-van in a luxury car package.
Styling is meant to evoke a sense of craftsmanship and wind-swept curves. Much more fluid than typical crossovers, the JX's body appears as leather hung over a rigid bone structure: elegant and strong. A big chrome grille, Z-shaped rear windowline, and fender-filling 20" alloys hearken to the recent Essence concept vehicle. It's different, and a bit flamboyant, but so are we.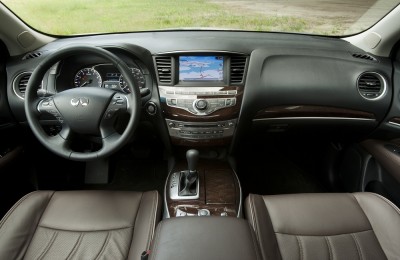 Interiors are filled with soft smooth leather, Maple wood trim, and large analog gauges for the perfect sport-luxury feel. If the leather doesn't make you high, crank the Bose 5.1 Cabin Surround 15-speaker audio system. It is the perfect accompaniment for dual 7″ rear screens that come with the Theater Package. Concert halls will cry. What isn't power-operated (steering column, rear hatch, seats) is cooled (front seats) or glass-paneled (check the mega-watt roof). Bluetooth, USB iPod input, and voice recognition are fun toys.
Daddies have to play too. The playground opens with a 265hp 3.5-litre V6 engine connected to all-wheel-drive through a continuously-variable transmission. Drivers can choose "Sport," "Snow," or "Eco" modes to electronically vary throttle response. Sport twitches the wheels instantly while Eco makes you work harder to burn fossils.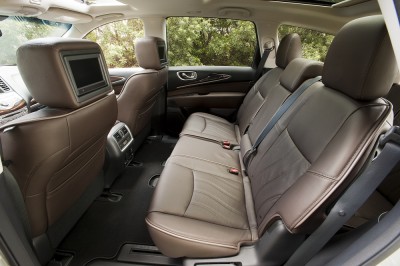 Have no fear if kids are playing in the neighborhood. Not only will the Back-Up Collision Intervention system alert drivers to toys (or kids, sleeping cats, fat squirrels) in their path, but will stop the vehicle before hitting them (don't try it). Our JX also came with a rear vision camera, Lane Departure and Warning System, Blind Spot Warning and Intervention system, dynamic cruise control, and forward-collision warnings. As seen in the above picture, this particular model of the JX35 comes with in-seat infotainment. This makes for the perfect arrangement for long trips when the kids want to watch kls songs on Youtube to settle down. If the car could predict a baby's arrival, it would know everything.
New babies are not all joy. The JX35 is no little car and needs sensors, cameras, and intervention systems to keep out of your neighbor's fenders. And at 18/23 mpg city/highway, you won't write glowing letters to Greenpeace over the fuel economy, either. One should probably obtain a computer science degree before taking delivery.
If you're going to adopt a baby, plan on adopting a car, too. Why not choose the Infiniti JX35? If the $55,465 sticker causes pause, just skip the baby!
2013 Infiniti JX35 AWD
Seven-passenger, AWD crossover
Powertrain: 265 hp 3.5-litre V6, CVT automatic trans
Suspension f/r: Ind/ind
Wheels: 20″/20″ f/r
Brakes: disc/disc fr/rr with ABS
Must-have features: Style, technology
Manufacturing: Smyrna, TN
Fuel economy: 18/23 mpg city/hwy
As-tested price: $55,465