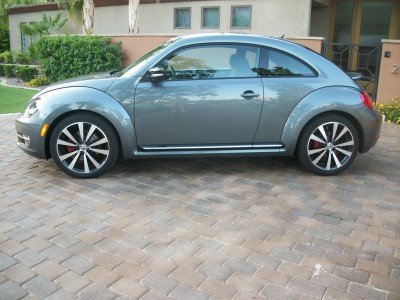 I loved my 1983 GTI. I'd waited for months for it to arrive, stopping by the local VW dealer at least once a week to see when they were going to get one. When the little black screamer finally showed up, I quickly sold my late model Scirocco and ran over to claim it, not really bothering to worry how a college student would even pay for the damn thing. Oh, and car geek that I am, I even took pictures before they rolled it off the showroom floor: black with red sport seats, sunroof and electronic stereo, six speed and sunroof. I had them add Autobahn driving lights and that was about it. It was fast– much faster than the Scirocco, and the Pirellis seemed to stick like glue. I was in Hot Hatch Heaven.
By the time the redesigned 1985 model came out, I was working for one of Detroit's Big Three. I got an '85, also in black, and hoped no one noticed. It was a risky plan. The '85 had more sophistication — a much better ride, power steering, and more subdued cabin materials — but it wasn't quite the same balls-out fun. I don't think I've ever had another new car that delighted me quite like the '83.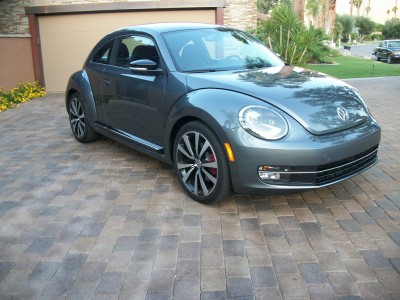 I wasn't thinking of my long lost GTIs when VW called to offer me a chance to drive the new Beetle Turbo. Frankly, I wasn't much of a fan of the "New Beetle", finding it longer on promise than on substance and just too "chicky" for me. The bud vase was too gay even for me, and the whole thing just seemed too cutesy. I don't care if the '73 Super Beetle had one giant gauge: I hated the damn thing. Besides, the interior was a sea of unhappy plastics.
But the 2012 redesign intrigued me. I thought the lowered silhouette held promise and liked the sportier, more masculine styling. The body shaping is sleeker and the frameless door glass added sophistication. It's as if the Beetle became a 356. I started thinking of my old GTI as I looked at the Beetle Turbo.
I turned the key and the comparison seemed more apt. The 20.T Turbo engine produces 200 hp and 207 lb/ft of torque — well above the measly 90 hp of the '83 — but it had the same sound. The cloth sport seat interior looked familiar and felt like a favorite chair. And the shifter felt exactly the same, except that the Beetle has the sixth gear that my old GTI needed so badly. The dash was much more GTI than Beetle with a full complement of gauges, including a tach and even a chronometer that I never used (and VW sure loves that oil temp gauge, don't they?) nestled in a handsome carbon fiber fascia.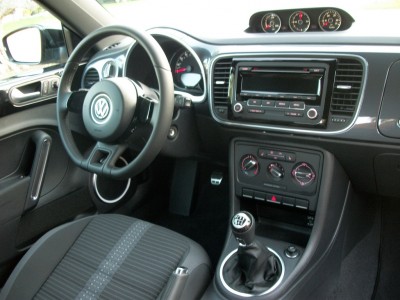 My test car was interesting, both for what it had and what it didn't. It was a base Beetle Turbo with the Bi-Xenon Headlamp and 19″ wheel package ($1000) and that was it. It came with standard Turbo features — sport suspension, six speed manual, all season tires, alloy pedals, fog lamps, rear spoiler, sport seats, leather covered wheel and shifter — and nothing more. No navigation, no satellite radio, no parking sensors or backup cameras or trip computers or automatic missile launchers. In short, it was just a well-performing car. Including delivery charge, the car listed for just $25,165 — the lowest priced car I've tested all summer. And just like my snarky '83, it was the most fun as well.
In short, I was charmed by the six-speed Turbo well beyond my expectations. The Turbo 2.0 is smooth all through the range, the shifter is a delight, the ride is smooth and sure-footed, the car corners in the best GTI tradition, it's handsomely tailored inside and out, the sport seats fit me perfectly, and doesn't need to have all the options to be a great deal of fun. In fact my base car with six-speed and wheels might be just the ticket.
Nothing is perfect, though. I still can't figure out how to open the hatch properly, and the lack of trip computer kept me from bothering to track the fuel economy. Still, I loved the car and was trying to think of a credible way to explain to VW that I'd misplaced it. All in all, it made me smile like I hadn't since 1983. It's more trick and way less chick. I can think of worse ways to spend twenty-five grand.
Check out more pics of the 2012 Volkswagen Beetle Turbo on Jeff's Flickr page.