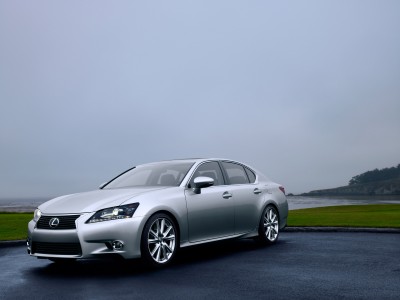 Lexus has always been about restrained decadence. It's the luxury brand for those who want cocoons of excellence without the ostentatious flare of American and German marques. But like Audrey Hepburn in My Fair Lady or the clueless bros on Queer Eye for the Straight Guy,  if you dress a Lexus in a new grille, slap on some alloys, and wire in LED taillamps, you get a hottie worth taking home. Re-designed for 2013, the Lexus GS rolls into its new skin.
The GS' first outing was the Concours d'Elegance in Pebble Beach, CA — a decadent palace of pleasures encrusted with the world's finest classic motorcars. Yet, somehow, the new GS with Lexus' trademark "spindle" grille, S-shaped rear windowline, conservative profile, and 17" alloys seemed unfazed by its surroundings. The sedan is not the style-hound of previous generations, but put it alongside the Infiniti M37, Mercedes E350, BMW 535i, or Cadillac XTS, and it still carries itself well.
Decadence rages inside. My partner nearly dropped coffee over the widescreen display that takes a full third of the dashboard. The heated and cooled leather seats with extendable cushions, stitched-dash coverings, wood and leather steering wheel, and big comfy heated rear seats are for made princes (and princesses). So are the cabin-filling audio system, three-zone automatic climate control, Bluetooth, heated steering wheel, rear sunshades, and backing camera.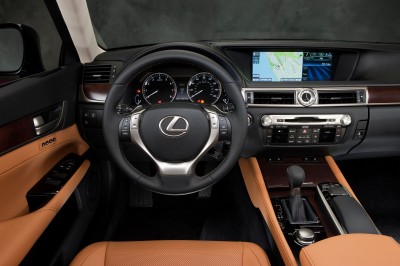 I'm not so much a fan of the mouse-stick controller that works in conjunction with the big screen. Haptic feedback lets you know when you've selected a function, but should we be encouraging anybody to use a mouse while driving? Lexus seems intent on rolling out this system on every model. Buttons work just fine. Fortunately, that's only the preamble to an otherwise enjoyable ride.
Step on the throttle and she's a screamer. No longer available with a V8, the new GS checks itself in this environmentally-conscious age and moves about with a standard 306 hp, 3.5-liter V6 that romps from 0-60 in a scant 5.7 seconds on the way to a 144 mph top speed. Rear-drive is standard, but you should go full-on and check the box for all-wheel-drive. Fuel economy is rated 19/26 mpg city/hwy.
As is often the case, you can have a lot of fun with this up-tight conservative by twisting its big knob and pressing its buttons. Turn the big aluminum dial in the center console to the right for "Sport" and "Sport+" modes, to the left for "Eco", or pump it for "Normal". Sport modes make the throttle more sensitive, tighten the steering, and firm the electronic suspension. Eco makes your right foot work harder for its reward and saves fuel as a result. Normal is perfect for daily driving, keeping the steering light as the suspension floats over highways and potholes. It's like having three dates at once.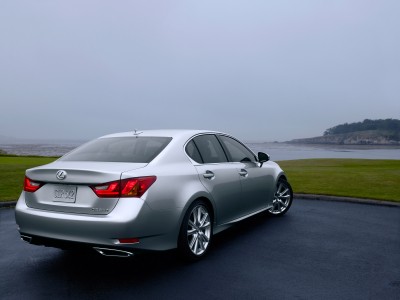 At first glance, the GS 350 isn't especially exciting. The interior is sumptuous and its engine is powerful — just like other luxury cars. However, like other Lexus models, the car's beauty and overall competence are hard to deny. It defines responsible decadence. Our loaded GS 350 AWD with the Luxury Package came to $59,759.
Storm forward!
2013 Lexus GS350
Five-passenger, AWD sedan
Powertrain: 306 hp, 3.5-liter V6, 6-speed automatic transmission
Suspension f/r: Ind/ind
Wheels: 17"/17" alloy f/r
Brakes: disc/disc fr/rr with ABS
Must-have features: Seats, chassis, 0-60 mph: 5.7s
Top speed: 144 mph
Fuel economy: 19/26 mpg city/hwy
Assembly: Japan
As tested price: $59,759