Note: This is a guest post from one of Gaywheels' newest contributors, Elizabeth Archuleta. You can follow Elizabeth on Twitter at @Thoughtwoman, or on her blog,cassiehack.
* * * * *
In the July 9 issue of Automotive News, J. Mays declared that retro designs for automobiles have become passé.
Why should that matter? Because this announcement comes from the very man who spawned a huge retro trend with his 1998 design for Volkswagen's New Beetle. The popularity of that design led to other retro-tinged imitations, such as BMW's MINI Cooper, the Fiat 500, the Chevrolet Camaro, the Dodge Challenger, and many, many more.
Mays doesn't clarify what he means by "retro", but I can safely guess that it involves a redesign of something created 15 to 20 years earlier. The "retro" aesthetic combines past and present in ways that make end-products resonate with longtime fans while simultaneously turning the heads of potential new customers.
I disagree with Mays' proposition. We live in a jumbled age of rapidly changing technology, and companies of all sorts can benefit from the comfort that nostalgia brings. Vinyl records are being manufactured once again. Younger consumers purchase old-time landline handsets for their mobile phones, rather than futuristic, Borg-like Jabra earpieces. So, is it really safe to say that nostalgia is passé when it comes to cars? I don't think so.
Apparently, Volkswagen doesn't think so either. Even after its gender-reassignment surgery, the more masculine looking, 21st-century Beetle maintains a retro look, clearly hearkening back to the New Beetle's much-beloved design.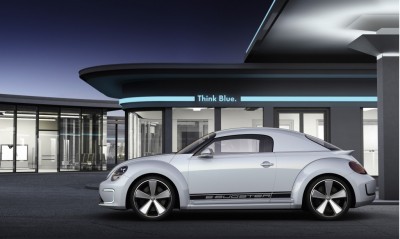 And that's not all. VW is continuing to play the retro card with the "future-retro" design of the E-Bugster, a concept electric car that Volkswagen introduced at 2012 Detroit Auto Show. In the E-Bugster, retro-future design combines the past and the present, but takes advantage of future technologies.
The E-Bugster offers zero emissions, a lower roofline, and seating for two. What makes it retro-future is its "combined charging system", which means that it's an electric car that can recharge its battery using a single-phase AC outlet, or it can recharge in as little as 35 minutes using an ultra-fast DC charging station.
Ironically, even as the Beetle silhouette moves further into the future, its body style has begun to resemble — at least in my own mind — the even-more-retro Chrysler PT Cruiser, a once-popular model that has since died a thousand deaths.
Hopefully, VW will remember what customers find compelling in the Beetle, which is exactly what Chrysler forgot about the Cruiser and ultimately let to that model's demise. In the best of all possible worlds, the Beetle will continue to walk a fine line between retro and modern, nostalgic and fashion-forward — all while being careful not to mimic the look of other cars.