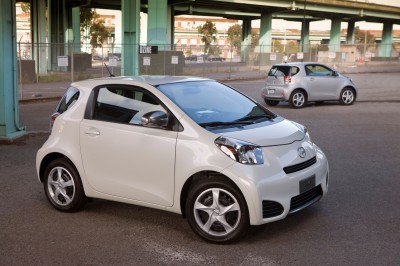 Scion calls its tiny iQ "the world's smallest four-seater", which is like calling a tent with a zipper porch "the world's smallest mansion". It's a stretch for a car that is so shrunken. The back seat is more like a padded shelf, barely large enough for an elf and his iPad. But unlike the iQ's closest competitor, the Smart fortwo, there's at least a backseat — and a lot more.
I couldn't wait to borrow the iQ because I own a Smart. I love my little car no matter what other people think. Sure, it gets blown around in the wind, has just enough space for two with light luggage, and is no friend of snow. The question is, "Does Scion offer a better micro or just a too-late copy?"
Many people confused the iQ with a Smart, often shooting it a grimace as they crept past. The front looks bulldog cute, tough and streamlined with high-set headlamps, a sporty bumper, and swept glass, while the side profile is funky with its curved rear window. Colors like Blizzard Pearl, Hot Lava, and Black Currant Metallic sound sexy, but plastic bikini hubcaps over steel wheels are dollar-store tacky.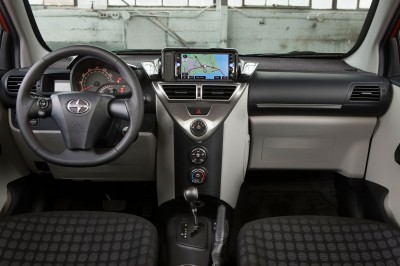 For such a teeny tot, the iQ's cabin feels roomy: front passengers have an enormous amount of legroom. Seats are typical Toyota foam thrones with futuristic fabric, and the winged center dash pod looks like Batmobile offings, but the thick, flat-bottom, leather-wrapped steering wheel is impossible to resist. Check the options list for 200-watt Pioneer audio, USB, navigation, and Bluetooth for hands-free calling and streaming audio. Knee airbags and the first-ever rear-window airbag come standard.
Having spent over 18,000 miles in my Smart, I couldn't wait to hit the road. During 500 miles, the iQ went to an air show, stirred up rednecks in a campground, and rolled to Chicago for the Chevy Spark preview. The continuously-variable transmission (CVT) sounds like a screaming baby being whipped by a blender, but it gets the 1.3-liter four-cylinder's 94hp to the front wheels expeditiously. Cruising at 80 mph was almost serene, with power in reserve. Fuel economy of 36/37 mph city/hwy sugars the muffin.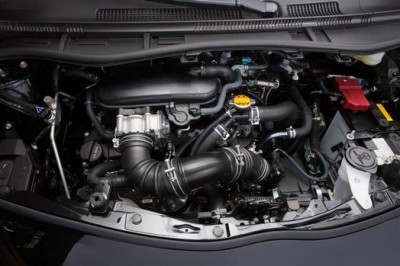 If you're a micro car neophyte, the iQ will seem incredibly light. To me, it feels more substantial, less sensitive to crosswinds, and better settled at high speed. The car can be tossed into corners without becoming tippy. Credit a lower center of gravity and wider track. I could do without the electric power steering system, but that's just me being old-school. I can only imagine that the front-drive architecture, assisted by traction and stability control, will blitz winter snow.
If you're second to the party, you better be first in execution. The iQ is close. It's not really a four-seater, but ample power, stable handling, and Toyota's reputation for quality win friends. To me, it feels less special than my Smart, but it's probably the better choice for most everybody else. A base price of $15,265, or $17,189 as-tested, puts the iQ within grasp of almost anybody.
2013 Scion iQ
Four-passenger, FWD hatchback
Powertrain: 94hp 1.3-liter I4, CVT automatic transmission
Suspension f/r: Ind/torsion beam
Wheels: 16"/16" steel f/r
Brakes: disc/drum fr/rr with ABS
Must-have features: Size, style
Fuel economy: 36/37 mpg city/hwy
Assembly: Japan
Base/As-tested price: $15,265/$17,189