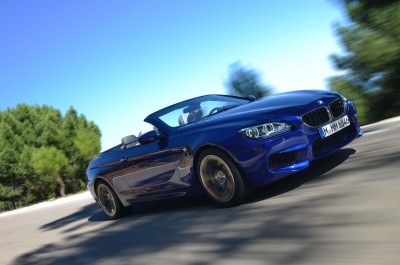 Superheroes, your car has arrived. Whether you're escaping from evil foes or dating your favorite cat (wo)man, the BMW M6 convertible makes it happen. Some of its features are more the evil-villain type, but it's all part of the show.
You'll submit to any superhero contract when you focus your laser eyes on the M6's slick skin. Our Black Sapphire Metallic example looked like it crept from deep inside a dark cave, shining its way out with LED headlights. Sinister ground effects, slinky 19″ alloy wheels, and Michelin ZR-rated tires kept the car grounded. Long and low, the super sled looked super chic with its flying buttress canvas roof that flowed into the rear deck. Batmobiles never looked so good.
If Superman wanted the road-going equivalent of his cape and tights, he'd eat kryptonite for the M6's 4.4-liter twin-turbo V8 that generates 560 horsepower – enough to press the car from 0 to 62 mph in just 4.3 seconds and to a 155 mph top speed. Superman is the favorite of the most amount of states, after all, and he would likely want something equally popular and powerful to work for him (though he would likely choose the M Driver's Package for a pass to 189mph.) All of that power goes through a seven-speed, double-clutch automatic transmission with manual shift mode. A car this heavy has no right to be this fast, but you'll hear no complaints from me. That said, Superman will need a super-size AmEx to foot the M6's gas bill, given its rating of 14/20 mpg city/hwy.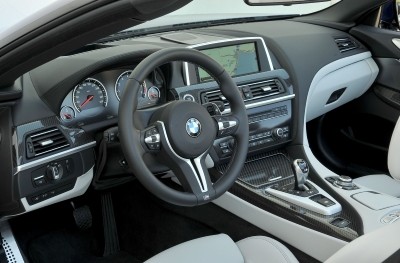 Spiderman casts a wide web to control the chassis, whether fighting Iceman or the Incredible Hulk. The suspension and steering can be adjusted for "Comfort", "Sport", and "Sport Plus". Sport Plus tightens for track days while Comfort softens for touring and commuting. Active M differentials vary output to the rear wheels for directional stability under full Hulking throttle and for graceful acceleration through corners. But even with special powers like electronic stability control, you'll want to change the summer tires before the Iceman cometh.
Apparently, The Joker played around inside. An M-edition heated leather steering wheel with gearshift paddles, heated Merino leather seats, soft-close automatic doors, and heads-up display are divine. I also appreciated the Lane Change Warning, Lane Departure Warning, and active Blind Spot Detection systems. BMW's premium audio system provided this flick's soundtrack. Front seats are roomy, but even while wearing tights, Robin would have a snug fit in back. Craftsmanship abounds.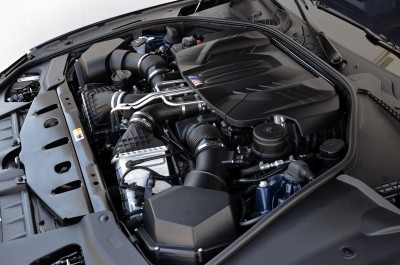 But, for what evil reason did BMW skip a Park function on the gear selector? After consulting the owner's manual, I understand one has to leave the car in either Drive or Reverse, and shut the engine off with the start/stop button, whereby the car automatically goes into Park. Forget muscles: apparently drivers need telepathic powers. I'm still no fan of the array of iDrive menus it requires to find favorite songs, adjust the bass, or navigate – all functions that take seconds in a Chevy. The easiest feature is the power top: one button does it all.
I could get used to this super hero stuff, but there's no sneaking around Gotham in cloak, because the M6 draws crowds everywhere it goes. Driving one makes you feel immortal. While the M6 looks like it burst from a secret Bavarian lair, some parts should not have emerged so fast. An extra-stellar $122,096 as-tested price puts it against the Cadillac CTS-V, Mercedes-Benz E550, and Audi S5.
2013 BMW M6
Four-passenger, RWD convertible
Powertrain: 560 hp, 4.4-liter Turbo V8, 7-speed automatic transmission
Suspension f/r: Electronic Ind/Ind
Wheels: 19″/19″ alloy f/r
Brakes: disc/disc fr/rr with ABS
Must-have features: Style, power
Fuel economy: 14/20 mpg city/hwy
Assembly: Dingolfing, Germany
Base/As-tested price: $113,100/$122,095