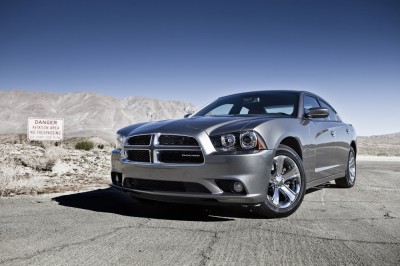 One of my favorite shows this summer was "In the Big House" on LOGO. In one scene, former mobster "Big Lou" tries to give his gay son, Luis, advice on building muscle mass. Luis points to his ripped abs and asks his dad what he's talking about. His dad counters, "Yeah, but it's gay muscle". Point being, there's powerful-beat-up-the schmuck-you're-intimidating muscle and then there's hey-I'm-sexy-and-pretty muscle. Both are hot, but the latter will get you in a lot less trouble. (Well, usually.)
You can get the Dodge Charger in "Big Lou" SRT trim with a 470hp 6.2-liter V8, but I prefer the slimmer "Louis" SXT version with a 3.6-liter V6 that delivers 292 hp and 19/31 mpg city/hwy. The V6 won't knock the wind out of Mustangs and Camaros, but it will shuck the dew off your mother and doesn't cost much at dinner. A paddle-shifted eight-speed automatic transmission is as smooth as a West Hollywood chest.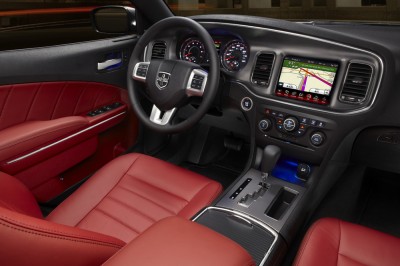 Today's young muscle is conscious of his style. It's a more elegant ride with heated red leather seats, aluminum dashboard and console trim, and acres-wide dash swoop. Rear passengers lounge in comfy sofas. Gray-blue lighting sets the mood while emanating from the door handles, footwells, and even the rear cupholders. It's a muscle car that a man of refinement can drive without feeling all-carnal.
Designers cleverly fitted a heap of technology into the Charger's cabin. Whoever developed the world's easiest-to-use touchscreen should be given a Nobel Prize. You can select the mode (radio, navigation, climate, etc.) from clearly-marked icons at the bottom of the screen. Once there, all functions are labeled and segregated in a way that would make Apple envious. Large volume and tuning knobs sit below to make the basics intuitive. Finally, a factory-installed navigation system that's as easy to program as a Garmin.
Styling is a mix of "General Lee" and "Terminator". You can see the classic look of 40 years ago in the side scallops, taillamps, fastback roofline and long nose, but style comes forward with a rear wing, front splitter, and expert body shaping that makes the car aerodynamic without cribbing jelly bellys. A drunken Lou wouldn't miss the 164 LEDS that form Dodge's trademark "racetrack" taillamps.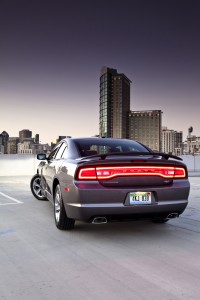 Under its taut skin, the Charger isn't what Grandma thinks it is. The big rear-drive sedan rides on a vehicle architecture derived from the late-'90s Mercedes E-Class. While those components may be plastic-wrapped couches among current Autobahn-burners, they are wholly world-class on America's interstates. Stiff body structures allow the firm independent suspension system to soak up rough pavement and clip through corners.
Rounding out the menu, our car came with adaptive cruise control (which automatically keeps a safe distance from cars ahead), Blind Spot Monitoring, Rear Cross Path Detection, and Forward Collision Warning. The later saved my bum by beeping and engaging the brakes to avoid rear-ending a Hyundai. I would have gone to my grave listening to the Alpine audio system.
The V6-powered Charger is sexy enough to flex your gay muscle, and smooth enough for a second glance, but what Dodge offers could easily send you to the Big House. American muscle and German athletics never caused such a ruckus.
Price as-tested came to $34,935.
2013 Dodge Charger SXT
Five-passenger, RWD sedan
Powertrain: 292 hp, 3.6-liter V6, 8-speed automatic transmission
Suspension f/r: Ind/Ind
Wheels: 20"/20" alloy f/r
Brakes: disc/disc fr/rr with ABS
Must-have features: Style, muscle
Fuel economy: 19/31 mpg city/hwy
Assembly: Brampton, ON
Base/as-tested price: $28,495/$34,935