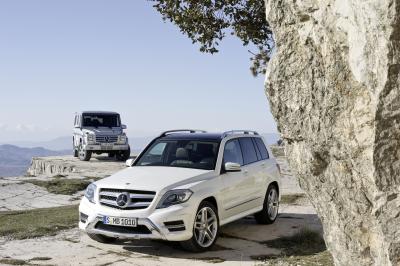 Mercedes-Benz is famous for its SL sports cars and S-Class sedans. The Gullwings are iconic, but so is the brick house G-Class SUV. Originally developed for the German military, it evolved into a posh mountain goat that can climb over almost anything with its three locking differentials. For similar style, but a more urban attitude, check the GLK350 crossover.
Unlike some of the espresso beans it competes against, the GLK wears its family heritage with pride. Square profiles pay homage to the past while a newly-streamlined nose, 19" alloys, and ethereal light tube taillamps caress the wind. A huge grille with twin lamellas and three-pointed star could have come from the E-Class Cabrio – as could the bulging rear fenders that trace back to '50s mid-size "Ponton" models. Nobody else could summon its history for a crossover like this.
Mercedes aficionados will notice two big changes inside. To provide for large center consoles, updates eliminated the traditional notched gear selector and replaced it with a stalk on the steering column. Designers also made a concession to non-Mercedes folks by switching locations of the turn signal/wiper stalk and cruise control. Cruise has the same multi-directional stick as before, but it's now located below the signals as in most other cars.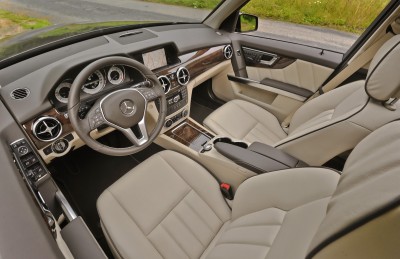 There's still a lot that's familiar, like the traditional three-pod instrument cluster. Burl walnut graces the dash and doors while bulls-eye air vents echo the SL and "E-Class" from the '70s and '80s. Back then, owners never imagined Bluetooth-enabled hands-free calling, joywheel-controlled screens for navigation and audio, or a USB iPod connection. Heated seats, automatic climate control, and two-panel moonroof delight. You can get leather, but I prefer MB-Tex leatherette that will out-live the engine, paint, and possibly even The Apocalypse.
Off-road heritage hits the weeds when you stick your cleat into the 302 hp 3.5-liter V6. 4MATIC AWD and a seven-speed automatic transmission make good use of that thrust to move the wagon from 0-60 mph in 6.4 seconds. To save gas, the GLK comes standard with an ECO start/stop mode that pauses the engine while stopped and re-starts it when drivers lift from brake to throttle. Expect 25 mpg hwy.
Structurally, the GLK is essentially a C-Class wagon. A fully-independent suspension and electrically-powered steering provide agility. Mercedes' super-articulating front wheels let the GLK turn into incredibly-tight parking spaces and narrow city streets. The shocks are specially tuned to balance high-speed handling with soft trail running.
To keep drivers awake, GLKs come standard with Attention Assist that reads drivers' behavior and provides audible alerts if they seem unresponsive. Our test car also came with Blind Spot Assist that not only warns drivers of objects in their blind spot, but will activate the stability control system to nudge them away.
Each Mercedes is inevitably judged against those that came before, as well as contemporaries from Germany, America, and Japan. Against both standards, the GLK350 stands the test – a true Mercedes tuned to the times. Base prices start just over $37,000, but our loaded test vehiclecame to $47,805.
2013 Mercedes-Benz GLK350 4MATIC
Five-passenger, AWD crossover
Powertrain: 302 hp 3.5-liter V6, seven-speed automatic transmission
Suspension f/r: Ind/Ind
Wheels: 19"/19" alloy f/r
Brakes: disc/disc fr/rr with ABS
Must-have features: Comfort, heritage, 0-60 mph in 6.4 seconds
Fuel economy (est.): 18/25 mpg city/hwy
Assembly: Bremen, Germany
Base/as-tested price: $37,090/$47,805