On the way to my favorite coffee shop in the XF Supercharged, I give a wave to a gentleman in a Jaguar E-Type. He nods back, acknowledging the passing of time and technology. Both cars are clearly Jaguars. I'm just happy to have the latest one for my 20th high school reunion.
If I had driven a car like this two decades ago, I would have been a super stud even without athletic talent. Who needs skills like catching a ball or running fast when a car like this is under your rump? My classmates would have gone nuts seeing it pull up to Friday night football games, and no doubt, they would've hit me up for after-school rides during our endless study hall/magazine marathons. But alas, it is a car of this century and not the last.
The XF draws attention with smooth styling that would look handsome at any valet stand or practice field parking lot. The cross-hatch chrome grille, 20" alloys, fastback roofline, and hood vents tell the world that it's fast. I initially thought it looked too much like a Lexus, but it dropped jaws wherever it went. All of the boys at the bar sure liked it. I like the fact that it's a pure design, fit for an adult, without childish wings and things.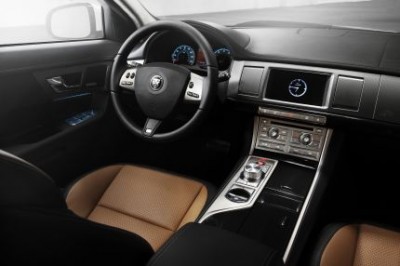 Drivers feel like James Bond when they press the starter button and feel the gear selector knob rise into their hand. Being a Jaguar, the cabin is swathed in heated/cooled soft leather seats, stitched leather dash and door coverings, and acres of wood and aluminum. A touchscreen controls the audio, climate control, and navigation, but its ease of use only enhances the cabin ambiance  Techies will devour the XF's Bluetooth, USB iPod connection, blind spot monitor, and electrically-heated windshield.
No matter what you think of the styling, once you wake the engine, all fashion drifts away. The 470 hp, 5.0-liter supercharged V8 growls to life, ready to set fire to the rear wheels through a paddle-shifted six-speed automatic transmission. If you get pulled over, just tell the nice officer that the Devil and a wave of endorphins made you do it. The real devil may be in the 15/21 mpg fuel economy ratings, but nobody in their right mind thinks a car like this sips fuel.
Nothing drives like a Jaguar. The chassis and steering convey a light athleticism that is very un-German, and delightfully so. More than most competitors, the XF is a sports car, long and low, with passengers set deep in the chassis. There is an intimacy that eludes more common luxury sedans.
After an emotional weekend, my partner and I snugged into the XF around 10:00pm and hit the interstate back to Indianapolis. I don't know if it was my mind running through years of memories, or the car's ability to warp time, but we were back home in time for martinis. Before leaving, we gave a wave to a gentleman reminiscing over the past. Turns out, it could have been me. An as-tested $69,950 price is certainly for the well-heeled man.
2013 Jaguar XF Supercharged
Five-passenger, RWD sedan
Powertrain: 470hp 5.0-liter SC V8, six-speed automatic transmission
Suspension f/r: Ind/Ind
Wheels: 20"/20" alloy f/r
Brakes: disc/disc fr/rr with ABS
Must-have features: Style, performance
Fuel economy (est.): 15/21 mpg city/hwy
Assembly: Castle Bromwich, UK
Base/As-tested price: $68,100/$69,950