Note: This is a guest post from one of Gaywheels' newest contributors, Randy Stern. You can follow Randy on his blog, RandyStern.net.
* * * * *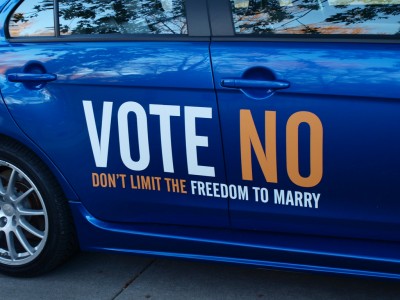 What's one of the best — or worst — parts of election season? Bumper stickers.
For decades, the rear bumpers of our vehicles have told the story of where we stand politically. The names of our preferred presidential candidates have been emblazoned on the backs of our cars, our trucks, our SUVs. Statewide or local candidates we favor the most – even causes we believe in – also take up space to let motorists behind us know how we'll vote on election day.
Bumper stickers can be a great barometer of public opinion. Seeing more stickers for one particular candidate or ballot measure can indicate where the polls are going.
LGBT motorists have this down to an art. And when you have four states with ballot measures involving marriage equality — as we do this November in Maine, Maryland, Minnesota, and Washington — you can expect us to step up support for our side.
In Minnesota, the measure to codify the state constitution and make the traditional definition of marriage permanent has electrified the LGBT community. Just looking at the number of vehicles with "No" bumper stickers opposing the amendment, our community and our allies seem to be winning. However, the polls conducted by various media outlets across Minnesota tell a different story: the measure is currently too close to call.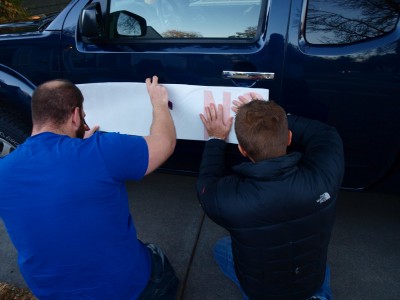 And so, our team has had to step up its game. Leading the charge: Richard Herod III. He's taken the "Vote No" message off of the rear bumper and made it larger than life. Herod's idea began as a response to a rule imposed against him – right at his home.
Three weeks ago, Herod's townhome owner's association asked him to remove a "Vote No" yard sign from his lawn, citing one of the association's rules. While fighting the association, Herod decided instead to display the same anti-amendment stance on his own Mitsubishi Lancer Evolution.
The townhome association changed its ruling one week ago, allowing yard signs. Consequently, the yard signs discounted at the Super Cheap Signs Store have been selling quickly. However, the decal job on Herod's Evo took on another life entirely.
After Herod posted a photo of his Evo with the "Vote No" message, some of his friends asked how he did it – and if they could get decals for their own vehicles. Subsequently, a photo of Herod's blue Evo was posted on the Facebook page of Minnesotans United for All Families, the campaign opposing the ballot measure. That picture and Herod's accompanying story have more likes than any other story on that page this month. As of today, Herod's post has earned nearly 900 likes and over 70 shares. It was named the Most Liked photo on the popular social media networking site so far this month.
So far, Herod has applied decals on 14 vehicles, including one driven by a founder of Minnesotans United for All Families. On the day I caught up with Herod, he was doing five different vehicles at a friend's home in Minneapolis.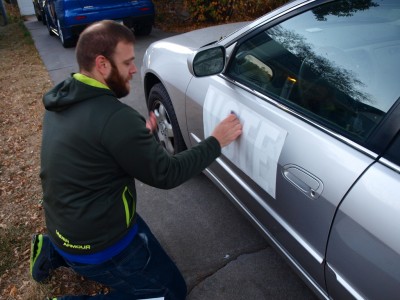 The decals begin as a vinyl adhesive that's applied to the vehicle. Applying the decal requires patience and planning to ensure that the three parts of the kit fit on the side and back of the vehicle. The rear part – the tag line for the campaign – is designed to fit on back windows, bumpers or on the trunk/liftgate. Vinyl stickers are not just for your car though! You can find ones that you can stick on your walls at home, just to give it that little something. If this is something that sounds interesting to you, you might be excited to find out that you can even create this type of wall art from the comfort of your own home! As long as you have a printer that can print vinyl stickers out, then you're all good to go! If you don't, it may be worth checking out these Top 10 Best Printers For Vinyl Stickers for some guidance. This could help you make a better decision on what printer to buy so you can start creating the stickers you would like in your room! Once you get the hang of it, you may even want to print our cool stickers for your car.
There's a fee for the decals themselves, but Herod donates his time to apply them and will give a donation to Minnesotans United for All Families. The decal comes in three different kits, depending on the color of the vehicle. After the election, the decals can be removed with help from a hair dryer.
According to Herod, response to the decals has been overwhelmingly positive and supportive from within and beyond the LGBT community. So far, there have been no reports of negative reactions or actions against any vehicle displaying them. He continues to apply the decals, hoping for a possible "decaling" party on one of the weekends leading up to Election Day.
As the race continues to be too close to call, those of us demanding marriage equality in Minnesota have become louder. Just look at the side of the vehicle that's passing you.
For information on obtaining decals for the opposition to Minnesota's marriage amendment, you contact Richard Herod III directly at [email protected]. For more photos of the decals, check out my Flickr gallery.