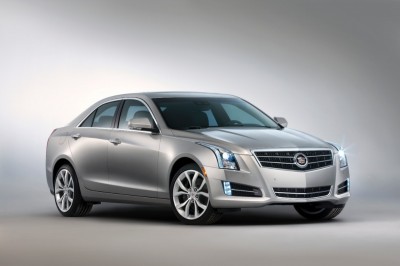 Imagine Cadillac as the kid on the other side of the chain link fence, hat askew and overalls hanging, looking on as the cool kids from Germany and Japan have the time of their lives knocking the balls of success out of the park with their small, smart upscale compacts.
The first time Cadillac tried to play with the cool kids it showed up with a twig (the Cimarron), dejected. The second time, it came back and tried to hit the ball with a teddy bear (the Catera). Everyone laughed. Cadillac slinked away in shame each time.
So, in light of its history with compact sport sedans one might think Cadillac a masochist for showing up to the game for a third time, but let me tell you, they've learned how to play, and this time they've brought a bat. A really good bat.
Drive
Cadillac has not been sheepish in highlighting the fact that with the ATS, they aimed to best the ubiquitous BMW 3-series in the performance department. Them's fightin' works alright.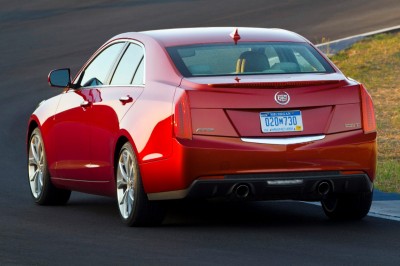 I should begin by mentioning that for my test ride, I had the basement baby of the engine line up: the 2.5 liter four-cylinder, producing 202 hp and 190 lb-ft of torque. The 2.5 is a thoroughly unimpressive engine. It's an engine for your mother, the same one that keeps asking you what the importance of 0-60 times are. I found the best part of the 2.5 to be its ability to not sound like a cheap little four-banger. It's unobtrusive and composed under throttle, which is the least it could do considering that when it's time to put the hammer to the metal, this engine's going to let you down like Amanda Bynes at a sanity convention. Powerful it is not.
Thankfully, buyers can step up to a 2.0T that churns out 272 hp, or a big papa 3.6 V6 that flogs down a dreamy 321 hp. For my cake, the 2.0T sounds the most compelling, as I believe the smaller 2.0T would provide the best weight-to-power scenario for this lightweight chassis.
So anyway, the handling: the ATS steers like warm butter on a pile of Paula Deen's homestyle mashed potatoes. It's real, real good, y'all. Input to the steering wheel is registered precisely and smoothly down on the pavement. The rear-wheel-drive ATS delivers crisp, controlled handling which, when coupled with 50/50 weight distribution, produces a very satisfying sport sedan experience. I'd be inclined to say it feels better than the 3-series, whose steering in it's current iteration feels a bit less connected than the ATS. In reality it's probably a bit of a wash, but that's actually very high praise for the ATS.
Exterior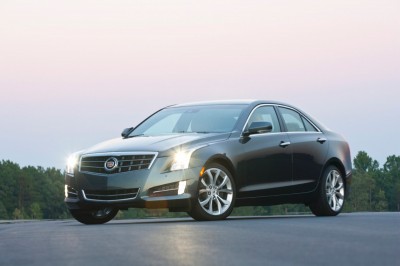 The ATS is handsome. It's not pretty or gorgeous. The headlights are arguably the most interesting part of the equation here, reaching well back into the fenders. They give the front of the car presence and a touch of uniqueness. Overall the ATS's design is an undoubtedly masculine execution that even in my laughably named "white diamond tricoat" looked purposeful. At least we know Elizabeth Taylor's ghost lives on as a paint color-namer at GM.
The most exciting part of the ATS's exterior is that Cadillac has finally mastered the proportions of their Art & Science design theme. The original and current CTS were interesting to look at with all their points and creases, but they didn't have the proportions sorted out entirely; there was always an awkward angle to be found. But here, on the ATS, they've finally nailed them. The long hood stretches back to a high and tight greenhouse, all of this is rounded out by a short, pert rear. Even the tire-to-body panel spacing has been considered, with the outer edge of the tire damn near perfectly aligned with the outer edge of the wheel well. Someone was paying very close attention to the stance of this car and that effort has paid off in spades.
Interestingly, there are still echoes of ye olde Cadillac, in a totally good way. Allusions to the formality that once dictated all of Cadillac design can be found in the squared, upright C-Pillar and the tall fin-like taillights. These nods to Cadillac's past are updated, nuanced versions of the originals. It's still a Cadillac, only smoother.
One niggle I have is something that only 2.5 owners will have to worry about: the 2.5-liter-equipped ATS has a really awkward single tailpipe just kinda stuck in the rear diffuser. It looks so sad and lonely, like Bert without an Ernie.
Interior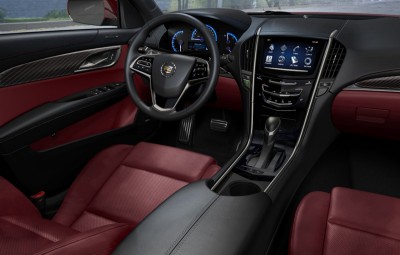 CUE is the star here, consisting of a large, eight-inch capacitive touch-screen peacocking up in the center of the dash. Take a seat and shut the door. The CUE system's main display and auxiliary screen in the gauge cluster behind the steering wheel spring to life in a synchronized 3D extravaganza that features the Cadillac logo bursting into a rapturous cloud of glitter and diamonds shards. It's a Jennifer Lopez perfume ad every time you turn your car on. It turns even your most mundane milk run into a patriotic fireworks show.
So CUE is really pretty, but CUE can be a bit of a numbnuts too. Cadillac is proud of the fact that the main CUE touchscreen is of the capacitive variety like the iPad. You'd think that would mean smooth and immediate responses to your touch inputs. Wrong. Everything is delayed. Pinch-to-zoom in maps is so delayed it made me feel like I was on peyote or something. CUE's proximity sensing (buttons appear when you lift your hand up to the screen) is a neat party trick but of no real benefit in an automotive application. Why would I want to have to put my hand up to the screen before I can see what button I want to push? It's an entirely contrived application.
That said, while CUE and I didn't get along entirely, it's by no means unusable. All functions are still able to be completed, just not as effortlessly as I'd like to see. The plus side here is that CUE is fully upgradable through future software updates, which will give GM the opportunity to improve response times and simplify functionality. GM may have stuck it's neck out a little too early with the current rendition of CUE, but I'm confident upgrades to the software are already in the works. It has promise, it's just a little lethargic right now
Further down the center stack, things aren't so rosy. There are the evil little touch-sensitive buttons (they respond to the heat of your finger rather than mechanically depressing) floating in a sea of black plastic below the main CUE screen. It's VERY pretty BUT…where do you press? Do you press the raised silver island thingy or the symbol itself? You learn that you are supposed to hit the symbol, but it never becomes a very satisfying or direct experience for the user. Luxury, at least in a car, is about being able to relax. I found myself constantly having to babysit the main CUE screen and its touch-sensitive button buddies down below it. Sometimes the system didn't respond to my jabs. Sometimes it responded incredibly slowly. None of it is a deal-breaker, but it grates on you. These touch-sensitive buttons in their current form seem to offer no benefit over traditional buttons. I'm all for change, but only when there's a distinct benefit.
Thankfully the rest of the interior is pretty damn gorgeous. It's easily one of the best executions in this class, with organic, soaring shapes and pleasing textures and colors. Doors and dash are covered in rich looking stitched faux-leather, and fit and finish is beyond reproach.
A final note: the rear seat is for children, a compact convertible car seat, or friends with small, compact legs. Cadillac has sculpted the hell out of those back seats but there is precious little room for anything that would consider itself a full-size adult male. What's important to remember though is that the ATS's length is within 3 inches of the Toyota Corolla's. Pretty crazy right? Concessions must be made, and honestly when was the last time you used your back seat anyway?
Final Thoughts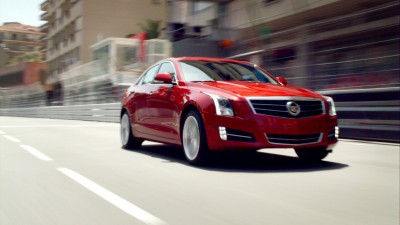 In German-car-dominated SoCal, the ATS's only real battle is going to be with people's minds.
You see BMW, Audi, and Mercedes are living on easy street. The young professional demographic WANT to like their cars. Allowances are made for any shortcomings with those brands because the prestige associated with them is so high.
It's the opposite for Cadillac. They've only been playing in this arena for a few years (and really only dabbling when it comes to the CTS), so they have a lot to prove. Their product must not only match the established players, it must be BETTER.
Is the ATS better? Well, that depends. If you need a handsome, fun to drive, beautifully built sport sedan, then it's going to be hard to find a car that balances all those things better. The ATS offers a very compelling package, with a better interior than the BMW 3-series, better handling than the Audi A4, and just about better everything than the Mercedes C-Class.
Cadillac is now officially playing with the cool kids and the ATS deserves the attention of anyone shopping in this category. The ATS is not just a great Cadillac, it's a great sport sedan period.
Tested vehicle: 2013 Cadillac ATS2.5L luxury collection, MSRP $42,225