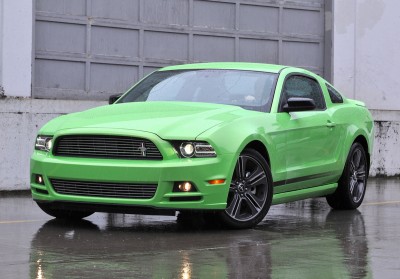 Once upon a time, ordering a Ford Mustang with a V6 signified that you were a secretary, a college student, or "worse", a "man-loving sissy".
Oh, how times have changed. Don't get me wrong — you'd get no grief from me if you ordered the 420 hp Mustang GT, 444 hp Boss 302, or 650 hp Shelby GT500. But there's absolutely no shame in coming out with the V6, either.
The 3.7-liter V6 produces a hunky 305 hp and 280 lb.-ft. of torque, all while running on cheap 87 octane. To get the most of that power, engineers have conjured up a choice of transmissions: a six-speed manual or six-speed automatic with SelectShift capability. Power gets to the road only one way: through the rear wheels. Automatic-equipped cars achieve up to 19/31 mpg city/hwy. That blend of performance and fuel economy is hard to deny.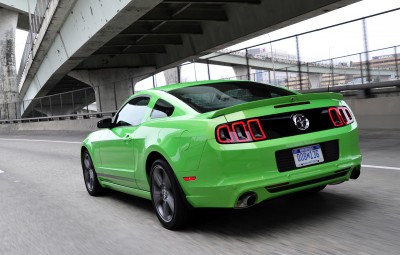 The only problem is, all that power is harnessed by a chassis that's seen better days. A solid rear axle remains out back, and while trained by the choreographers in Ford's engineering department, rough roads will unsettle it like your mother at a pride parade.
That said, the Mustang handles any curves a sober driver can toss it into and many that only the mentally deranged would try. On the whole, ride quality is a balance of firmness and comfort — just what you want in an American muscle car that will spend much of its life at sub-super speeds.
Stylists keep the 2013 Mustang honest, yet stylish. Subtle updated give the car a new grille, a more prominent lower front splitter, and high-intensity discharge headlamps. A long hood, fastback roofline, and kicked-up rear fenders are as recognizable as Elton John's glasses; LED taillamps maintain the Mustang's "three-barrel" look while slapping its bum with modern flair. Painted rocker panels, 19″ charcoal-painted alloys, and puddle lamps that project the pony logo onto the ground are nifty accessories.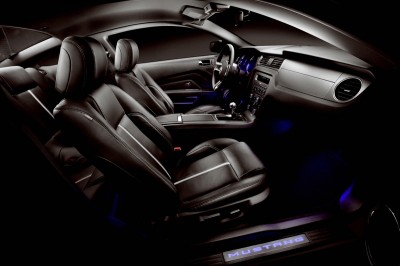 Updates to the interior are equally subtle, but appreciated. I always hated Ford's "safety headrests" that uncomfortably forced your head downward. New seats, available in contrasting leather, are comfortable, hug your sides, and are blessed with rotating headrests. There's still too much hard plastic, and the doors sound like they shut in three parts, but the twin dash design looks expensive with silver metallic accents.
Technology like a touchscreen for navigation, audio, and climate control is easy to use and fits nicely in the center stack. Our test car came with the Shaker audio system that will rattle glass but also connects with Ford SYNC voice controls, USB iPod connections, and an in-dash CD player. The availability of AppLink, a free software program, lets SYNC users voice control apps already downloaded on their smartphones.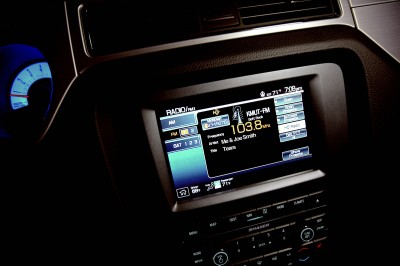 The Mustang V6 is no sissy, looking debonair with its updated styling, foot-tapping power, and fuel efficiency. It's just time to quit making excuses for the rear dance missteps, cut the interior plastic, and create a door that doesn't sound like it came from a '75 Ford LTD. Accomplish that, and Ford will have a Mustang ready for the next 50 years.
2013 Ford Mustang V6
Four-passenger, RWD coupe
Powertrain: 305hp 3.7-liter V6, six-speed automatic transmission
Suspension f/r: Ind/Solid axle
Wheels: 19"/19" alloy f/r
Brakes: disc/disc fr/rr with ABS
Must-have features: Heritage, power
Fuel economy: 19/31 mpg city/hwy
Assembly: Flat Rock, MI
Base/As-tested price: $22,200/$33,220