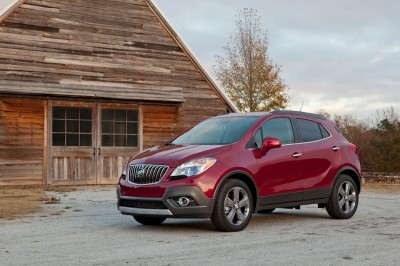 Despite what you might see at the local fashion mall or pissy bistro, there's no law requiring anybody to spend a queen's ransom for a luxury crossover. Between downsizing Boomers and their disaffected kids who just don't give a damn, there's a big trend towards unpretentious luxury. For them, there's never been a crossover like the Buick Encore.
The Encore's toothy grin clearly identifies it as a Buick. Standard 18" wheels anchor the tall body to the road, as do neatly formed character lines down the side, a multi-faceted hood, and an integrated luggage rack. Composite projector beams with blue translucent rings reference the bigger Buicks. Geek-nerds will notice that the hood wears six portholes while the engine bay contains only four, but everybody else will like the small car's livin'-large styling.
Base models come with cloth seats that feel like they came out of a Volkswagen, while up-level vehicles harbor heated leather seats, a heated steering wheel, dual-zone climate control, a navigation system, a sunroof, and Bose audio. Safety can be enhanced with Forward Collision Alert, Front and Rear Park Assist, Lane Departure Warning, a rear vision camera, Rainsense automatic wipers, and ten airbags. Remote Start takes the chill off of winter mornings.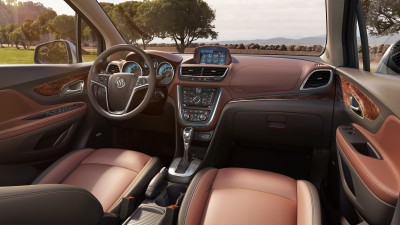 None of that conveys the ambiance of the Encore's interior, which rivals that of Coach (the luxury goods shop, not the economy class on airlines). Your fingers rarely touch hard surfaces, and the Saddle leather package conjures cowboys and riding crops or a woman's handbag, depending on your point of view. What's chrome in daylight magically glows blue at night, with an azure haze that seeps from every crevice. Seats are so-so, but the leather-wrapped steering wheel is just right. You can carry anything along for the ride, thanks to in-dash cubbies, a flip-forward front passenger seat, and fold-down rear seats.
Most of the infotainment controls are cribbed from GM's European cars, which means they're not exactly intuitive. Buick Intellilink uses a color screen and knob to access phones, radio, USB-connected MP3 players, movie times, dinner reservations, and Pandora Internet radio. Bose active noise-cancellation technology gives the Encore a serene interior that would make a Rolls-Royce clock seem rambunctious. Only the most courteous exhaust tones enter the cabin.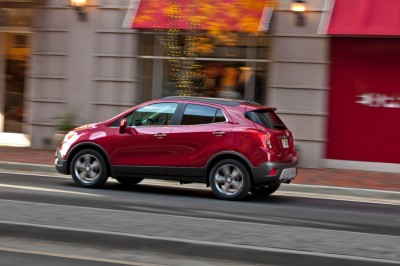 The Encore is available with exactly one engine: a 138 hp 1.4-liter turbo-four connected to a six-speed automatic transmission. That's a sturdy enough heart, but you're not going to fast-tromp it through mountain interstates with three passengers and their luggage aboard. Passing on tight two-lanes is better left to more muscular carriages. Still, in a day of driving through Atlanta hills, we never fell behind or felt overwhelmed. Fuel economy is rated a frugal 25/33 mpg city/hwy for FWD models and 23/30 mpg with AWD.
The benefits of being small are found in the Encore's flexible moves. The suspension soaks up city potholes, but works with electric power steering to get wild on twisty country roads. The chassis doesn't look sophisticated on paper, but it keeps the Encore poised. Front-drive models feel more tossable, but available AWD enhances stability and poor weather performance.
If you want a big family-friendly SUV, or you're rarin' to race Porsches, the Encore isn't your car. It is refined, stylish, and flexible enough for young urbanites or their disapproving parents to get all of the luxury they really need. As we should all try to be, it's authentic — nothing more or less.
Prices range from $24,950 to 33,700, making Encore competitive with the Nissan Rogue and MINI Countryman.
2013 Buick Encore
Five-passenger, AWD crossover
Powertrain: 138hp 1.4-liter turbo-four, six-speed automatic transmission
Suspension f/r: Ind/torsion beam
Wheels: 18"/18" alloy f/r
Brakes: disc/disc fr/rr with ABS
Must-have features: Style, convenience
Fuel economy: 25/33 mpg city/hwy (FWD)
Assembly: Bupyeong, S. Korea
Price range: $24,950-33,700