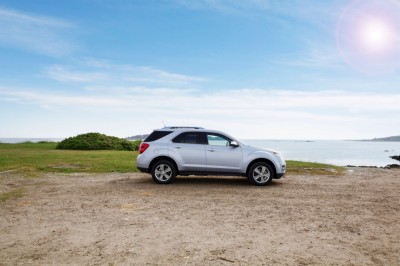 The Chevy Equinox doesn't always get a fair shake. In the world of compact crossovers and SUVs, rides like the Honda CR-V, the Ford Escape, and the Toyota RAV4 frequently upstage the Equinox — and for no good reason at all.
That claim is backed up by a recent week-long roll in the hay I had with the all-wheel drive model of the 2013 Equinox. How do I love it? Let me count the ways.
One: the Equinox is versatile. If there's one thing we all love, it's a switch-hitter. The Equinox is big enough to haul the stuff that drivers need to schlep around — groceries, pets, bolts of taffeta — but compact enough to navigate urban landscapes with ease.
Two: it's cushy. The Equinox provides acres of headroom and legroom, front and back. My LTZ AWD model (which sits at the top of the range) came with stunning perforated leather seats, and the driver's perch was adjustable nine ways to Sunday: up, down, backward, forward, lumbar, and so on. The Chevy MyLink system integrated beautifully with Pandora and Stitcher, cranking tunes and talk radio through a sweet eight-speaker sound system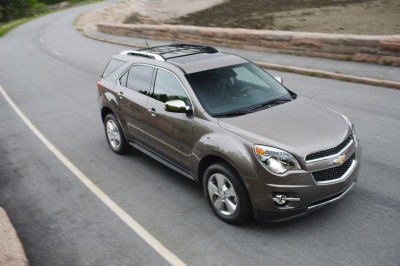 Three: it's pushy. If you need a ride that can stand up and take charge, check out the Equinox LTZ. Its optional 3.6-liter V6 provides a very respectable 182 301 hp and 172 272 ft-lbs of torque, which is more than enough to motor through traffic on your weekday commute or maneuver to a weekend getaway spot. And if you want to bring a few toys along, the Equinox can haul up to 1,500 pounds of gear.
That said, as with all potential mates, there's room for improvement. The Equinox's beltline (i.e. the line that runs beneath the windows, about where your belt would hit if you were standing beside the vehicle) felt oddly high. Even with the driver's seat ratcheted all the way up, it felt as though I needed a phonebook or two under my tuchus just to survey the landscape.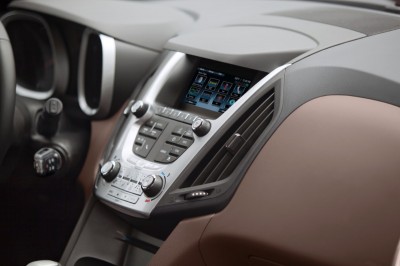 Also, as great as the entertainment system was, it wasn't the most intuitive I've encountered. In Chevy's defense, though, given all the bells and whistles found on center stacks these days, that's not entirely surprising. Heck, remember how hard it was to check email or send a text message on your old feature phone? It'll probably take a while before someone streamlines these things. (Perhaps Siri can tidy up a bit after she arrives.)
And one other complaint: fuel economy. The Equinox's 16/23 city/highway wasn't the worst I've ever seen — not by a long shot. But if you're a stickler for efficiency, you might instead look at one of the Ecotec four-cylinder models, which offer a much sweeter 32 mpg highway.
* * * * *
The Equinox and I had a great week together. It was like going out on a date with that guy you've seen for years at coffee shops and holiday parties, the one you've never really spoken to, even though you have scores of mutual friends. We rode around town together, and I found myself thinking, "Why haven't I gotten to know you sooner?" As Dorothy Gale taught us, sometimes happiness is found where you least expect it: right under your nose.
2013 Chevrolet Equinox
Powertrain: 2.4-liter four-cylinder or 3.6-liter V6
Fuel economy: from 16/23 mpg city/hwy to 22/32 mpg
Base price: $32,265
As-tested price: $36,385