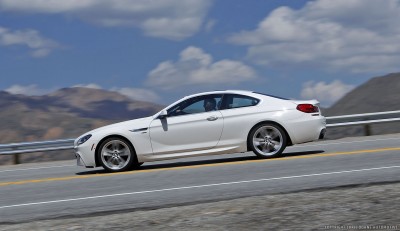 Five minutes after the photo session with the 650i came to an end, my phone rang. It's Mark, the guy who was driving the Bimmer while I snapped pics.
"Chris, something is wrong with my car. It feels slow, I must be towing a big trailer."
There was no trailer. Mark had just stepped from a 400hp, twin-turbo BMW into a 2005 Ford Expedition XLT. All 5352 pounds of it.
"I'll never enjoy driving this again. I'm blaming you."
Oh, um…alright, then.
Misbehavin'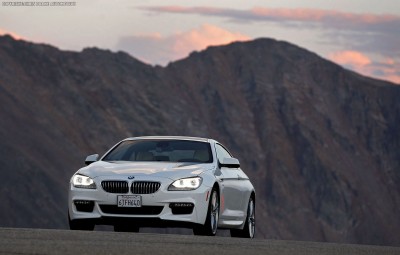 Apart from permanently ruining a man's truck, the 650i encourages you to behave in ways your fellow motorists might not fully appreciate.
You'll creep up behind that Rav4, with only the "halo" LED lights on, stalk it like prey, then drop two gears and hammer past it in even the shortest passing lane. But when you have this much thrust on tap, short passing lanes suddenly turn into "Oh, I can make that!" lanes.
The main source for that urge to misbehave comes from BMW's twin-turbo, 4.4L V8 engine, good for 400hp and 450 lb-ft of torque. While those 400 ponies are undoubtedly great, you also get all the available torque very early in the rev range (1750 rpm.) Simply put, the power delivery is immediate, fierce, and will pin you against the seat when you mash the pedal on the right.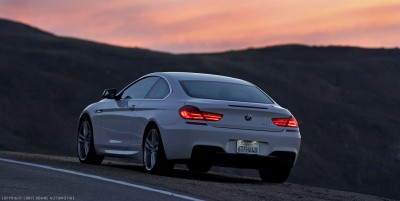 In addition to the speed, hammering the accelerator summons a gurgling, satanic symphony of power, emanating from the huge tailpipes. It's a sound that is as addictive as it is bad for your fuel economy. Living close to a long tunnel should be a prerequisite for own this car, as tunnel blasting will become your newest, loudest, most favorite hobby.
When it comes to handling, the 650i encourages you to bend the rules once again and take the corner posted 20mph at 45mph. It's something this BMW is certainly capable of, as it offers large amounts of grip, very flat cornering, and…almost no steering feel whatsoever. That last bit can be a problem.
As is the case with many new cars, the 650i has electric power steering. A nasty side effect can be little to no steering feel. It made for a pretty numb steering wheel in the new 5-series, and it's done exactly the same thing to the 6-series.
Wheeling the 6'er through the bends is a hard feeling to describe. "Strange" might be the most accurate word. With no steering feel, it's difficult to tell when your cornering speed might get too fast, and your grip of the road will cease to be. You almost have to rely on listening to whether the tires are just "singing" through the corner, or screeching and about to let go.
With less sensory input to react to, it's tough to know whether you'll make it through the corner gracefully and power out of it, or if you'll be sucking on the airbag after skidding off the road and into that maple tree.
But hey, either way, it'll be exciting.
Technology, anyone?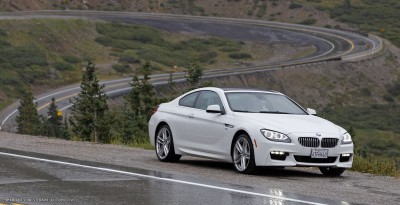 Once you set butt inside the new 6-series, there's an awful lot of technology waiting for you. Some of it is cool, some of it is mediocre  and some of it doesn't really work.
Any tech talk about a BMW car almost certainly involves the often controversial iDrive interface system. It's a setup that's been through several revisions, and the net result of that is…it still sucks. It certainly sucks less than the earlier versions, but iDrive still has tons of endless menus that aren't very intuitive to navigate.
The week before I drove the 650i, a friend of mine said I'd be totally wowed by the heads up display offered in this BMW. It projects your speed, along with several other bits of information, on the windshield near your normal line of sight. Since a BMW is not an F-22 Raptor stealth fighter, I was skeptical as to how useful this really was. After one day of using it, I was totally sold on the HUD. Sure, it will help you keep your eyes more on the road, but really, it's just the cool factor that makes you want it. On the downside, the HUD can be very hard to see if you're wearing polarized sunglasses.
One of the latest automated technologies making its way into luxury cars are the automatic high beam lights that turn themselves on and off as other cars approach you. Much like the earlier days of rain-sensing wipers that never seemed to get wiper speed right, these auto brights just aren't there yet. Sometimes they worked, sometimes they would turn themselves off when I was the only one on the road.
Heaps of style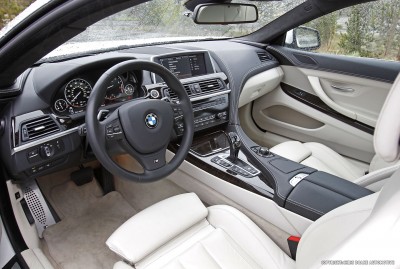 Once you're past all the technology, you might notice you're sitting in one of the nicest, most luxurious interiors out there at the moment. While I'll let the photos do most of the talking, there is leather and contrast stitching everywhere. The dash flowing into the center console is incredibly elegant, and the seats adjust 20 different ways to mold to your body. It is a really, really nice place to be. Unless of course you're in the back seat. Then it's best not to have legs since there's nowhere to put them.
On the outside, the sleek elegant design continues with an incredibly attractive posterior, strong character lines highlighting the profile, and a front end that's gone a bit wrong.
While this new 6-series is certainly much more attractive than the rounded-off, last-generation model, the front fascia on this latest model feels a bit over-styled. There's just too much going on, especially when you opt for the M-sport package.
Sign here
Should you buy one? Yes, buy it for the sound that comes out of the exhaust pipes alone. Never mind the exquisite interior, good-but-numb handling, and rev-happy, twin-turbo V8. It's certainly no sports car, but it's grand tourer worthy of your checkbook.
The biggest reason not to buy one? The way this 650i xDrive was spec'ed, you could be in an M6 coupe for only five grand more.
And if you're spending 100 grand on a 6-series, well, what's another five?
2012 BMW 650i xDrive Coupe – $86,000
-Cold Weather Package – $750
-Driver Assistance Package – $3,330
-M-Sport Package – $4,440
-20" wheels with performance tires – $1300
-Premium Sound Package – $1800
-Instrument Panel with Leather – $1500
-Ceramic Controls – $650
-BMW Apps – $250
-Destination – $875
TOTAL as-tested price – $100,825