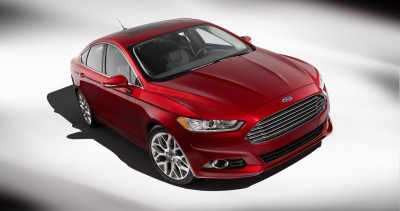 Ford's new mid-size Fusion is an odd mix of Mother America and Father Europe. That's in direct contrast to the last-generation Fusion that was essentially a Japanese Mazda6 underneath. There was precision to its moves that was wholly in line with its underpinnings. It was especially nice as a hybrid. Only one problem: except for its brash, flashy chrome grille, its design was B-O-R-I-N-G.
By comparison, the latest Fusion is a smooth, bronzed supermodel, ready for Monaco. An Aston Martin grille, sexy fastback roofline, chiseled flanks, and Jaguar tail let it slip through a throng of exotics unnoticed. It looks like papa. But there's a hint of American muscle car in the hood bulges, angry headlamps, and twin chrome exhaust outlets. Mama's proud. Friends and family universally panned our test car's Ginger Algae Metallic paint, which approximated baby peas laced with grind shavings, but the rest of the car is GQ-handsome.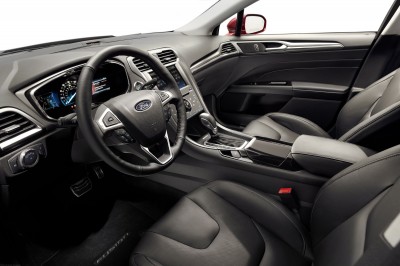 Step inside. Somebody at Ford worships at the altar of Audi. It shows in soft-touch materials, elegant woodgrain, aluminum-look detailing on the dash and doors, and comfy, heated leather seats. Nothing in the interior feels cheap; even the underside of the center stack is vinyl-covered. Leather on the steering wheel may have been shed from a goat, but the Fusion is designed to a price. A large analog speedometer with flanking LCD screens for trip computer and audio read-outs are sporty and high-tech.
Our Fusion came with MyFord Touch, which converts the center stack into one large touch pad. Drivers can control audio, navigation, and climate through voice, the high-mounted touchscreen, or labeled touch spots below. Optional safety systems include Lane Keeping System, adaptive cruise control, and blind-spot warning. Front and rear parking sensors matched with a backing camera keep that Algae paint from spreading to foreign surfaces.
Ford's powertrain for the Fusion is based firmly on options from across the Atlantic. Our test car came with a 1.6-liter direct-injected EcoBoost four-cylinder engine that generates 178 horsepower and 184 ft-lbs of torque. Auto Start-Stop Technology, which pauses the engine at rest, and a choice of six-speed manual or automatic transmissions help the car return 26/37 mpg city/highway.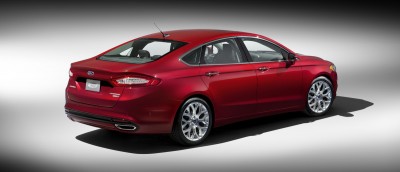 Ford may have sought too much input from America for the chassis and steering. There's nothing obscenely sloppy about the chassis, but it floats over rough roads — in fact, it floats over all roads. It's smooth, but not particularly engaging. Same is true of the steering. It's precise, but light. Most owners will love it, but you can't help feeling that Ford could've done more to excite lovers of Euro 'chinery.
A co-worker narrowed his mid-size sedan search to the VW Passat, Honda Accord, and Ford Fusion. He chose the Fusion. Overall, I like the car, too. Its exterior and interior are supermodel hot, but I can't help wishing for the crisp moves of the previous-generation. A little more input from Cousin Japan could make the Euro-American Fusion near perfect.
A base price of $21,700 ($30,180 as-tested) serves up tough competition for the Fusion's enemies on both sides of the oceans.
2013 Ford Fusion
Five-passenger, FWD sedan
Powertrain: 178hp 1.6-liter turbo I4, 6-speed automatic transmission
Suspension f/r: Ind/Ind
Wheels: 18"/18" alloy f/r
Brakes: disc/disc fr/rr with ABS
Must-have features: Style, ride
Fuel economy: 23/36 mpg city/hwy
Assembly: Hermosillo, Mexico
Base/as-tested price: $21,700/30,180