Ed. note: A few weeks ago, Casey gave us his take on the 2013 Volkswagen Beetle Turbo Convertible. But we thought it would be interesting to get a second opinion from someone from California — one of the Beetle's native environments.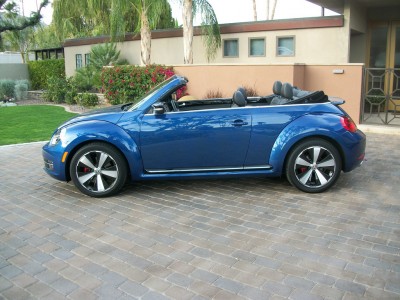 Last summer, I drove the restyled Volkswagen Beetle Turbo and came away impressed — especially with the more masculine, 356-like styling, upgraded interior, and the spirited performance that reminded me of the first- and second-generation GTIs I owned back in my college days.
So when Volkswagen called and offered me a crack at the new Beetle Convertible, who was I to decline? I met them in Newport Beach on a Friday afternoon and they handed me the keys (okay, the fob) to an automatic $32,295 (plus destination) Beetle Convertible Turbo, decked out with VW's Sound and Navigation Package and painted a smart Reef Blue.
I dropped the top and headed to Laguna to see how the locals would react. Although it normally takes a much pricier car to turn a head in the OC, the sporty little Beetle received nods and waves — and why not? The redesigned car, as I noted last year, is much more like a 356 than a Beetle, and there's nothing they like better in the OC than a Porsche.
Aside from being a surfer magnet, the Beetle Convertible has a lot to offer. First I'm impressed by what it doesn't have: noise and vibration. There's no cowl shake to speak of, and the three-layer convertible top is the quietest soft top I have ever experienced — even freeway driving is a pleasure. It may be a decibel or two louder than the coupe, but the audio system can actually be heard and enjoyed with the top up or down. There's a one-touch system for lowering the top and side windows, so it's effortless fun for all the sun-chasers.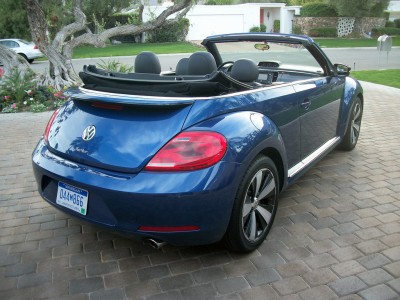 One thing that's far from one-touch, though, is the Rube Goldberg device that Volkswagen calls the "top boot". I've had convertibles since the 1970s, and this is the first time that I just gave up and stuffed the damn thing in the trunk. Fortunately, the top's appearance when lowered is not objectionable.
The engine was the same 2.0 liter 200 hp turbo I drove last summer, although this time it was mated to VW's six-speed automatic transmission. I'm not normally a fan of multi-speed automatics, and this was no exception. I understand the need to achieve CAFE numbers, but how about a Sport mode? The calibration was so biased in favor of fuel economy that it was always one gear ahead of where I wanted to be. I overcame that problem with Manual mode but a Sport button would be lovely. If I were buying this baby for myself, I'd opt for the six-speed manual and use the thousand dollar savings to pay for all the extra gas I'd plan to burn.
This car was also equipped with the Fender Premium Audio and Navigation, which is a big improvement over the base offering and a luxury worth investing in. It has Sirius XM, 400 watts of power, and nine speakers that created a sound that was rich and enjoyable whether the top was raised or lowered. I was much more meh on the Navigation: it was pleasant enough to use, but the display seemed scarcely larger than an iPhone. I can take it or leave it, but the package also includes the leather interior that I very much liked, so learned to ignore it.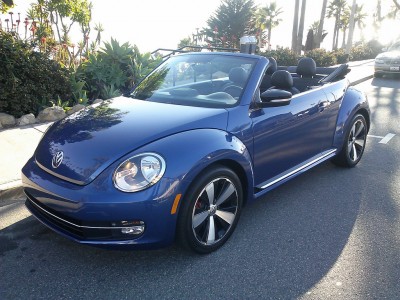 Even in Southern California, some rain must fall, so the Beetle and I had a full day of rain testing. (Oh, the things I do for you guys.) I'm happy to report that the Beetle's snug little beret allowed not one drip of water inside, and the heater kept the cabin toasty warm. While I won't claim that it was more fun in the rain than in the sun, there was certainly no penalty involved.
And that really sums up the Beetle Convertible. It's so well-designed and well-constructed that you'll forget it's a convertible until the top button is pushed — and that's serious praise indeed. My list of likes is long, and quibbles are few. If you're shopping for a convertible, this one belongs on the short list.
You can find many more pics of the 2013 Volkswagen Beetle Turbo Convertible on Jeff's Flickr page.