Note: Kia is not a gay-friendly automaker.
Face it, girls.
You love and are attracted to the butch look, but you really don't want to get your hands dirty.  You love having a strong vehicle that can really take on rough roads and odd rocks, but you don't want the ride to spill your caramel macchiato. And you'd love to be able to stand around in circle of men and show them something that will really impress, yet you still want to have enough money to pay your cell phone bill.
You don't have to admit it, but if you said yes to any of the above fantasies, the 2013 Kia Sportage may be the car for you. Starting at $20K after dealer costs, the Kia Sportage consistently delivers when it goes off-road, even with the standard inline four-cylinder engine. On the road, it's a nice smooth worry-free ride. While to-die-for is not the best way to describe the vehicle, reliable is, and ultimately that's the appeal of the 2013 Kia Sportage.
That wasn't always the case in the 15-year history of the Kia Sportage. Once considered a bargain basement remnant with four wheels, the Sportage has matured into a crossover vehicle, which means that now it's built on the frame of a car rather than the frame of a roller skate. The 2013 model really is the best Sportage yet, as Kia Motors has gone from being seen as a cheap import to a manufacturer of solid, safe vehicles. How many people do you know who have matured that well in 15 years?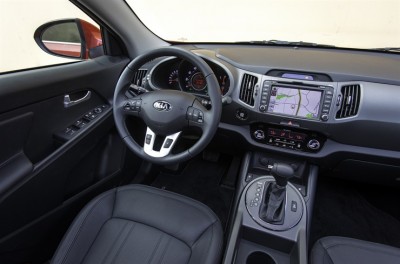 Standard equipment on all four trims (Base, LX, EX and SX, going from base to top tier) now includes Bluetooth and iPod interface, something today considered a necessity rather than a luxury. For 2013, you can access all your audio from controls on the steering wheel. Other standard features of note include a one-touch power window for the driver and leather-wrapped arm rests. As for safety, even the base EX trims get an array of important and effective safety equipment, to include four-wheel antilock brakes with brake assist, Electronic Stability Control, Hill Assist Control, Downhill Brake Control, and passenger front and side airbags. For 2012, the Sportage was chosen as a top safety pick by the Insurance Institute for Highway Safety (IIHS).
Before the snow fell, I took the Kia Sportage SX AWD, the top trim, for a drive in the Rocky Mountains.  As expected, the ride was smooth and the performance was stellar, making it a great car to put to the test should you ever find yourself at a butch event where you need to show your prowess.  Curves and sudden changes in road slope are part of the Rocky Mountain driving experience, and the Sportage handled it with no problem. No surprise there, really.
What really makes the 2013 Sportage shine for me is a big full panoramic sunroof, available only EX and SX trims. This sunroof opens up the entire vehicle like a can of sardines (Remember those? Oops, I'm old). It's amazing how much better you feel when you open up and let the sunshine in. If you have the credit, I would say this is the best option to get. If you have to cut somewhere, I wouldn't bother with the navigation. Not that it's bad, but Google Maps on your  cell phone really is great and just as easy to use.
The bad news – and this has been a consistent problem for the Sportage – is that interior space, especially in the rear seats, is at a premium.  The curving slopes of the European-style roof really stun from the outside.  Yet inside, it can get a little too cozy, even for people of normal size. Should one of your passengers try going Gangnam Style in the backseat, more than a few raw nerves and hot lattes could spill over. If your friends are bears and you're often the designated driver, you might want to go up a notch and check out the Kia Sedona, which is a minivan, yes, but a snazzy one that looks …. well, butch, really.
Critics have raved about the new Sportage, how stylish it looks, how clean and solid it stands.  Yeah, sure, it's all that.  But its best quality, really, is that is a reliable SUV, big enough for Elton John's family (but not his house staff).
Mileage averages about 20 in the city and anywhere from 25 to 30 on the highway.  You always have to take these numbers with a grain of salt (I will have to learn some 21st century clichés) since, as the commercials say, "individual mileage may vary." No kidding — especially given the EPA fuel-economy fiasco dogging Kia and its sister, Hyundai. But you can still get quite a bit from the $40 you will put in the tank every week.
Also, the Kia Sportage is definitely a dog car and a great car for children, car seats, and possibly even flower deliveries. Test drives are almost always available at a dealership, just do yourself a favor: walk away after driving and then come back and buy it if you choose.  The one-time-only deal they're offering will still be there next week, trust me.