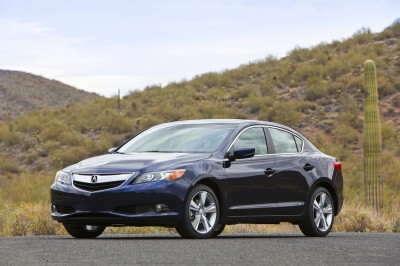 During the next few years, no automotive segment will be more contested than the entry-luxury market. I've taken to calling these drivers the NQR40s, or not-quite-rich, under 40s. They're young, not exceedingly wealthy, but they can certainly afford cars with above-average price tags. Like our own tribe, they tend to be tech- and design-savvy. Make it fun, urban-appropriate, and a bit daring, and you've got the perfect package for most folks in this demographic. (Or us, for that matter.)
Acura's first serious attempt to woo the NQR40 driver is the ILX, a car based on the Honda Civic and built in Greensburg, IN. That's a similar strategy employed by GM as it bases the Buick Verano on essentially the same chassis as the Chevy Cruze. As long as it looks and drives great, who cares what candy is hidden beneath?
Looking at the ILX, its Civic heritage isn't obvious. It has a clean design, highlighted with a sculpted satin silver grille surround, shouldered rear flanks, and upturned windowline. The car looks like a shrunken version of the larger RLX sedan. Xenon headlamps, 17" alloys, foglamps, and neat hood creases imbue a sense of refinement. It passes as an Acura, not a Honda.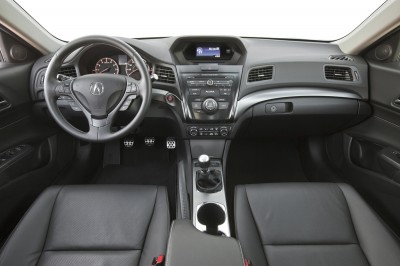 Same is true of the leather-lined cabin. Where the Civic has a complex instrument cluster with digital gauges, the ILX is pure sport sedan, greeting drivers with large analog gauges, a leather-wrapped three-spoke steering wheel, and twin cockpit dash design. Sport seats are superb. Audio and navigation controls are a little confusing, but you get over it. Heated seats keep you toasty; Bluetooth and USB ports make connecting phones and MP3 players a snap. Enter the dungeon blindfolded, and you could be in any Acura.
The ILX is available with three powertrains. Most, like our test car, come with a 150 horsepower, 2.0-liter four-cylinder connected to a paddle-shifted five-speed automatic transmission. Performance enthusiasts will select the available 2.4-liter four-cylinder that delivers 201 horsepower and is matched exclusively with a six-speed manual transmission. Green intenders prefer the 39/38 mpg city/highway hybrid system that utilizes lithium-ion batteries and a 1.5-liter four-cylinder engine. Even with the base engine, drivers should expect to see 24/35 mpg city/highway.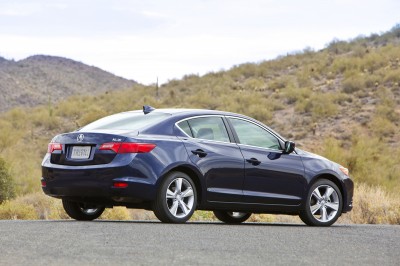 Personally, I like the ILX. Cabins are comfortable, even without French-stitched door coverings. Styling is conservative, but upscale. I could really appreciate the 2.4-liter engine with an automatic transmission, but the base 2.0-liter is adequate. There is some engine noise, but it is not obnoxious. If the ILX mysteriously appeared in my driveway, I'd probably like it for a very long time.
But we have to discuss price and that's Acura's real challenge in attracting NQR40s. Our ILX came to $32,295 as-tested — about $7,000 more than a comparably-equipped Civic, and more than the high-performance Si version. The ILX is a nice car, but so are the Buick Verano, Audi A3, BMW 1-Series, and upcoming Mercedes A-Class. Acura simply has to do more than deliver a Civic in drag. It must build a world-class compact. Sales will tell if they succeeded.
Storm forward!
2013 Acura ILX 
Five-passenger, FWD sedan
Powertrain: 150 hp 2.0-liter I4, five-speed auto transmission
Suspension f/r: Ind/Ind
Wheels: 17"/17" alloy f/r
Brakes: disc/disc fr/rr with ABS
Must-have features: Style, handling
Fuel economy: 24/35 mpg city/hwy
Assembly: Greensburg, IN
Base/as-tested price: $25,900/32,295