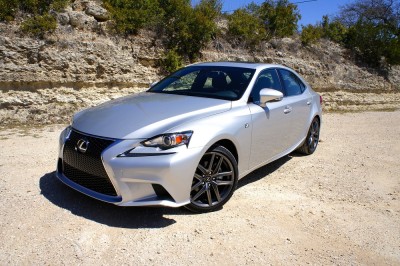 In my youth, the movie Jurassic Park was everything to me. So, you'd think I'd relish the opportunity to be whisked over Austin, Texas in a helicopter, Jurassic Park-style. John Williams' sweeping soundtrack from that 1993 blockbuster would dance in my head as we'd glide over the city, all smiles and wonder.
But no, I was scared shitless. My mother's voice ping-ponged in the back of my mind, "You're actually going to ride on one of those death traps?!" Lexus, no doubt, thought it would be totally baller to send us to the Austin race track where we would drive the new 2014 Lexus IS "in a copter DUDE!", but as I ran to the waiting conveyance, with my head ducked low so as not to get decapitated, I felt far more like the cowardly Donald Gennaro (the one who gets eaten by a T-Rex while sitting on a toilet) than the brave Dr. Alan Grant.
Basically, helicopters are terrible to me because, like, Kim Zolciak, they feel like they're always out of control. Constant bucking, deafening racket? Yup, that's just normal behavior for a helicopter. (Or Kim, for that matter.) Freaky.
Well, I made it through those harrowing ten minutes, walked out of the cockpit like the badass I always pretend to be, and headed straight for the nearest chair for a good long sit. My head still spinning, I needed a cure for that out-of-control feeling the helicopter had saddled me with just a few minutes prior.
I soon found that cure in driver's seat of the all-new 2014 Lexus IS. A row of them were parked in front of the track, their new grilles glinting and gleaming in the Texas sun. They looked hungry.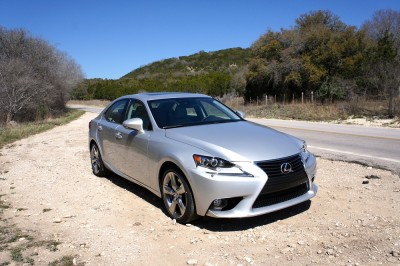 How it drives
"You bred raptors?!"
Yes my friends, Lexus has bred a raptor. In fact, Lexus went about building its raptor much the same way the folks at Jurassic Park crafted theirs: by attempting to clone the original. That original, of course, is the BMW 3-Series, the compact sports sedan against which all others are measured.
The 2014 IS will come in a bunch of different configurations, all of them offering a different driving experience. Let's break it down:
IS250/IS250 AWD: The base engine in the IS line, all IS250 models are equipped with a 2.5-liter V6 producing 204 hp and 184 ft-lbs of torque. Power is adequate enough to make the IS250 feel somewhat sporty, especially if you put the car in Sport mode, which keeps revs high in order to deliver maximum funness. Zero-to-60 comes in 7.9 seconds.
Oddly, other companies like BMW and Audi are offering smaller displacement four-cylinder engines in this price range that offer more torque and better fuel economy than the base V6 in the IS. Still, this base engine does a commendable job of moving the IS250 in a reasonably quick manner and will be the choice for the majority of IS buyers.
IS350/IS350 AWD: All IS350s come with a 3.5-liter V6 churning out 306 hp and 277 ft-lbs of torque. This is clearly the enthusiast's choice. The 3.5-liter delivers strong performance with a 0-60 time around 5.6 seconds. Of course, all that fun takes a toll on fuel economy, with the IS350 registering 22 mpg combined for the 2WD version, and 21 mpg combined for the AWD version. Again though, the 3.0T in the Audi S4 delivers comparable fuel economy while delivering higher hp and torque. Ditto the BMW 335i's twin-turbo inline-six. Contrary to popular belief, the Japanese don't always deliver the most efficient engines.
IS250/IS350 F-Sport (Both available with AWD): The F-Sport package, available on both IS250 and IS350 trim lines (with their respective engines), is much more comprehensive than just a few sporty looking accessories. F-Sport models arrive with more dynamically tuned front and rear suspension springs and shock absorbers, giving them a markedly more athletic demeanor. Of course there are some styling benefits to be had with F-Sport models as well, the most obvious being the F-Sport's more dramatic front grille with extra cooling holes that give the front end a dynamic look. F-Sport models also get LED headlights as standard.
In case you weren't keeping count, that's a grand total of eight different choices for your IS — and that's before you even get to colors or options. Blimey.
No matter which IS model you choose, you'll be greeted with a very athletic chassis that feels nearly as in-tune and connected to the driving experience as comparable BMW models. So much so in fact, that I doubt the average buyer would be able to tell much of a difference. F-Sport models up the ante with specially tuned suspensions that enhance the IS' naturally sporty demeanor. There's even more ante to up when you choose the available Adaptive Variable Suspension (AVS) on an F-Sport model, a system that actively adjusts shock absorber damping force in response to current road conditions.
Beyond all this though, most expect people a Lexus to drive like a bank vault. Comfort and sound elimination is paramount to the brand, the fact that it moves seems a mere afterthought, almost an inconvenience in most Lexus vehicles. Those brand hallmarks are still accounted for in the IS, with a fairly smooth and serene cruising experience on the highway — though oddly the models I sampled seemed to have quite a bit of road and wind noise.
All models also benefit from a trick knob Lexus calls Drive Mode Select. This little prudence in the center console lets drivers select the kind of driving experience they wish to have in their IS with the flick of a wrist, offering ECO, Normal, and Sport modes. Normal mode is perfectly sufficient for running your daily errands, getting milk, etc. If you find yourself being chased by, say, a really super confused and hungry T-Rex, you're gonna wanna flick the Drive Mode Selector over to Sport, which will keep the revs high and all the power right at hand, perfect for quick getaways. You may then find that you've burned up so much gas in Sport mode that you're now concerned you may run out of petrol before you reach your rescue copter. This is when you'll want to flick the Drive Mode Selector over to ECO, which will do its best to eke out as much fuel economy as possible. It will also be handy when you don't have time to get gas before a yoga class.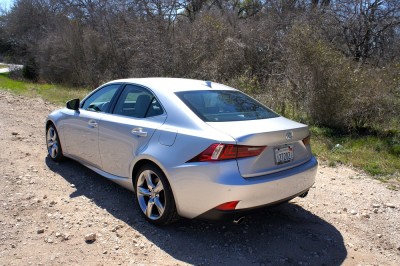 How it looks
"You stare at him, and he just stares right back."
The new IS has plenty of personality — a shocking statement to utter about a Lexus, I know. Whereas the previous generation IS was a sporty-ish Corolla-looking thing, this all-new IS is super-pissed and has clearly been bred with some kind of alien/reptile hybrid. Cues from the previous generation are still there, mostly in the shape of the side windows and its high and pert trunk. The 2014 IS is an evolution for sure, but there's far more drama in this model than in previous versions.
Starting at the front we have Lexus' spindle grille making a rather terrifying appearance. This is easily the most dramatic application of the brand's new grille to date and is sure to make many any innocent cow (and probably some humans) shriek in fear. Moving out to the headlights we find something even more interesting, Lexus has separated the main projector beam units from the LED daytime running lights, with the upper units resembling something of the arachnid persuasion and the detached DRLs looking like an elegant blob that will give Nike's trademark lawyers something to sweat over.
Moving to the side, Lexus has been careful to maintain the traditional IS profile, with a few tweaks. The most obvious change is the enlargement of the rear window that, to my eyes, makes the side look a bit more clunky and ordinary than the previous generation's high-n-tight rear window treatment. A new character line on the lower rocker panel twists up toward the rear wheel and lights. Lexus says this has been done to emphasize the rear-wheel-drive dynamics of the IS, though in practice it looks a little over-wrought.
Around back Lexus continues the "super-pissed" theme by giving the IS some very angry looking taillights. Lexus is proud to point out these tail lights incorporate the brand's "L" into the shape of the light pipes. Clever, if you only look at the one on the left. Just below the new taillights there appears to be a deep gash created by something with a very long incisor. It makes the rear lights look like they're not correctly seated, and I dislike it very much, but the rear, as a whole, is pleasingly sporty and purposeful-looking.
Lastly of course there are the ever-important wheels. Think of them as the claws of the vehicle: they hold the key to making the IS look like a velociraptor rather than a Brachiosaurus. F-Sport models (both 250 and 350) receive some LF-A inspired rims (noticing a trend here?) that look good if not altogether interesting. A personal favorite of mine were the snowflake-looking 18-inchers available on the IS250 as an upgrade from the standard (and very dumpy looking) 17 inch 10-spokes.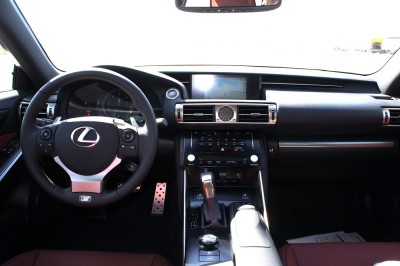 …and the inside?
"We should have stayed in the damned car"
Gone is the upright, symmetrical, and stodgy looking cockpit of the outgoing IS. This new IS sports a cabin inspired by the firm's $400,000 supercar, the LF-A. Occupants are presented with a much more horizontally oriented cabin with broad, linear shapes dominating the cozy, but comfortable space.
Front seats are comfortable and supportive in all models, however those who elect to buy the F-Sport models will find themselves sitting in someone wonderfully bolstered sport seats that hug you like a velociraptor hugs a goat. Rear seating was comfortable enough even though the shape and angle of the seatbacks seemed a little too upright for my liking. In an odd twist though, you can only get those sport seats with heating, not the ventilation system that lesser models are optioned with.
Of course, the trick LF-A-inspired Adaptive Meter gauges on the F-Sport should more than make up for that omission. With the Adaptive Meter, drivers are faced with a customizable LCD display that sports a physical ring around them, which motors to the right at the touch of a button to provide more room for information on the left. It's a bit of a gimmick, but that didn't stop me from continually making that gauge ring slide back and forth for my own entertainment. Standard IS 250 and 350 models have more conventional analog gauges with a smaller LCD display sandwiched between them.
Over on the tech side of the equation we're greeted with Lexus' newest infotainment system. Updates to this system include a more intuitive menu layout as well as traffic and weather information provided through HD Radio that ingeniously does not require a subscription. This applies to IS models with and without navigation, though the information available on non-navigation models is generally less informative and up-to-date. Still, subscription-free is nothing to scoff at when most other companies charge you at least a satellite radio fee to keep that data flowing to your little darling. In units with navigation, controlling the standard seven-inch color monitor in the IS is still done via Lexus' remote touch control, a system which I find fiddly and awkward at times.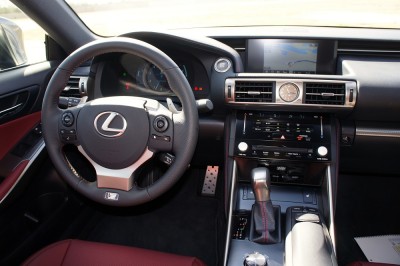 In terms of comfort though the IS interior is a great place to be. While Audi still reigns supreme in terms of design and materials quality, the IS has a firmly modern cabin that should appeal to younger buyers. The seats on the Lexus displayed much more everyday coziness than those on the BMW 335i that Lexus provided as a point of reference.
However, there are a few oddities and downsides to this cabin. All models tested were equipped with an old-fashioned foot actuated parking brake that didn't seem to fit with the rest of the IS' tech/sport aura. Every time I stepped on the parking brake I felt like I was parking my Grandmother's 1987 Plymouth Reliant K.
Also, while materials are quite nice, there is an overabundance of textures, which I found a bit off-putting. An oddly glittery black plastic adorns the center console around the stereo controls, which showed oily fingerprints very quickly. Additionally, wood and carbon fiber accents are provided depending on which model you choose, but the wood is fake and looks fake. Same goes for the carbon fiber-like material smattered on the F-Sport models. It's clearly not the real stuff.
Also, an analog clock? Seriously? Ew.
Is she a Killer?
She's probably not enough to un-crown the 3-Series in terms of driving dynamics, but maybe she doesn't have to. Offering 98% of the sporting feel with a larger pedigree for reliability may be more than enough for many shopping in this segment. Add to that a more richly detailed cabin than a comparable BMW or Mercedes, and the 2014 Lexus IS certainly seems to be a good alternative to the German sport sedan norm.
The 2014 Lexus IS may not be the best in her class in any specific category but being very good at many things is certainly a good place to be.
The 2014 Lexus IS is indeed a clever girl.