The Geneva Auto Show — which wrapped up this past weekend — is often a launchpad for quirky Euro fuel-sippers, but in 2013, automakers mostly brought their prize rides. Like the lobby of the St. Moritz, the show was full of glamour and wealth. Here are some of the highlights: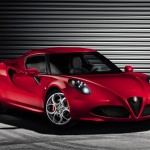 Alfa Romeo 4C
Coming later this year to U.S. Fiat dealers, the mid-engine Alfa boasts a 240 horsepower, 1.75-liter turbo-four, twin dry-clutch transmission, and multiple driving modes. Simple interiors with leather buckets and digital instruments enhance its exotic aura — as does production at the Maserati plant in Modena, Italy. Prices should begin under $80k.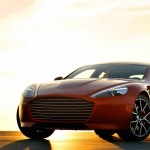 Aston Martin Rapide S
The British supercar builder celebrates its 100th Anniversary with this super sexy four-door coupe. The Rapide S wears a new full grille, revised decklid with a flip spoiler, and sleeker aerodynamics. Interiors are divine! The 6.0-liter V12 pumps out 550 horsepower — enough for 0-62 mph in 4.9 seconds and a top speed of 190 mph. That soaring performance will be matched by a soaring price, above $250,000.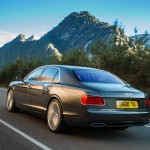 Bentley Flying Spur
Given the 616 horsepower 6.0-liter W12 engine that moves this huge car from 0-60 mph in 4.3 seconds, and to a top speed of 200 mph, the name is appropriate. This being a Bentley, passengers are lavished with exquisite hides, 10 square-meters of wood, 1100W Naim for Bentley audio, and a Wi-Fi hotspot. Deliveries begin in July, and shoppers can expect to shell out over $200,000.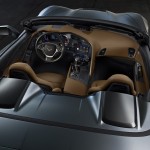 Chevrolet Corvette Stingray Convertible
This Vette convertible is even sexier than the coupe. It runs with a 450 horsepower 6.2-liter V8 connected to a seven-speed manual or six-speed automatic transmission. Aluminum and carbon fiber reduce weight. The standard power top can be operated while traveling up to 30 mph. Five driving modes, heads-up display, and reconfigurable touchscreens delight. Sales begin this fall.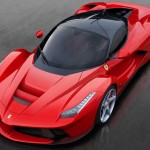 Ferrari LaFerrari
Specs for the Enzo replacement are stunning: a combined 963 horsepower from a 6.3-liter V12-based gas/electric hybrid system take the car from 0-60 mph in under three seconds, on to 120 mph in seven seconds, all the way to a max speed of 205 mph. The multi-vented bodywork is lovely, but also enhances downforce. LaFerrari is, ahem, only $1.3 million, but sadly, all 499 units are sold.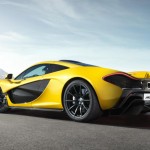 McLaren P1
Exotic looks conceal a plug-in hybrid system, with a 3.8-liter twin-turbo V8 that generates 906 horsepower. The P1 covers 0-60 mph in less than three seconds and tops out at 217 mph. Intensive use of carbon fiber, a downforce-generating body, and adjustable suspension enhance performance. It will be produced in England later this year for an estimated $1.3 million.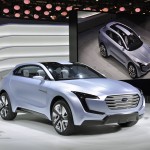 Subaru VIZIV Concept
Imagining a future-generation crossover, the VIZIV flaunts clean surfaces and a projecting grille for tough, yet elegant style. The interior features an info display for passengers and EyeSight crash avoidance system. A gas/electric hybrid system with a Boxer four-cylinder diesel allows independent motor-driven AWD for efficient running and superior handling.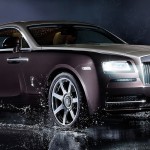 Rolls-Royce Wraith
Wafting by with two-tone paint, a flush grille, and a fastback roofline, the Ghost-based Wraith glistens. Coach doors open to sheets of wood paneling and starlight headliner. Underneath is a 624 horsepower 6.6-liter V12 that scoots from 0-60 mph in 4.4 seconds. Its transmission uses GPS to anticipate roads ahead. Get one this fall for about $320,000.