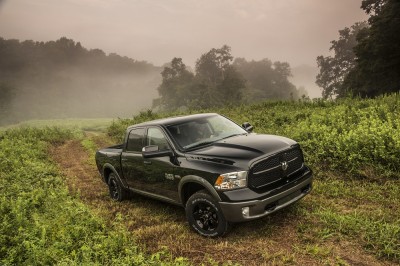 I could recount all of the awards the Ram 1500 has hauled home – Motor Trend Truck of the Year, Texas Auto Writers Association's Truck of Texas, etc., etc. – and you may or may not care. But what might color your opinion is all of the sexy tech this big boy brings to bear.
Ram is not the best-selling full-size truck, but it may currently be the most advanced. At its heart is a 3.6-liter V6 engine that kicks out 305 horsepower and 269 ft-lbs of torque. Not impressed? It connects to an eight-speed TorqueFlite automatic transmission and delivers up to 25 mpg hwy. Of course, Ram lovers can step up to the 395 horsepower 5.7-liter HEMI V8 should the V6 not satisfy their urges.
That's impressive, but still isn't the entire tech story. The engine enlists variable displacement to shut down three cylinders at cruise while grille shutters divert airflow when not needed for cooling the engine – just as in a hybrid or high-mpg compacts like the Chevy Cruze Eco or Ford Focus SFE. Ram's adjustable air suspension squats down to enhance aerodynamics on the highway. A lot of little things add up to big bennies.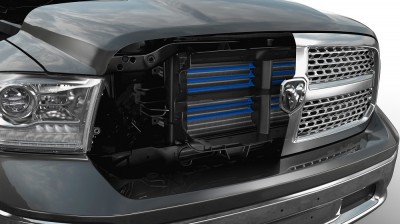 But, don't think the Ram has gone all citified to enhance its green cred. Its off-road prowess would send a mountain goat clomping back into the brush. As in a Range Rover, the air suspension system can jack up the truck two inches from normal ride height for serious off-roading. The system also detects loads on the suspension, from either the bed or trailer, and raises the rear to stay level. Shift-on-the-fly 4×4 with low range means that the Ram loves snow drifts and steep, muddy hills. Tow hooks, a transfer case skid plate, and front suspension skid plates make it clear this is no Fiat.
Take a close look at the truck's key fob and you'll see an extra button that lowers the truck two inches for entry. Once inside, caress a cabin fit for a prince. Up front, a locker-sized center console, ginormous cupholders, and door cubbies store almost anything. A household-type 110-volt outlet is perfect for charging iPads or shaving your mug en-commute. Climate control, a 506-watt Alpine audio, and navigation are all accessed through the world's easiest-to-use touchscreen. As in a Jag or Rover, you put the big Ram in gear with a stylish chrome knob.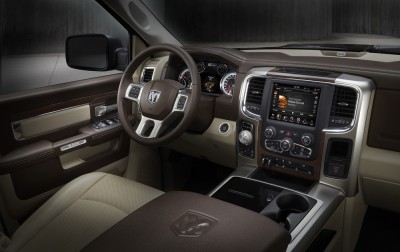 All of this comes with bold Freightliner style. Edges are smoother, and the hood slips more easily through the wind, but you'll mistake it for nothing else. If all that flamboyant style has you jonesing for a diesel, hang on – Ram will offer a version of the Grand Cherokee's engine in 2014. Fuel economy will likely improve.
If the marriage of Chrysler and Fiat continues to deliver vehicles like the Ram with American muscle and Italian finesse, many good years lie ahead. The Ram 1500 can still do all of the things a tough truck should. In fact, it does them better – and with a brighter shade of green.
Price as-tested came to $45,445, making Ram horned competition for the Chevy Silverado, GMC Sierra, Ford F-150, Nissan Titan, and Toyota Tundra.
Storm forward!
2013 Ram 1500
Five-passenger, 4×4 Pickup
Powertrain: 305hp 3.6-liter V6, 8-spd. auto transmission
Suspension f/r: Adj. Ind/Solid axle
Wheels: 17"/17" alloy f/r
Brakes: disc/disc fr/rr with ABS
Must-have features: Ride/mpgs
Fuel economy: 16/23 mpg city/hwy
Assembly: Warren, MI
Base/as-tested price: $22,640/45,445