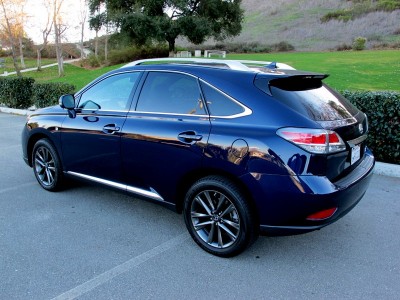 What's gotten into Lexus lately?
Don't get us wrong: we like the fresh — dare we say, sporting — aura around many of its latest models. The company should be applauded for avoiding the sort of mistakes made by a semi-renamed and severely misguided American luxury brand, which first designed a full size luxury sedan with no rear legroom, then built what might possibly be the ugliest luxury SUV ever created, and finally tried to buy some hipster cachet with baby boomers by hiring David Bowie as its spokesman. (Though in fairness, he was probably the only celebrity capable of sitting in the back of that sedan other than Linda Hunt or that Lucky Charms leprechaun.)
But back to Lexus. The automaker began its transformation from wallflower to warrior with the introduction of the brilliantly insane Lexus LF-A , a technological marvel that seems a bargain even with a price tag over $300,000 (if you're lucky enough to be offered the chance to buy one). Regular folks with above-average incomes can enjoy the brand's not-so-cheap thrills too, thanks to the road-gripping Lexus GS and surprisingly stylish ES. Even the upcoming Lexus IS sedan looks to be a game changer in the entry-level luxury market.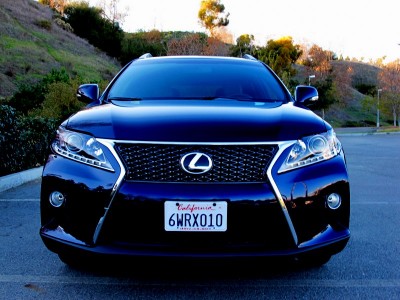 In the process of morphing from zero to hero, Lexus has changed its face — literally. Is it just us, or does the company's new grille look weirdly like the wide-mouthed, fang-ridden jowl of the monster from the Arnold Schwarzenegger film Predator? No? Well, at the very least, it's aggressive and angry-looking, which has helped the Lexus pack on just enough tough guy swagger to distance itself from genteel competitors like Mercedes and BMW.
Now, Lexus has taken its cool factor a step farther with the impressive new F-Sport line options, which are available on everything from the LS, GS, and even the hybrid CT. Not only does the F-Sport line give these models more aggressive blacked out wheels, sportier exterior, and interior treatments, but it also affords each a number of suspension upgrades meant to improve handling.
It's fairly easy to make a sedan handle and steer with greater precision — in part, because the car's center of gravity is already so low. But what if Lexus tried to do the same thing to an everyday, elevated crossover, like the 2013 Lexus RX350? (Spoiler alert: it has.)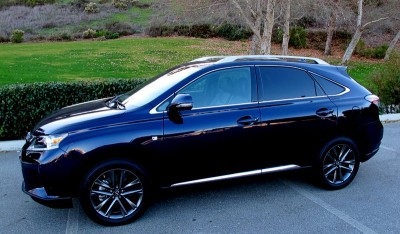 Our test 2013 Lexus RX350 F-Sport Line felt nimble in tight corners that would've had most other luxury SUVs howling and threating to tip over. The steering rack felt taut and communicative with no sense that it had just been attacked by a psychotic dentist with a huge needle of Novocain. In fact, it felt rather firm, yet at parking lot speeds it lightened up nicely for easy maneuvering. The upsized 19-inch wheels on the F-Sport model didn't do anything to damage the RX's traditionally smooth ride, either.
Our tester came with full time all-wheel drive (which helped give it that "secure handling" feel), a gorgeous Deep Blue Mica exterior color, the aforementioned 19 inch smoked alloy wheels, a very athletic-feeling 270 horsepower 3.5 liter V6, eight-speed automatic, a black leather interior of the highest quality, dual zone climate control, heated/cooled front seats, a moonroof, navigation, back-up camera, Bluetooth, a choice of wood of aluminum trim, and a 12-speaker premium audio system with HD radio, most of which came as part of the F-Sport Package. Navigation was extra, though, bringing the $47,000 base price up to $50,334.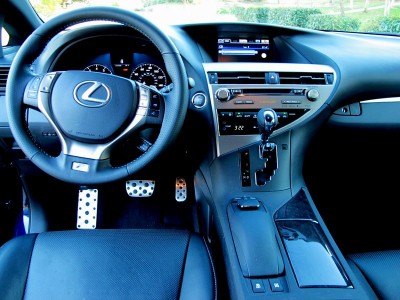 Now, you may think an SUV that costs this much must have all the utility of a Victoria Beckham Range Rover Evoque Special Edition with Pink Diamond inlayed wheels — but you'd be wrong. This Lexus offers 40 cubic feet of space with the rear seats in place, doubling to 80 cubic feet when you fold the seats down. With that much room, you'll be able to take your two 80-pound rescue dogs to the park and still have room for a Home Depot stop on the way home. (Just don't leave the hounds in the car, please.) Later that night, this SUV will impress even the most judgmental queens in West Hollywood should by some miracle you find a parking spot within a five mile radius of The Abbey.
If you're looking for a Lexus that can both rock and roll, the 2013 Lexus RX350 F-Sport line should be on your short list.