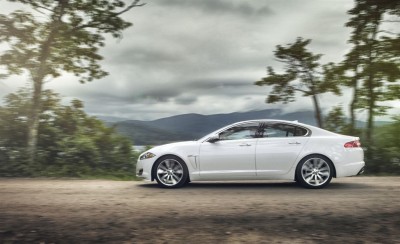 Jaguars are about sexy style, deep-cosseted cabins, and V-12 power. Well, maybe not so much for that last one. I love the hot XFR and its 510-horsepower supercharged V8, and old Jags with their V-12s are divine, but what is this roomy cat with a four-cylinder engine? I mean, fuel economy is great, but a four-cylinder Jag? It's like 1/3 of a proper engine!
But check out the 2013 Jaguar XF. Its 2.0-liter turbo engine is distilled with full body and aroma to please, delivering 240 horsepower — all routed to the rear wheels through an eight-speed automatic transmission with sequential shift paddles. Torque is felt the very instant you twitch your right toe and helps propel the sleek sedan from 0-60 mph in 7.5 seconds. From behind the wheel, it feels even faster. That's no comparison to the XFR's 4.7s sprint, but the smaller engine also delivers 30 mpg on the highway.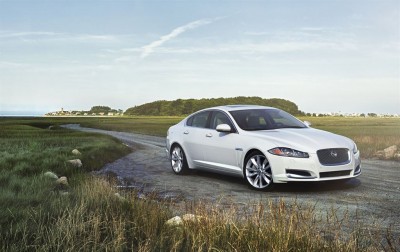 As much as an engine, one expects full swaths of leather and wood in a Jaguar. Meeting expectations are Bond grain leather seats, satin rosewood veneer on the center console, suede headliner, and aluminum trim across the dash and doors. Buttered bovine inundates your nostrils. Dash- and door-tops are stitched leather that could have come from Uncle Bentley's herd. The bluish-gray hide used for our car was deeper than a Venice canal. Heated and cooled seats, heated steering wheel, 10-speaker Meridian audio, power moonroof, and backing camera envelop passengers.
Beyond hedonistic luxury, there's something both more elegant and personal about the XF's interior, lending an air of sportiness not found in competitors. Instead of the hulking center control stack you'll find in many modern cars, the XF's panels are more horizontal than vertical, flowing into a high center console with deep cupholders. Major controls are touchscreen with button back-ups below; gears are selected with a big knurled chrome knob that rises from Rosewood when the starter button is pressed. It's all so dramatic, all so aromatic, all so charming.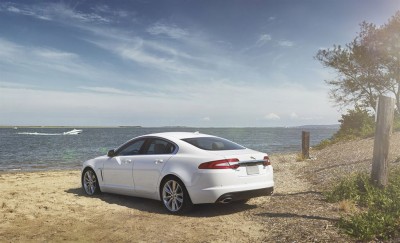 Exterior styling is not as distinctive as older Jags, looking too much like a Lexus, but it's certainly not boring. I especially like the ample hood bulge, chrome mesh grille, wide shoulders, 18" alloys, and rear roof that flows into the high decklid. HID headlamps covered by a close-cropped hood look angry, which I suppose is the point. It's a design that should age gracefully.
I was never a big Jaguar fan, although I appreciated their allure. This is my third test of an XF and the one I'd most like to own. The interior is exquisite, making you feel like spoiled royalty with acres of leather, wood, and all of the latest technology. Its proportions fit drivers perfectly. Although the motored-up gear knob and self-concealing air vents seemed silly, I grew to like their James Bond cache. And, the engine is the best of all worlds — plenty of low-down torque, spunky attitude at speed, and miserly fuel economy.
Don't think of the Jaguar XF 2.0 as 1/3 proper, but rather a more affordable route to an intoxicating Jaguar –- all with a base price of $46,975.
Storm Forward!
2013 Jaguar XF 2.0
Five-passenger, RWD sedan
Powertrain: 240 hp 2.0-liter turbo I4, eight-speed automatic transmission
Suspension f/r: Ind/Ind
Wheels: 18"/18" alloy f/r
Brakes: disc/disc fr/rr with ABS
Must-have features: Style, performance
0-60 mph: 7.5 seconds
Top speed: (limited): 121 mph
Fuel economy (est.): 19/30 mpg city/hwy
Assembly: Castle Bromwich, U.K.
Base price: $46,975