Why pay for a new 2014 when you may still find some great new 2013 models at your local dealer? Here are some thoughts for your gay experience as you contemplate a set of wheels that really says "We're here, we're queer and we are still the niche market with the most disposable income!"
Lexus ES 350: I had a chance to drive this beautiful car to Santa Fe over the July 4 weekend, and the drive was one of the best parts of the trip — and we thoroughly enjoyed Santa Fe! U.S. News and World Report conducts a statistical and literal review of all published reviews of a given model, and thus ranked the car 16 of 20 in the Upscale Midsize Car category. That's unfair, since most of the criticism is that the Lexus ES is not as fun and sporty as other models.  Hello, this is a smooth luxury car in the vein of the Lincoln Town Car and the Buick Park Avenue. The ride is as refined as the wedding cake at your first wedding: delicious and memorable. Dr. Huxtable drives this car when he wants to relax and get safely and smoothly from the sauna to the country club. No, it's not as big as an Audi A8 and is more in-line with the Acura TL. If you need fast, try the Lexus IS. Yet if you want a drive that won't require benzos (please don't pop pills and drive), try the ES. It literally has Lexus written all over it.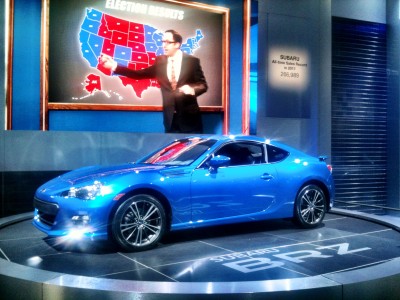 Subaru BRZ: This is the sports car that everyone was anticipating for four years, and all the way around, it delivers well and was worth the wait. You can actually manually shift and race this car, and while it is not the fastest car on the track, it's pretty fast — and pretty sporty all the way around. As opposed to other Subarus, which are practical and have driver comfort in mind, the BRZ has a powerful 2.0 liter 4-cylinder engine that sends 200 horsepower to just the rear wheels. Believe it or not, that's a powerful engine when sitting in a BRZ. Combined with a light body weight, the BRZ can kick asp and perform anywhere — if only all our courtships were that flexible.  It's a two-door powerful little pistol, so make sure that you want all that fun in such a compact space. This is a collaborative effort with Toyota, and it comes in a base trim — called Premium — and the Limited edition, which comes with automatic transmission.  Starting at $25K, this is the urban sports car of the future, or at least the next congressional election.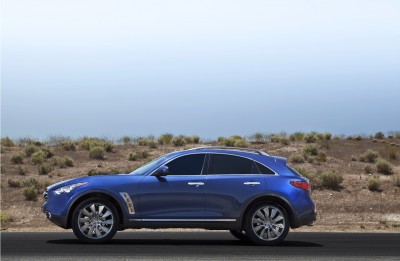 Infiniti FX37: I will admit, I have never been a big fan of Infiniti, the high-end off-shoot of Nissan Motors. Much of the car world has raved about how fast, sporty, and sexy Infinitis are, but I have always found them to be a bit clunky.  That said, much of the car world raves about the 2013 FX37, which is considered a luxury midsized SUV. U.S News and World Report rates the FX37 at 7 out of 19 in the Luxury Midsized SUV market, so it's a little above average.  To be sure, Infinitis are always luxurious; that's the whole point behind the brand. And the FX, which has been around since model year 2003, is quite sporty, taking full advantage of a V6, 3.7-liter (which is a lot, really) engine. Perhaps my problem is that I'm not sure that SUV and sporty are a good mix. Critics complain that room in the vehicle is cramped, and if you are one of those Modern Families with precious cargo and lotsa groceries, does all that tight space at warp speed matter? Just as I felt the concept of Compact Luxury (aka the Lexus CT200) was a stretch, I feel the idea of a Luxury Midsized SUV is also a stretch.  Just my opinion, which brings us to…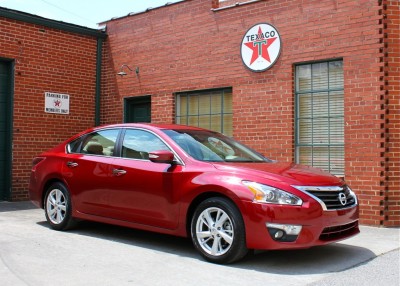 Nissan Altima: You say Altima, I say Ultima. When we all say Altima, Maxima or Ultima, we are all talking the language of luxury, performance and reliability.  I have always felt that Nissan should focus its luxurious efforts on Nissan, because when it does, you get cars like the 2013 Nissan Altima, which used to be a fairly low-end affordable vehicle. The Altima is still considered affordable, starting at around $20,300, and overall, the car is praised as a smart, practical family sedan that has some oomph to it. If you want upscale, check out the Nissan Maxima.  I could have sworn at some point around the turn of the century Nissan produced an Ultima, but I can't seem to find any record of it. Oh well, the Altima really is the "Ultima" of Nissan luxury, and it's affordable. Altima's competitors are the Chevy Malibu on one end and the Hyundai Sonata on the other.  The 2013 Nissan Altima is right in the middle, and for someone looking for a smart sensible yet kicky sedan, being in the middle of this three-way really is the sweet spot. Used Altimas hold up pretty well, so if a new car is not in your future, search Craigslist. For a ride.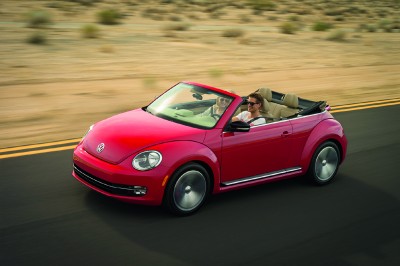 VW Beetle: In the 1960s, Volkswagen roared into America with the now-iconic Volkswagen Beetle, a small, versatile car that originally had its engine in the boot (trunk).  Counter-culture types made the VW Beetle popular then, and now in the 21st century, after many starts and stops, the 2013 VW Beetle is still an important fashion statement. This is a small car that claims to seat four adults, yet even getting a picnic basket in the back seats or the trunk could prove tricky.  Know before your buy that this car is for kicks, style, fashion and little else, other than decent gas mileage (22 city / 31 highway). This is a car that you drive strictly because it is an obvious statement about how groovy you are. If you want practical, please continue shopping. Anyone who drives a Beetle, new or old, feels fabulous; this car is indeed that much fun. You must be THIS cool before you can drive a car THIS cool. If you're cool, you get that.
Lexus RX
450h. Earlier in 2013, I wrote about the RX350 and proclaimed it as one of the ultimate gay driving machines. The 450 is really not that much difference from the 350. Both have the same engine. Both can be pricey.  Okay, the only real difference is one is a hybrid and one is not.  Fair enough.  Overall, prices for hybrids are coming more in-line with gasoline-powered cars, making them ultimately more economical to own and operate. This car is not one of them, as you can easily find yourself paying upwards of $46K just to look great with RX450h.  But, yes, you will look great driving the RX450h. I can't tell you the 450 is better than the 350, because I like them both. The 350 is cheaper by about $6,600. Perhaps some clothing logic is appropriate here: if your outfit looks great, does any need to know or care that you bought it at a thrift store?  I'm just saying.