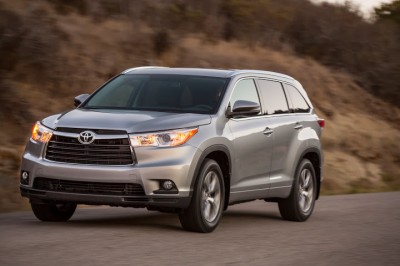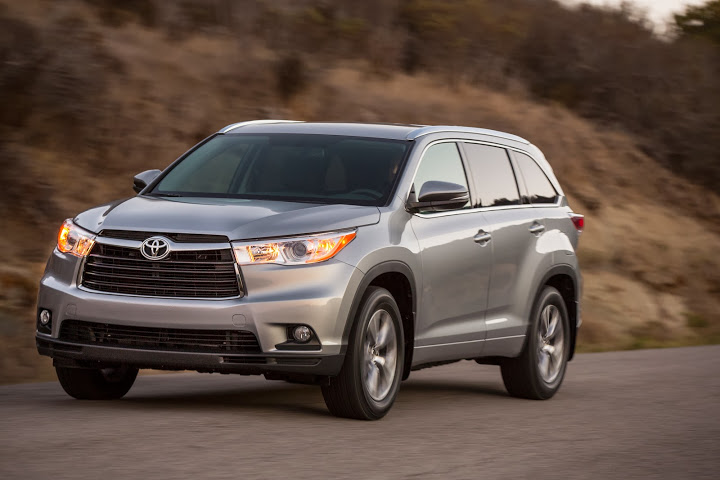 I have a secret. When Toyota invited me to drive the 2014 Highlander, I'll confess my heart didn't skip a beat. But since daytime highs in my Midwestern city struggled to reach double digits, I shrugged and reckoned the warm California sun would be a nice break while I tried to muster an objective take of a new but probably ho-hum SUV. Man, was I wrong.
For one, mine was not the only area of the country shivering through below-normal or even record-low temperatures. Highs on the central coast around Carmel stalled around 60, and only tourists like me bothered to drive with windows open. That's when you could've noticed my second revelation: I was enjoying the hell out of this new Highlander.
While there's nothing wrong with the outgoing second-generation model, it's a bit of a wallflower. That doesn't cut it in a strong segment that includes the Ford Explorer, Jeep Grand Cherokee and Nissan Pathfinder. All "'heroes' in the mid-SUV segment," as Toyota's Takashi Goto explained. That's why the Highlander program's deputy chief engineer and his team "defined the development concept for Highlander as 'Beyond Hero'". Trims offered are LE, LE Plus, XLE, Limited, Hybrid Limited and Hybrid Limited Platinum.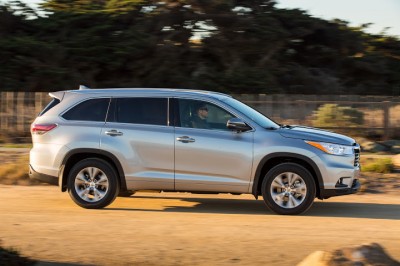 Outside, the new "sleek on strong" look is hard to miss. It begins with a more prominent trapezoidal grille, an assertive look that draws more from its truck kin than cars. In Limited trim, an upscale touch of LED daytime running lights (DRL) reside below the fog lights. Only a scary-sharp eye could identify the extra half-inch the 2014 Highlander gains over the 2013 (75.8 versus 75.2), but it only takes a glance to tell it appears better planted from the frontal view.
Overall length is up from 188.4 inches to 191.1 inches, but it's in no way pudgy and puts the added dimension to good use. A panoramic moonroof is optional and I was instantly spoiled by it. At the corners on LE, LE Plus and XLE models ride standard 18-inch alloys. On Limited and Hybrid Limited, they're 19s with a Chromtec finish, matching the swept but functional roof rails.
Between the wheels, a high waistline with concave door sections make the Highlander anything but slab-sided. The body-color mirrors' integrated turn signals are a welcome touch. Rear doors are as generous as the fronts, as they ought to be in an SUV, and the rear quarter glass has been upsized for improved visibility.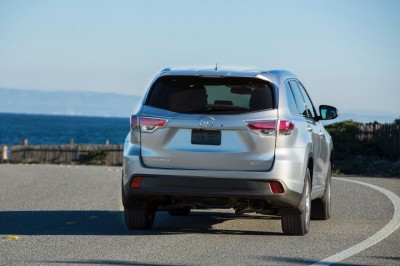 Around back, things look and perform much better in the new Highlander. The wraparound taillights play off the look of the wraparound headlights. Just as it is up front, the rear stance is solid. Down low, reflectors have been added where there were none before. Up high, the power rear liftgate has a cool programmable height adjustment in LE Plus, XLE and Limited models. It saves hassle for shorter drivers and scrapes in low-clearance garages. Highlanders in these trims also have separate flip-up windows in the liftgates.
No matter where you look, the Highlander bodywork sports little aerodynamic touches. Some are easily overlooked, few jump out at you and none are garish like the Batmobile-inspired lines Pontiac tried back in the day. It all works well here. For 2014, V-6 gas models have a .33 Cd as opposed to .34 Cd for comparable 2013s.
Beneath the bodywork, six-speed automatics are on duty in gas models and an electronically-controlled variable transmission (ECVT) is found in the Hybrid. Front-wheel drive LE models have a standard 2.7-liter four with 185 horsepower at 5800 rpm and 184 pound-feet of torque at 4200 rpm. Expect 20/25/22 mpg between city, highway and combined.
Stepping up to the 3.5-liter V-6 in any trim level means 270 horsepower at 6200 rpm and 248 pound-feet of torque at 4700 rpm. Despite the notable power gains, there are no huge penalties at the pump. For front-wheel drives, EPA ratings are 19/25/21 mpg and 18/24/20 mpg in all-wheel drive models.
Move on to the Hybrid, and the 3.5-liter V-6 is joined by three electric motors; two in front and one in back. Together, the hybrid system delivers 280 horsepower (209 kW). On its own, the V-6 is good for 231 horsepower at 5800 rpm and 215 pound-feet of torque and 4800 rpm. Behave yourself and the EPA estimates your mileage at 27/28/28.
Dashing through the snow, muck or whatever, the Highlander's all-wheel drive is an on-demand system for 2014. While some drivers like the idea of full-time all-wheel drive, this seems a capable setup for foul conditions and even soft-roading. Snow Mode can be engaged on gas models for acceleration in slick conditions, and Lock Mode keeps equal torque front and rear at speeds up to 25 mph. Downhill Assist Control also maintains a 2 to 4 mph creep on hills, whether moving forward or backward.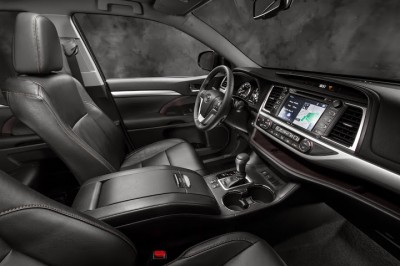 Inside, the 2014 Highlander simply shines. Easily as impressive as the new bodywork, the cabin benefits from no small degree of obsession by Toyota. Immediately obvious is the new three-spoke, tilt/telescope/multifunction steering wheel fronting a soft-touch, horizontal dash that conveys a roomier upscale expanse. I especially like the in-dash shelf as a perfect spot for phones (even while charging), gum and the usual oddments you normally have to pocket or stash too far out of easy reach in other vehicles. A standard 6.1-inch touchscreen is upgraded to 8 inches in XLE, Limited and Hybrid models.
One of many things controlled by the touchscreen is an optional Entune Premium JBL audio/nav system that's well-tuned to the Highlander's cabin. A couple of the many standout features are Driver Easy Speak, which picks up and amplifies the driver's voice through the rear speakers (no more turning away to holler at passengers while driving) and the Entune App Suite. So when you and your partner are driving around aimlessly trying to decide what to do, apps like OpenTable.com, MovieTickets.com and Yelp can intervene.
There's also big news between the cloth (LE), cloth and SofTex (LE Plus) or leather front seats. The cavernous roll-top center console has 24.5 liters of capacity. To put that in context, Toyota demonstrated by packing nearly 60 juice boxes in it. On a less bladder-busting note, it's unofficially dubbed the World's First Purse Holder. I'm sorry to say I left all mine at home and couldn't confirm that distinction. I didn't get to try closing the roll-top over my MacBook Pro I did have along, but it's safe to say tablets have an out-of-sight home here—especially with the 12-volt outlet inside.
Seating is pretty out of sight, too. There's now room for eight (seven in the Limited with second-row captain's chairs). Leg room has grown in the first and second rows, while hip room is up in all three. XLE and Limited models add heating to the adjustable second row. I can easily see going several hundred miles comfortably in either of the first two rows, but my ample six-foot frame would not be at home very long in row three. Kids won't mind it though.
Even with the third row up, cargo volume is a very usable 13.8 cubic feet (13.6 on the Hybrid). Stash both rows and you'll have up to 83.7 cubes for hauling. Even with the must-have panoramic moonroof, you still have 82.6 to work with.
All this wouldn't mean much without safety, and the Highlander delivers. Eight airbags and a host of standard safety features are on standby between the Star Safety System and Driver Technology Package. Between it all, Toyota anticipates a NHTSA 5-Star Safety Rating and an IIHS Top Safety Pick.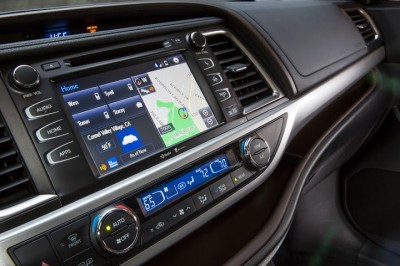 One more obvious and appreciated feature is the backup camera. Nothing new for vehicles, granted, but on Limited models, dynamic lines curve with the intended angle of reversing. Also admired but thankfully untested is Rear Cross Traffic Alert, just the thing for yahoos that treat parking lot aisles as their personal expressways.
I didn't have a personal expressway, but I was lucky enough to have light traffic on canyon and coastal roads, a rare and precious thing in California. Whatever SUV-phobia I had left was gone in a hurry. This new Highlander has surprising composure and neutral, predictable handling, owing in no small part to a new and more sophisticated rear suspension.
As you might expect, an all-wheel drive V-6 is the most entertaining for a spirited run. What wasn't expected was how the Hybrid and base front-wheel drive 2.7-liter LE each responded when pressed. You won't mistake this for a sports car, but Highlander demonstrates a new level of poise in the mid-SUV segment. Impressive all the way around. In fact, I wasn't the only journalist encouraging Toyota to take it a step further with a sport edition. Seriously.
Prices for the base 2.7-liter, front-drive LE start at $29,215 and continue up the ranks to $41,100 for a 3.5-liter, all-wheel drive Limited. The Hybrid Limited can be had for $47,300, or $49,790 in Hybrid Limited Platinum trim.
Toyota aims to put 140,000 US-built Highlanders in US driveways for 2014. The Princeton, Indiana plant is also the sole builder of Highlanders going to a dozen other countries. It's ambitious, but if Highlander can beat my SUV indifference, it should do just fine with consumers.