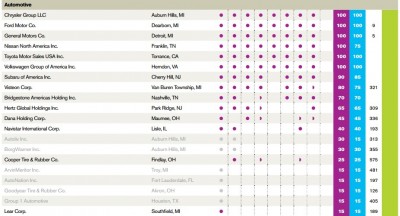 The war is far from won, but there's no denying that 2013 has been a banner year for LGBT Americans and our many, many allies. In legislatures, city councils, courtrooms, and board rooms, people on both sides of the political divide have acknowledged that LGBT rights are simply human rights: the right to love who we want, the right to equal benefits under the law, the right to walk down our city streets without fear of harassment.
The most obvious gain came over the summer, when the U.S. Supreme Court struck down both the Defense of Marriage Act and Proposition 8. But we've also been racking up a quieter list of achievements in workplaces across the country. As proof of that, we need only look at HRC's newly published 2014 Corporate Equality Index.
Two years ago, just three automakers scored a "100" on the CEI: Chrysler, Ford, and Toyota (though GM regained its top spot shortly afterward). Last year, Volkwagen joined the list. And for 2014, Nissan has been added to the roster of automakers with perfect scores, bringing the total to six.
Subaru follows close behind with a score of 90, docked ten points because the company doesn't offer transgender-inclusive health insurance.
Equally promising is the fact that every company included in the auto industry category now has a CEI score of at least 15 — generally because they have employment policies that prohibits discrimination based on sexual orientation. Most companies on the list also prevent discrimination on the basis of gender expression. Not every sector can say that.
HRC notes that a record 304 businesses across every industry scored a "100" on this year's survey. That's up from just 13 straight-A companies in 2002.
SCORING & INCLUSION
As in previous years, HRC's 2014 Corporate Equality Index scores corporations in nine areas. Achievement in the first eight can result in a perfect score of "100", though companies can also lose 25 points for anti-LGBT debacles (like the one Target endured a few years back):
Prohibits Discrimination Based on Sexual Orientation (15 points)
Prohibits Discrimination Based on Gender Identity or Expression (15 points)
Offers Partner Health/Medical Insurance (15 points)
Has Parity Across Other "Soft" Benefits for Partners (10 points) (half credit for parity across some, but not all benefits)
Offers Transgender-Inclusive Health Insurance Coverage (10 points)
Firm-wide Organizational Competency Programs (10 points)
Has Employer-Supported Employee Resource Group OR Firm-Wide Diversity Council (10 points)OR Would Support ERG if Employees Express Interest (half credit)
Positively Engages the External LGBT Community (15 points) (partial credit of 5 points given for less than 3 efforts)
Responsible Citizenship Employers will have 25 points deducted from their score for a large-scale official or public anti-LGBT blemish on their recent records (-25 points)
The data used to assign those scores comes from surveys mailed to every Fortune 1000 company and America's 200 top revenue-grossing law firms. Any company with 500 or more U.S. employees can also request to be included in the survey.
Of course, that leaves out all foreign automakers, though some happily volunteer their information. Gaywheels maintains a larger list of car companies that are considered gay-friendly, with just three automakers — Hyundai, Kia, and Porsche — refusing to offer support to their LGBT employees.
THE STRUGGLE CONTINUES
Though we've won some decisive battles this year, the war for LGBT equality continues. To complicate matters, for every gain we've made in the U.S., it feels as if we've lost ground somewhere else — in Russia, for example, where Vladimir Putin's increasingly authoritarian policies are making life miserable for LGBT citizens, and in India, where the Supreme Court just did the unthinkable by restoring the ban on gay sex that was struck down four years ago.
Remember how you felt in November 2008, when America elected an openly LGBT-friendly president and California simultaneously passed the homophobic, hate-filled Proposition 8? That's the kind of stumbling progress we're likely to make in the coming years. Chin up.