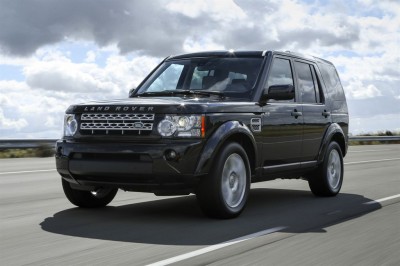 A winter storm is predicted. Oh, the hysteria. How many inches? Eight? And ice too? Then comes the mass assault on biscuits and gravy, schools close days in advance, and everybody scurries home from work. And, me, when this occurred recently? I laughed, turned on my heel, and casually returned to my office. I had a Land Rover LR4 in the parking lot.
Even co-workers in their cute little crossovers turned tail and ran. An LR4 does not run since it's built on a rigid boxed frame like a truck. It raises its four-wheel independent, height-adjustable air suspension and trudges forth, just as if it were going off-road or fording two feet of water. Of course, it can also lower its suspension for highway driving.
Should you need to tackle more than wintery streets, the LR4 comes with 'Rover's Terrain Response system, which adjusts the engine, transmission, and four-wheel-drive for general driving, grass/gravel/snow, sand, mud, and rocks. Hill Descent Control (HDC) creeps the SUV down steep inclines.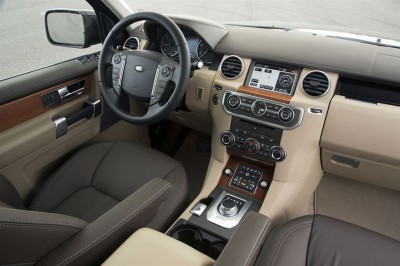 Boxy bodywork is as purposeful as what it hides beneath. Wide flat hoods aren't just for style; they also allow drivers to see all corners of the vehicle when maneuvering off-road. (Which is nice in city parking garages, too.) Yet, the LR4 has a streamlined front facia, flush rear glass, and smooth bodysides that at least acknowledge the science of aerodynamics.
The brick house saves its sensitive side for its insides, which are leather-lined and tri-zone automatic climate-controlled. As in most Land Rovers, you sit up high and peer over the hood as if surveying your country estate. Heated front/rear seats, heated steering wheel, Harman Kardon audio, and navigation make winter travel more pleasant — as does a windshield that is both air- and electrically-heated for quick withering of ice. Heated washer jets eradicate road yuck.
The 2013 LR4 came standard with a 375 horsepower 5.0-liter V8 engine, connected to a six-speed automatic transmission. It zipped from 0-60 mph in 7.5s, but burned gas like it was sucking from its personal tanker truck. Expect 12/17 mpg city/hwy.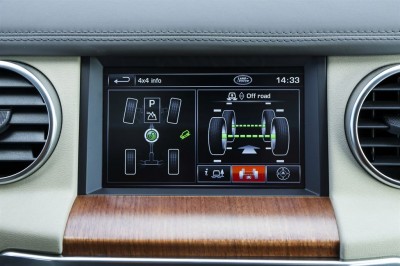 For 2014, the V8 has been be replaced by a 340 horsepower supercharged V6 connected to an eight-speed automatic transmission. That, and start-stop technology, should inch up fuel economy, but boxes are boxes: they are not friends of the wind.
Despite its extreme ruggedness and capability, the LR4 feels like a Jaguar SUV. The engine and transmission dance a smooth tango, dishing heaps of power. Long highways fall quietly away while riding above snow, ice, and life's worries instill blissful arrogance. Torque-shifting AWD and electronic stability control made short work of icy side streets. It feels like it can go anywhere.
As Sir Winston Churchill said, "If you're going through Hell, keep going". And, if you're going through a snow storm, hope you're in a Land Rover.
The brand's quality ratings are less than stellar, but busting snowdrifts, clamoring up muddy wooded trails, or crossing the occasional river instill no worries. A base price of $49,995 — or $60,970 for our loaded HSE edition — puts the LR4 up against the Jeep Grand Cherokee, Mercedes ML, GMC Yukon, and VW Touareg.
Storm Forward!
2014 Land Rover LR4 HSE
Five-passenger, AWD SUV
Powertrain: 375-HP 5.0-litre V8, six-speed automatic transmission
Suspension f/r: Adjustable Ind./ind
Wheels: 19"/19" f/r.
Brakes: disc/disc fr/rr.
Must-have features: Comfort, capability
Manufacturing: United Kingdom
0-60 mph: 7.5s
Top speed: 121 mph
Fuel economy: 12/17 mpg city/hwy
Base/As-tested price: $49,995/60,970