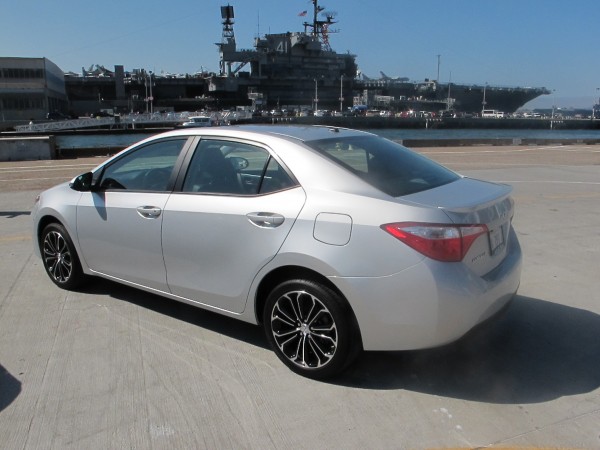 When Toyota asked current Toyota owners what they wanted changed when this automotive powerhouse went about redesigning its stalwart Corolla sedan, they said they wanted a bit more exterior style and seats that were more comfortable. Well rejoice Corolla owners, the 2014 Toyota Corolla has come back with a more stylish exterior and more comfortable front and rear seats. And that's about it. Toyota stopped there and left everything else exactly as it was. This is less a restyle and more of a whitewash of sterile durable goods.
We can't quite wrap our heads around Toyota's decision to continue shipping base Corolla models with a four-speed automatic, especially when Honda got its gonads handed to it for equipping the latest Civic with (gasp!) a five-speed automatic. Granted, higher spec Corolla models do see themselves reveling in the soul-sapping reverie of an all-new CVT automatic, which adds nothing to the driving experience but a monotonous moan akin to an appliance on perpetual spin cycle. Let's just say that the 2014 Corolla is as pure as a nun from the Convent of the Perpetual Spin Cycle.
Most Corolla models make do with a totally carryover engine in the form of the highly reliable but none-too-thrilling 1.8 liter 132 horsepower/128 ft-lbs of torque four-cylinder now rated at 29 city/37 highway on CVT-equipped models. A little bit of excitement comes in the form of six-speed manual transmission-equipped S model Corollas, which unfortunately were unavailable for testing at our first drive in San Diego. We do recall that the last Corolla was a lot more fun with a stick shift, so perhaps the 2014 model is as well. One can always hope.
There is a special LE ECO model of the 2014 Corolla with an upgraded Valvematic variable valvetrain version of the 1.8 liter four-cylinder that alternates intake valves for a power hike to 140 horsepower/128 ft-lbs of torque. EPA-estimated fuel economy for the ECO model rises to 30 city/42 highway, but the power hike is utterly imperceptible on the road. And note, these EPA figures are on 15-inch wheels with low rolling resistance tires that howl at the slightest hint of a corner with a ferocity louder than a pre-teen at an alleged Justin Bieber sighting at the local mall's Forever Twenty One outlet.
What's good about the 2014 Toyota Corolla?
The dashboard of the latest Corolla is an upscale-looking if somewhat conservative affair, with decent-feeling plastics and a nice center-mounted screen on models with Entune and the back-up camera. Prices start at just $16,800 for L models with standard Bluetooth, USB/i-Pod connectivity, air conditioning, a four-speaker AM/FM/CD audio system, power windows, power door locks, and a neat-o digital clock. Not bad for the price.
Most buyers will want to up the ante to about $20,000 for a decently equipped LE model, which nets you some alloy wheels (no cheap and nasty plastic wheel covers, please, Toyota), automatic climate control, the back-up camera, Toyota's clever in-dash Entune system that connects with your smart phone and can stream songs via Bluetooth through a whopping six premium speakers. Not a bad car for the price, right?
The S models move the ante up to about $22,000 and afford you larger- and smarter-looking alloys, a cooler mesh grille and spoiler, rear disc brakes (the rest make do with drums), and the option of some seriously fugly blue- or amber-imbued mesh fabric seats. We recommend you stick with the black mesh seats on the S trim unless you want to be mocked publicly by friends and passers-by. Looking at those prices, the Corolla still majors on value, so that's definitely a good thing in this economy.
So, do you want to buy a 2014 Toyota Corolla?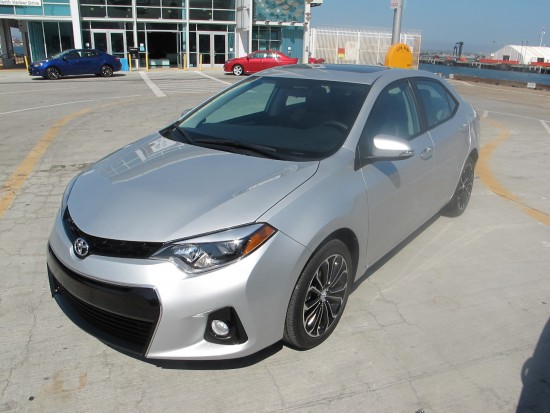 Well, if you don't care about enjoying your driving experience in any way, shape, or form, then you will no doubt have no problem owning a 2014 Corolla. But to our way of thinking, this redesign reeks of laziness on the part of Toyota, which can clearly do better. They did better with the latest Camry, which is now actually a relatively engaging car to drive, especially in hybrid and V6 forms. But none of the Corollas we drove lit our fires, so to speak. In fact, they made us actively abhor the act of driving, which is not something most cars do to us. Not even minivans. And that, dear readers, is not a sexy attribute.