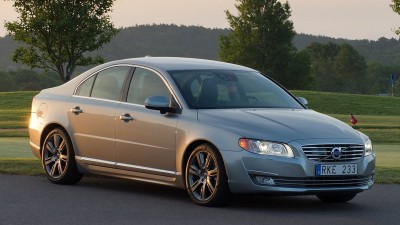 Luxuriating in a 2014 Volvo S80 sedan makes you wanna change your brand of mustard, so — poof! — be gone Guldens, French's, Heinz, and welcome Grey Poupon!
The S80 is the uppity granddaddy of the Volvo family of vehicles that accommodates five-passengers, but in actuality, only four adults can fit comfortably in the sedan. The car has been freshened up to compete with other luxury running dogs such as the Acura TL, Cadillac CTS, and Hyundai Genesis. It's been Botoxed and Juvédermed, with a new grille pattern and more prominent Volvo badge, new bumpers, LED cluster daytime running lights and redesigned taillights.
The S80's cabin is deliciously deluxe, suitable for high tea, with neat finishes and softer feeling, higher-grade materials. Admittedly, the center stack layout could be a bit more driver-friendly by moving its menu knob to the left, or at least the middle, instead of the far right. The overall use of the conventional dash controls however are guesswork-free. And by-the-by, who doesn't love the Volvo signature climate controls, a large outline of a figure with designated areas you can smush?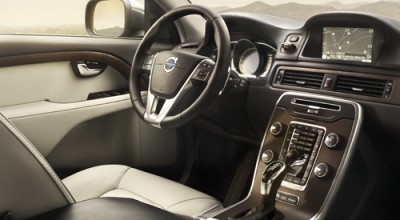 Volvo engineers probably couldn't design bad seating if their lives depended on it. The Volvo seats in the S80 are super supportive, adjustable, and coddle every bodily spot that settles into them. Those in the rear are tush/back lovers as well.
Inside the S80, spaciousness is a bit deceiving. Although it looks as if someone who is six-feet tall wouldn't be able to fit comfortably in the rear of the car, they actually can — and without uttering one complaint. The comfort factor within the car is definitely set to "swaddle", with the exception of the armrests, which could benefit from a bit more padding.
Cranking up your music in the S80 is a truly religious experience. The precision-tuned tones in the optional Volvo Premium Sound System will stroke your ears with every note that comes through the car's eight speakers. If there's a better stereo system out there, then I say, "Bring it!" Do bear this in mind, however, that forgetting yourself and conducting music in the S80 while driving can cause quite a bit of a spill.
Oh how, she runs! Although the car represents itself as a rather prim and proper lady, she turns into an all-out bed-hopping wench when you step on the gas. Giving the S80 T6 AWD (our test vehicle) some gas will raise an eyebrow and put an arch in your back. Powerful, quick on the draw, she will give you a thrilling ride. The S80's 3.0-liter inline six that kicks out 300 horsepower and 325 ft-lbs of torque throws into the titillating mix some lively performance, responsiveness, along with a tight suspension and precise steering. The S80's All Wheel Drive (AWD) and on-point braking will inspire you to venture out even on the snowiest of days. Fuel-wise, the S80 is only a slight lush at 18 city/25 highway, which is pretty normal for a midsized AWD six-cylinder luxury sedan.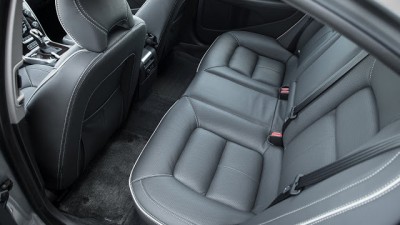 Since 'safety' is Volvo's round-the-way nickname, the S80 offers a slew of options that should make you postpone the writing of your will. The long list includes Anti-lock brakes, six airbags every which way (including separate chambers for hip and chest protection), Collision Warning system, Pedestrian and Cyclist Detection with Full Auto Brake system, Adaptive Cruise Control with Queue Assist and Distance Alert, Lane Departure Warning, Active High Beam Headlights, Driver Alert Control, Forward Looking Camera with Road Sign Information, in addition to other safety plusses.
The Swedish automaker has for eons attracted a loyal customer base of Volvo-faithful folks, who truly appreciate the heritage of the car brand. Even though Volvo sedans have recently gotten a smidge lost in the sauce because they have so many competitors, one thing's for sure: Volvo still offers understated styling, optimal comfort, solid build quality, and safety.
And besides, wouldn't you rather be seen with a fufu jar of Grey Poupon in your shopping cart than a French's plastic squeeze bottle anyway?