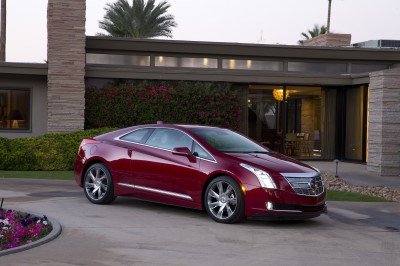 It's wasn't by some random act that Cadillac invited us to drive the new ELR coupe in Palm Springs, California- the desert playground renowned for high style and mid-century design was chosen deliberately to serve as a backdrop for the new line of Cadillacs, and the ELR in particular.
We started with immersing ourselves in architecture. The tour included several notable desert landmarks, including a restored Butterfly house by Palmer and Krisel, Donald Wexler's own desert home, the Edris house and Frank Sinatra's "Twin Palms" Estate, both by E. Stewart Williams, and dined at William Cody's Southridge hillside home. There were several schools of modernism at play- from a house that seemed to ride from the rocky hillside to post and beam examples that floated in the air. New Cadillacs were parked discreetly at the various locations and indeed looked appropriate in their surroundings.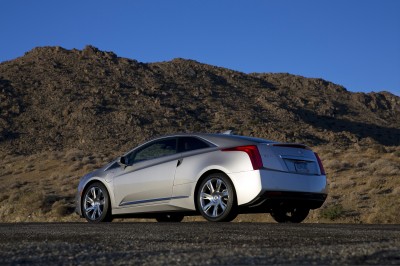 Thus versed in timeless design, our attention turned to the car. ELR is equal parts technology and high style. Based on the Converj concept car, tt's Cadillac's first extended range electric offering, with both an electric motor and a backup gasoline generator. It's good for about 35 miles of pure electric driving, and then the generator comes and adds about another 300. It's the same drivetrain as the Chevy Volt, but the ELR is much more than a Volt.
The ELR is both longer and wider than the Volt, and has completely unique two-door coachwork that shares no body panels with any other GM offering. Inside, there's a highly luxurious interior with a high degree of hand stitching, and an equally high degree of standard equipment including Navigation, Bose 10-speaker audio, Cadillac's CUE interface, and multiple computer assists from lane departure to front and rear park assist and forward collision alert.  Indeed the interior almost seems too luxurious, with cut-and-sewn dashpad and doors, chrome and woodgrain accents, and sixteen way power leather seats. It's beautifully tailored indeed, and there are few options- adaptive cruise control, and a Luxury package with different wheels, blind spot detection and rear cross traffic alert are among the short list of options.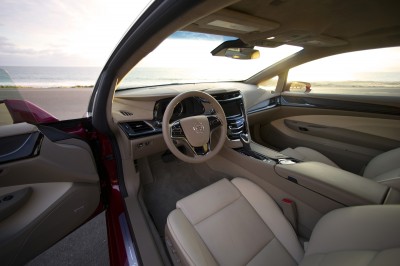 Cadillac still refers to its design theme as "Art and Science," but they've evolved well beyond the angry kitchen appliance look of the original CTS. The language now is more a blend of soft shapes and sharp details, and the ELR has a lot in common with the 1967 Eldorado. It's not an inappropriate comparison at all really- with both being personal luxury offerings acting as halo entries and both aimed at the top of the price ladder and intended to sell in small numbers. The '67 Eldorado was about 60s style and power, while the ELR blends contemporary style with extended range electric car technology and a high degree of luxury.
We all climbed into a fleet of ELRs and drove up winding highway 74 to the mountain village of Idyllwild. It's a winding two-lane road, and a great opportunity to experience the ELR's active suspension and regenerative braking paddles. Again, another reminder that ELR is not just a Volt with a crest- the ride and handling were on a par with the finest European coupes- and the cabin was so quiet I admit I didn't notice when the generator took over. On way down, I caught a ride with the ELR's Marketing Product Manager who was able to demonstrate the car's capabilities on the winding downhill road. All of that time the Cadillac chassis engineers have been spending on the Nurburgring has paid off- the ELR's chassis showed amazing poise and happily went wherever it was pointed. He also demonstrated how the regen paddles are perfect for this type of mountain descent. I arrived back in down in the desert basin slightly white-knuckled but highly impressed with the chassis.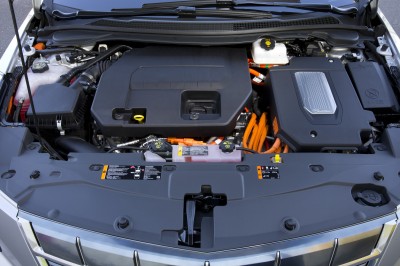 We also had an opportunity to talk about price positioning on the drive back. The base price of $75,000 is far from inexpensive, but it is a unique offering and was always planned to sell in limited numbers, so the decision was made to offer ELR one way- full boat- with only a couple of options, as opposed to a car like the Tesla which has a base price in the low sixties but pushes six figures fully loaded. Instead, Cadillac is going for a limited production halo offering with high-glam and a high price- along the lines of the 1953 Eldorado or the recent XLR roadster. Incidentally, they expect a majority of the cars to be leased, which is consistent with offerings in the luxury segment. While I'm not going to debate the price point, I will say that I found it extremely compelling and definitely one to consider if you're in the market for a unique luxury coupe.