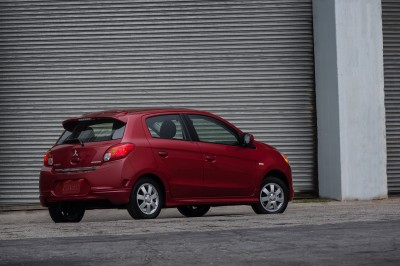 Having left the Galant, Montero, and Eclipse behind, Mitsubishi is re-focusing itself towards plug-ins and compacts.  It's a dubious strategy given the insane competition from cars like the Toyota Yaris, Chevy Spark, Nissan Versa, and Ford Fiesta…not to mention the Toyota Prius and Chevy Volt.  At least Mitsubishi's newest sub-compact comes with a popular name and outstanding fuel economy.
Fuel economy ratings of 37/44-MPG city/hwy (40-MPG overall) are a great handshake.  To get them, Mitsubishi installs a 1.2-liter 3-cylinder engine that eeks out 74 horsepower – about the same as a Smart's three-cylinder.  Attach that three-pot to a continuously-variable automatic transmission (5-speed manual is standard) and the agrarian sounds approximate that from a John Deere in mortal combat with a weed whacker.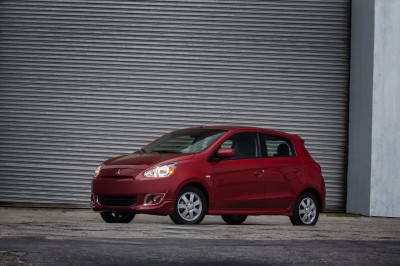 Styling is neither ugly nor beautiful.  Mirage is a boxy little five-door, but polishes itself with 14" alloys, rear spoiler, body-color trim, and fog lights – features that come standard on Mirage, but often cost extra elsewhere.  Painted bumpers, mirrors, and grille add class.  It's not a sexy sidekick, but won't need a paper bag for its mug.
Interiors are surprisingly loaded.  Automatic climate control, leather-wrapped steering wheel with audio/cruise controls, gated leather-wrapped gear selector, and CD/MP3 audio come standard – as do Bluetooth calling, USB port for MP3 players, and keyless entry/starting.  Auto up/down power windows and power mirrors, and adjustable steering column are also nice.  Stylists touched in silver and gloss black trim to keep all of the hard plastic from sheening like Wal-Mart.  Seven standard airbags, including a driver's knee bag, enhance safety.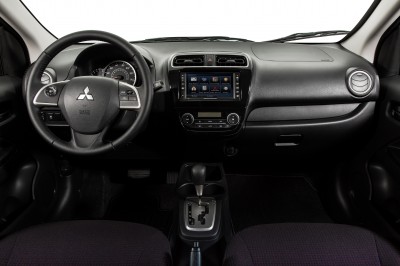 If the powertrain sounds exciting, you'll love the chassis.  An independent front, torsion beam rear suspension lay-out is typical for the sub-compact class – as is electrically-assisted power steering.  Handling is fine for soaking up city bumps and hugging the highway, but I'd skip anything resembling curvy roads.  A full array of electronics – anti-lock brakes, traction control, stability control – stands by to reign in the "fun".
I'll give the Mirage this:  It's convenient.  A wide rear hatch, split/fold rear seats, and tons of interior cubbies will hold almost anything.  Four people fit comfortably in stylish cloth seats.  Just throw in the muddy mountain bike or sandy surfboard because almost every surface could be scrubbed with a washcloth.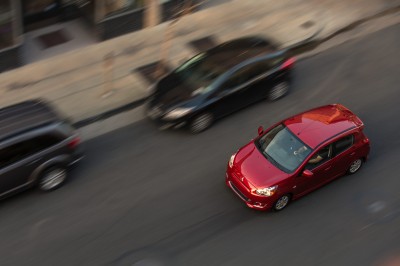 If I were ogling the Mirage, I'd first quit drinking then ask myself what I really need.  If fuel economy, comfort, and convenience are high on the list, the Mirage is a fine ride. However, if power, performance, refinement and driving enjoyment hit the tally, look elsewhere.  Beyond MPGs, the Mirage's selling point is price.  Thanks to low-cost assembly in Thailand, it starts at $12,995 and came to just $15,990 as delivered. Whether that's enough to capture past success with cars like the Eclipse has yet to be seen.
Storm Forward!
2014 Mitsubishi Mirage
Five-passenger, FWD hatchback
Powertrain: 74hp 1.2-liter I4, CVT
Suspension f/r: Ind/Torsion beam
Wheels: 14"/14" alloy f/r
Brakes: disc/drum fr/rr with ABS
Must-have features: MPGs, price
Fuel economy: 37/44 mpg city/hwy
Assembly: Chonburi, Thailand
Base/As-tested price: $12,995/$15,990