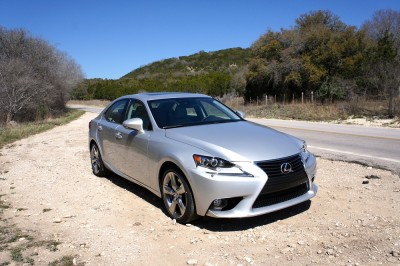 A few months back, I wrote a glowing (as in gay glow stick) review of the 2014 Lexus IS, a fabulous, beautiful car with some improvements that make it worth more than just a Google shopping visit.  In particular, you can now get a leather hybrid material for your seats, a "Bed, Bath and Beyond meets Mr. S. Leather," if you will. Jamba Juice or Astroglide spill, be gone.
I wasn't, however, complimentary of the F-Sport trim, which includes a custom rear suspension and shocks for more of a raceway ride. I do feel the F-Sport trim is worthwhile, but not at a price that can add thousands and thousands of dollars to the base price of the IS. Call me cheap but please don't call me late for brunch.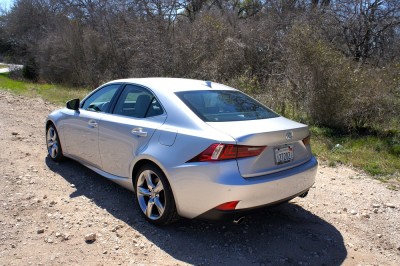 Fellow Gaywheels reviewer Sam Miller-Christiansen – the other Sam – really liked the F-Sport, however, writing that it is "much more comprehensive than just a few sporty looking accessories. F-Sport models arrive with more dynamically tuned front and rear suspension springs and shock absorbers, giving them a markedly more athletic demeanor. Of course there are some styling benefits to be had with F-Sport models as well, the most obvious being the F-Sport's more dramatic front grille with extra cooling holes that give the front end a dynamic look. F-Sport models also get LED headlights as standard." Click here for his complete review of the car.
What does this Sam know that I don't? Hmm. Perhaps, I thought, it was worth another visit to the F-Sport, much like the trendy restaurant you skip just because you once got a lousy prosciutto and provolone kale garden sampler.  The other Sam, thus, has encouraged me to go back and 'try the meat'.
And, indeed, there is a lot more meat to Sam's F-Sport than I first tasted.  Here are some of the choice cuts: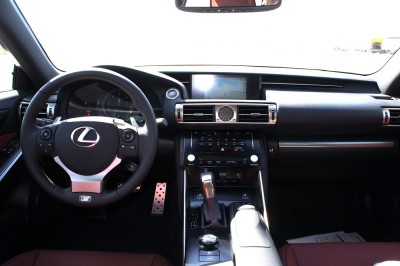 You'll look great in the F-Sport: When even the bored, disengaged crew at the drive-thru window notice your car, you are indeed some of Donna Summer's Hot Stuff. I was getting my low-carb burger from Carl's Jr. when a few of the young Latin crew members came through the window to admire my fronts. The grille on the F-Sport, as Sam mentioned, is different and more attractive than other IS trims.  This one is honeycombed in both a slinky yet overly butch style that really draws 'em in, like bees to honey.  (Or flies on shirt, as we say in Colorado, which really is a compliment.) While in the F-Sport, I was attracting the butch workers, fem workers, bees, flies, bears and all kinds of flesh that made me feel quite sexy.  Will they still love me tomorrow, asked my inner-Shirelles? Didn't matter, 'cause I had an F-Sport and that really hit the F-spot with my (car's) admirers.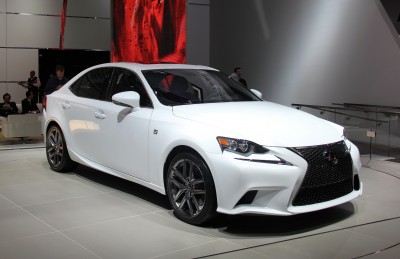 'Sport'-mode button: All you have to do to kick into supercharged mode is push a button. There are basically three automatic modes for the car when on the road.  There is 'Normal', and while the definition of 'normal' in society is up for debate, here, it is just your average-fabulous mode for driving an above-average-fabulous car. When you want to or can conserve gasoline, there is 'Eco' mode, which regulates the throttle so you use only what you need. But when you really want to open wide and drink in all the cream of life, just press the center console button and you are in 'Sport' mode. This will give your car kick, punch, stealth and the feel of power under your asp. Even the dashboard lights up in red to let you know that the fun has just begun. There are some impressive results in terms of RPM once you get past a certain speed on the F-Sport, but all that numbers stuff is lost on me. The last torque I paid attention to was Peter Tork of the Monkees (who?). Let's just says it's fast and fun, especially if the cops don't stop you. On other Lexuses (Lexi?), there is even a Sport-Plus Mode which can really launch you and your sisters into the Space Age.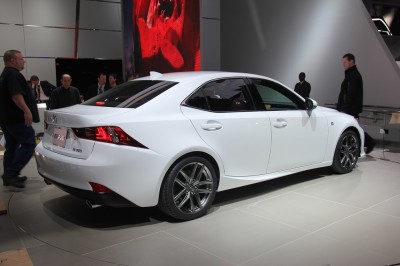 One item Lexus offers which I just love is a small cushion that wedges between the front seats and the center panel. This effectively prevents pens, wallets, CDs and other paraphernalia (a word with some unique meaning here in Colorado) from literally falling through the cracks.  When your hands are big and your stomach even bigger, getting on all fours to look under the seat for your Kroger loyalty card or SPF75 lip balm is tough.  These little cushions help keep you and your belongings above board.
Another item that Lexus provides are front floor mats that lock in place instead of hook. Indeed, floor mats will always slide when you don't want them to, and while hooks help keep them in place, so many other items can snag and pinch on those hooks (like chiffon). With flat locking plastic latches, the mats stay in place, your Bruno Maglis or Manolo Blahniks don't bang up against anything itchy or scratchy, and when it's time to check the car for lost items, it really is a 'snap' to search the car (again, something very useful in Colorado).
To be sure, there is a lot to like about the F-Sport, but to be honest, if you want a fast car – and all you want is a fast car – I think there are other cars that do it better.  For example, the Corvette Stingray won Car of the Year in January at the North American International Auto Show, better known as the Detroit Auto Show. Practicality? No, but the Corvette is hot and it is fast. Admittedly, its demographic – men in their late 40s who still have music on cassettes and need help getting in and out of the Corvette – is perhaps more loyal than practical.  But who cares? One of the beauties of being gay, like being in your late 40s with a paunch and lots of cassettes, is that style can often trump practical because you can afford it. (Okay, I'm in my fifties, but most of my music is now on a Zune.)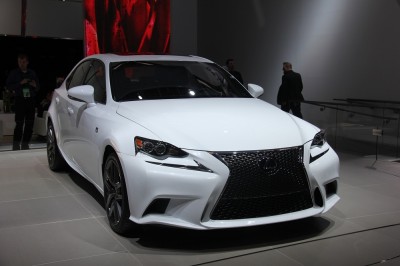 But if you want a sports car that has quite a bit of oomph and lot more practicality, the Lexus IS F-Sport is for you.  Some of you have to consider your spouse's feelings, and they may not want you to have a Corvette or a 911. If they want four doors, reliability, some style and seats that easily clean – and you want a little kick in your pants – the 2014 Lexus IS F-Sport is the car for you and your marriage, even in Utah or Oklahoma.  Talk about a hybrid!
Or, if your budget is tighter, just the IS base trim will do, IMHO. I personally wouldn't race the F-Sport, but really, I'm not that racy a person, despite what my Adma-4-Adam profile says. Yes indeed, every time I am in the IS, I just sit back and enjoy the ride and the luxury.
And really, isn't that what being gay is all about, with or without a kale garden sampler? Thanks, Sam, for opening my eyes wide and helping me rediscover my F-Sport.