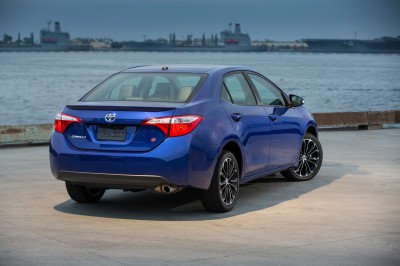 I was not a fan of the last-generation Toyota Corolla.  It was an underdeveloped, over-hyped piece of boredom that relied more on the reputation of Toyota than its own virtues.  The exterior was watered-down vanilla and its interior was about as blah.  But, it went beyond aesthetics.  The tall and narrow body allowed crosswinds to coax it into a gentle oscillation on the Interstate that its vague electrically-assisted power steering could not easily correct.  Toyota should have done better.
Experiencing the redesigned 2014 Corolla S convinces you it can.  Rather than the "S" standing for a steamin' pile, it represents Corolla's sportier side.  A walk around its exterior reveals a body that appears wider and more aggressive than its predecessor.  The front is dominated by a thin black mesh grille over a black valance in the lower facia.  LED headlamps are rare in this class, but look great.  The body is smooth and relatively formal, but set off by black 17" alloys, upturned windowline, and subtle rear spoiler.  The car presents as a downsized Avalon – sporty enough for younger drivers, but conservative enough for traditional Corolla owners.  Nice balance.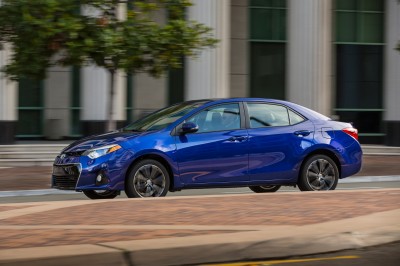 More radical change occurred inside.  A full-width dashboard takes me back to my youth with a retro slab, but is padded and adorned with faux stitching for an expensive look.  In the center of that panel is a touchscreen for the Entune infotainment system that controls audio, navigation, and a suite of available apps for everything from restaurant guides to movie times.  Automatic climate control, Bluetooth calling/streaming audio, satellite radio, CD player, and premium speakers make traveling enjoyable – as do thickly-bolstered heated seats, push button starting, and paddle shifters.
Grip the thick leather-wrapped steering wheel, gaze into the large analog gauges, and go for a drive.
The old Corolla had plenty of power, but the four-speed automatic transmission fell short.  For the new model, engineers conjured a 1.8-liter four-cylinder engine that generates 140 horsepower and turns in 28/37-MPG city/hwy (32-MPG combined).  The continuously-variable transmission revs at every punch of the throttle, but always taps the right gear ratio for efficiency and power.  An ECO mode makes the throttle less sensitive to conserve fossils.  In town or on the highway, there's plenty of oomph for a car this size.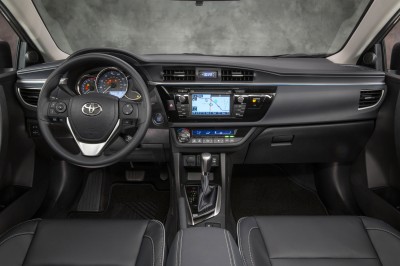 A more planted-looking body translates into a car that handles considerably better.  The independent front, torsion beam rear suspension, will not excite owners of sports cars, but it's solid and gives the car competence.  Plowing over potholes and fast on-ramps, the car was solidly fun.  Steering feel is noticeably improved, exorcising the numb demons that plagued the last Corolla.  Four-wheel disc brakes stop assuredly.  I actually enjoyed driving it.
While I was not a huge fan of the last Corolla, it had some virtues.  It was fuel-efficient, durable, and cheap to own.  But, the re-designed Corolla proves Toyota can do that with a car that looks good, drives well, and coddles passengers in a loaded interior.  Especially with our sporty model, Toyota finally got its "S" together.  A base price of $16,800, and $23,570 as tested, puts the polished Corolla against the Chevy Cruze, Mazda3, Ford Focus, Dodge Dart, Honda Civic, Hyundai Elantra, and VW Jetta among many others.
Storm Forward!
2014 Toyota Corolla S
Five-passenger, FWD sedan
Powertrain: 140hp 1.8-liter I4, CVT auto trans
Suspension f/r: Ind/Torsion beam
Wheels: 17"/17" alloy f/r
Brakes: disc/disc fr/rr with ABS
Must-have features: Style, MPGs
Fuel economy: 28/37 mpg city/hwy
Assembly: Ontario, Canada
Base/as-tested price: $16,800/23,570