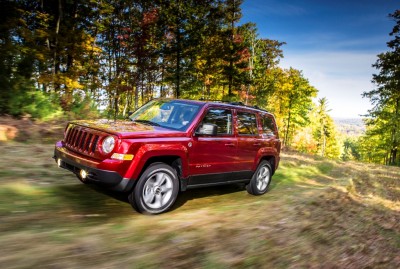 Not so long ago, some people blamed us – the 'gays' – for taking a perfectly good word and ruining it. 'Gay' used to mean lighthearted, fun, happy. It still does, it just now has some other connotations that are, well, gay. Still, many are disgusted.
Back atcha, fellas, because that is exactly what a rogue group of fearful closet cases did with the word 'patriot'. It was a perfectly good word, meaning brave, proud, honorable. Now, however, when someone is called a patriot, it often means someone who is a wacko, a political nut job, someone who will give up their rights in order to ban abortion and 'the gays'. And someone who still can't accept how we, the gays, have made the world a more gay and beautiful place.
Thus, as much as I like Jeep, I think it may be time to drop the moniker of Patriot.  It may also be time to drop the car, but, well, I do like it. Well, I don't dislike it. Talk about being on the fence.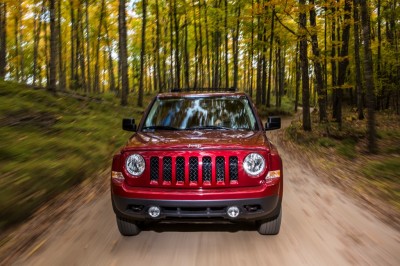 The 2014 Jeep Patriot is a tad better than the 2013 model. Front side airbags are now standard, and you can opt for a new six-speed automatic transmission. And further, according to Edmunds.com, the new Patriot (yikes, that sounds like a Ted Cruz knock-off) has above-average off-road capability, as well as a few other "clever features", like a cargo lamp that can be detached and used as an LED flashlight.
If I sound as though I am at a loss for words, I am. To be sure, many automotive writers do not like the 2014 Patriot. U.S. News and World Report researches all available car reviews and found that the 2014 Patriot ranked 23 of 23 in the Affordable Compact SUV category. It also ranked dead last, 17 of 17, in the Off-Road SUV category. Ouch.
Honestly, there's really nothing wrong with the new Jeep Patriot.  Performance is admirable, there is plenty of room inside and it is a pretty car.  I just can't say there is anything overly attractive about the car. You will look good in it, to be sure, just not as good as you would look in, say, a Wrangler (the Jeep, the jeans or the Bear bar in Denver). After my test drive of the Patriot, I was left with a somewhat flat feeling, similar to those Sunday nights when the weekend is over and you are sitting on a bus bench scrolling through the racy-but-impressive selfies you don't remember taking.
Like most Jeep models, the 2014 Patriot (sheez, that names stirs up images of high hair, lace collars and camouflage netting) comes in a variety of flashy trims.  The Sport is the base trim, available only with a 5-speed manual transmission. The Latitude is the mid-range trim, available as either an automatic or manual, and the Limited is available only as an automatic. All trims can be outfitted as a 4×4.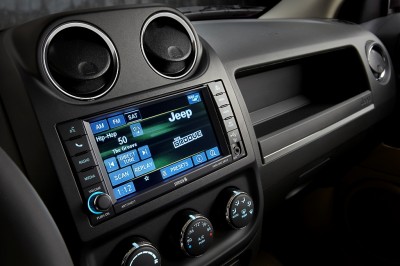 You can get into a 2014 Patriot for around $17K to start, but that will be without power windows, doors or air conditioning.  I can live without power doors and windows, as I am currently doing with my leased vehicle. But no air conditioning? With global warming melting even the most loyal of patriots, you need to have all the blowers you can get. Thus, once you get A/C, the price goes up. Go all the way up to the top trim Latitude, and you can expect to add about 40% to the sticker price. You should also factor in the fact that mileage is only 23/28 with a manual transmission and drops a bit to 21/28 with the six-speed automatic. Again, I've had worse, and yet ….
As with most self-labeled patriots, the show can be impressive but when it comes time to deliver, the sizzle becomes a fizzle …. except for the Jeep Patriot.  It's a solid car, yes.  You can't go wrong with it, even though the interior does feel as if a few too many cost corners were cut.  Again, I can't say anything bad about the car, but I can't recommend it either. Competitors of the Patriot include the Mazda CX-5, a worthwhile vehicle, and the Subaru Forester, a very gay car I test drove just once and fell in love faster than I could say Brittany Spears first husband's name. My advice is like Madonna's: beauty's where you find it.  Indeed, beauty can be found in the 2014 Jeep Patriot. Proceed with caution.
BTW, Martha Wash was one of the original Weathergirls (also known as Two Tons o' Fun), who recorded the 1983 smash hit "It's Raining Men." She was also the powerful voice behind 1993's "Gonna Make You Sweat (Everybody Dance Now)" by C+C Music Factory, though her photo or image never appeared on the album or in the video.  Instead, a string bean of a woman lip-synced to Ms. Wash's voice. Fortunately, I believe our days of shame over someone Rubenesque are behind us, literally. Note SNL's Aidy Bryant and Super Fun Night's Rebel Wilson
Heck, so-called patriots have no shame and no class, and they still parade around like they are hot stuff in a gay steel mill, just as in that classic Simpsons episode, "Homer's Phobia". As LGBTs, we could take a lesson on how not to care about what others think of us.
Perhaps we did get more from the Tea Party than just a new meaning for tea-bagging.