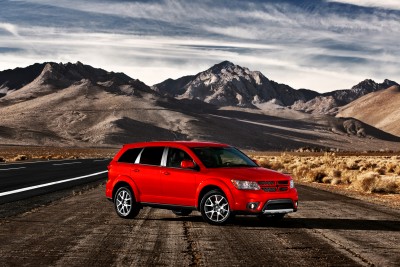 We've all been on dates with guys who were kind, cuddly, oddly curious and relatively hygienic, but, well, gosh … Soon, our eyes went darting around the bar or the supermarket, in search of what else might've been crashing around the bathroom or the aromatherapy aisle.
That's pretty much how I felt after driving the 2014 Dodge Journey. Mind you, I like this car more than I liked its counterpart, the Jeep Patriot. U.S. News and World Report surveyed all web car reviews and found that most reviewers liked it better too, ranking it No. 12 of 22 in the Affordable Compact SUV category, much higher than the Jeep Patriot, which was at the bottom at No. 22. In this case, Chrysler has gone from dead last to average, a step up of sorts. Still, I think … well … The folks at Chrysler are just dears: Wendy and I had fun critiquing runway outfits at a recent charity fashion show, giving a five-plus stars to a model who looked like Lupita Nyong'o wearing a stunning onyx and café au lait gown.
And now, on with our Journey …. Okay, here's the good stuff: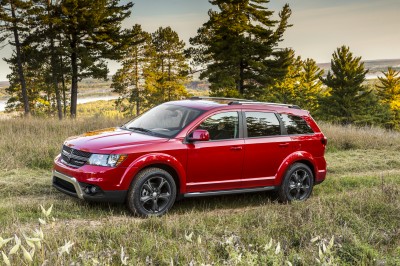 The 2014 Dodge Journey is not the Steve Perry of Journey, but it is a capable vehicle, one worthy of a parent's respect for a car that will hold all that is precious to you. This is one of the few vehicles out there that still offers a capable third row of seats, though that third row is built for just two medium-size children. The Journey also offers built-in child booster seats, and for parents, this means not having to choose between treating your child or your hand-blown glass City of Lights with care. Hold the offspring in one arm, hold the hand-blown combination vase/chafing dish in the other hand … and Viola Davis! Your child is secure and you wasted money on insurance in case you dropped your art deco accessories.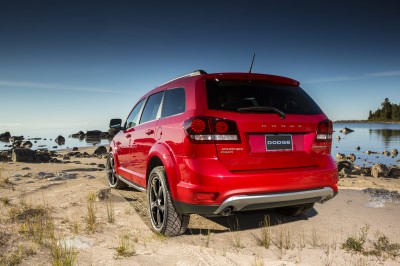 There are plenty of clever compartments throughout this Journey, and that's a big plus if you have kiddies. Whether you have lots of toys, juice boxes or costume changes to compartmentalize, the Journey has plenty of secure spaces, some even built into the floor. This will keep the Cheerios, Legos and the big eyelashes and man-scara in place – and not melting on the seats, or in your hand or in your mouth.
The standout bad news, however, is that the less-expensive trims come with just a four-cylinder, 2.4 liter engine which delivers just 173 horsepower. Across the board, reviewers agree that is not enough power. I test drove the 3.6 liter V6 engine with 283 horsepower, which was very capable, but then the price goes up. Mileage was also a wee bit of a letdown at 19 city /26 highway. There's no fun to be had as a Journey man, but for stressed-out moms, this may be your car.
Yeah, yeah, there's no real excitement with the Journey, but as any working mom will tell you, there is no time for excitement or a misstep. That said, the Journey is reliable and roomy, as there is never a question that it can get the job done, even if you do not know just what your job is or how you will get it all done.
I do love my 8.4 inches, and you can get this big-screen touchscreen on all trims except the SE, the one where you can't get a V6 engine. Hey, I always try to find something nice to say about everyone. How can anyone complain about something that big and multi-faceted?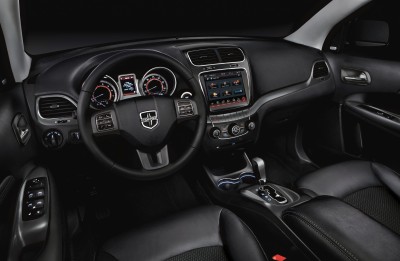 The 2014 Dodge Journey is clearly a family car, not something for a swinger who probably can afford and use something flashier. Those hidden compartments and the smaller engine may just be what your family needs for peace of mind and, in particular, what you need to see your vehicle for what it is (practical) and what it's not (a fast car).
And yet, I would still check out competitors Honda CR-V, Subaru Forester (as gay as a car gets) and even the Jeep Cherokee (hate the use of a tribe's name, but love the car). These vehicles are all considered better cars and better values. Once again, caution is advised. Just because all the boys aren't flocking to the plain Jane with low-energy doesn't mean she isn't the love of your life, especially if she ends up saving your life, as this car can do.
And isn't that how we should be looking at those we want to love, and making decisions accordingly? What's style without substance? What's beauty without base? Hmm.
In the immortal words of Guy Lombardo and His Royal Canadians (who?): enjoy yourself, it's later than you think.