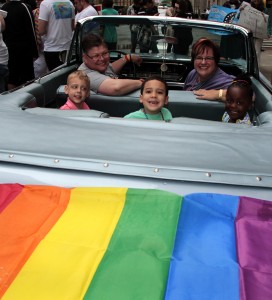 In the automotive industry, Chrysler has become a leader on LGBT issues, and like other U.S. automakers, it consistently aces HRC's Corporate Equality Index.
Over the weekend, the company's LGBT-friendliness was on view at Detroit's Motor City Pride celebration. Chrysler sponsored the parade portion of the festival — and because Chrysler is a for-profit company, always on the lookout for marketing opportunities, it also hosted a display of several vehicles, including the 2015 Chrysler 200C, 2014 Jeep Cherokee Limited, and the 2014 Fiat 500L Lounge.
Gregory Hawkins, a Chrysler engineer who also heads up the company's Gay and Lesbian Alliance, said that "It is fitting that Chrysler Group has a prominent place at this event, celebrating, advocating and building upon all it has done over the years to include and empower its LGBT employees and the community at large. Speaking on behalf of LGBT employees at Chrysler Group, we are very proud of what our Company has achieved in creating a work culture that is diverse, respectful and inclusive."
Chrysler was kind enough to send over some pics from the parade and auto display, which we've included in a gallery below. If you've got some of your own, post them to our Facebook page (where you'll also find a great, LGBT-friendly ad from Chrysler's cross-town colleagues at General Motors).