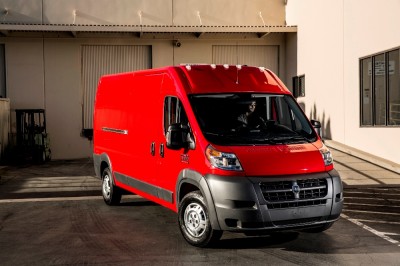 Right before I left for Roanoke, Virginia, in April, I asked Melissa (who has all the grace and will and more of Grace Adler of Will and Grace) if I could have a car so I could putz around Denver buying toiletries, snacks and intimate apparel for my trip. Grace (oops) Melissa said sure, but all she had was the gigantic 2014 Ram 1500 ProMaster Cargo truck with "High Roof". What are we as the homosexual genus if we can't take anything portable and turn it into a rolling American picnic worthy of softball, wienies and apple martinis? I said yes and checked my insurance coverage.
Just like the other Ram trucks in this 2014 litter, the 1500 ProMaster can be used for both business and boyishness, and (cue Miss Coco Peru from Trick) "it's big, it's beautiful, and you're gonna love it." Let those lazy hazy crazy days of summer begin.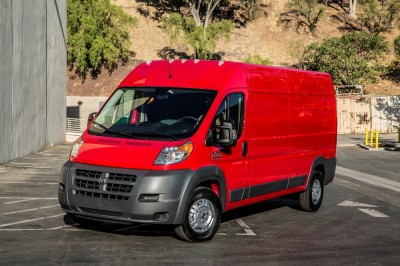 If you have a gay business or are in the business of being gay – and have a decent credit line – you will want to consider this all purpose van / truck to get your from point A to WXYZ in Detroit and back. This vehicle comes complete with everything but the hunky FedEx delivery man, and it can be concocted with seats, shelves, bins, or just as one big rolling set for your next holiday video called "Delivery Bears: The Packages Just Keep Getting Bigger".
When I first saw this big, beautiful Frank N. Stein, I knew immediately I had to turn into my own Scooby Doo Mystery Machine. I've always imagined myself as Fred, the cute blond who always knew how to work an ascot, but in reality, I am Thelma: can't see, lousy dresser and my deductive reasoning gets lost on most of the crowd at the Greased Alex… Axle.
My bear friend Tony (hair everywhere, some grey, some still onyx) aptly noted that the Ram ProMaster looks very European. At first I thought it may have been the anesthesia talking (he would never tell me if he had reassignment surgery) as I literally pushed his arse into this hulking dark knight. As it turns out, Tony (a Yankee through and through) was right. This vehicle is based on the Fiat Ducato, a utility truck that is seen all around Europe.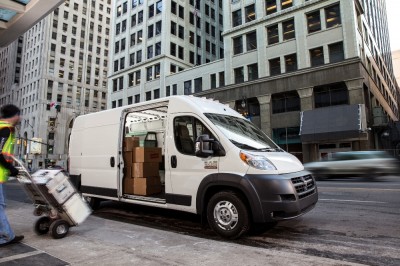 My bear friend Greg felt that this vehicle could easily handle a heavy duty sling attached to the roof and accommodate at least ten guys standing. Why would anyone want to do that? Maybe it's a relaxation technique. To quote Another Gay Movie, "cool hammock".
Yet why would you even consider buying this hulk? Honestly, only if you are in the business (not the hobby) of hauling around a lot of stuff – or if you've ever just wanted to pretend to be a suave Good Humor man. You can tool around in this monster and literally sit higher than (almost) everyone else on the road. Sitting in judgment while driving the ProMaster is completely at your discretion, but let's face it, we play Judge Judy at every brunch, happy hour and funeral. Why not have the rolling throne to complete the show? While driving through school zones and wealthy neighborhoods, I did find that everyone got out of my way when they saw me coming. The Red Sea never parted so easily.
Here's the kicker: you can get in this ultra-duty truck with high roof (sling and setup not included) for just $30,520. I don't know nothing 'bout making no deliveries, but if I had a real job and showed more motivation that to just write gay copy about automobiles I will never be able to afford, yeah, I'd consider buying this one, but I would have to pretend I am my father and not Junior. The only red carpets I walk are the utility mats at the pizza joints on East Colfax, which are conveniently located right next to all the pot shops in Denver.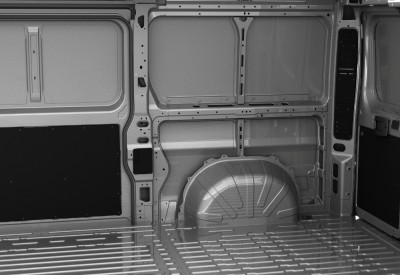 At this time, I would really like to give a big thank you to my boss, Richard Read, and all the fabulous writers and staff here at Gaywheels.com. I can't tell you how much fun it is to be able to write about cars in a fun, campy, great gay way and still feel like I am communicating something worthwhile. Not everyone can appreciate a gay who is as over-the-top as I am. But I have never waited for the curtain to go up, or even for the curtains to be shipped from Schenectady. We have assembled a truly great team of automotive reviewers here, and they have all made a big fat diabetic bear like me feel right at home. Or on stage. Or in the executive washroom, which I still have not found yet (is it the men's room at the Diamond Shamrock on the corner?). Stay tuned for more fabulousness from everyone here at Gaywheels.
Why read Gaywheels? Sure, you can get detailed car information anywhere on the web, but where are you going to get it spoken to you like the bartender who tells you that this drink is on the house because you attract customers? We here at gaywheels.com will make you feel like that special tramp in "Gypsies Tramps and Thieves" that you've always wanted to be. With a little wind beneath (your) wings. And applause to come to (your) window.
Seriously, Becky, how gay is that?