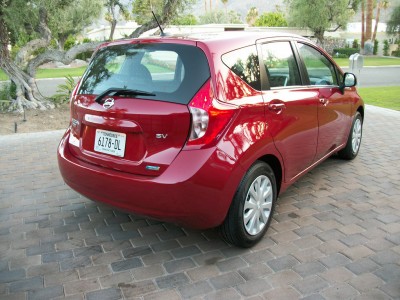 Of course it's going to happen. An inevitable side effect of the gayby boom is that before you know it, little Demosthenes  and Echinacea will learn to drive- and after the price of the first wheel replacement on Dad and Dad's A8L, it will be time for a first car of their own. Which will probably launch a whole other set of problems. Kids are already expensive enough to raise, not even taking into account the tuition at the private performing arts high schools, and those liberal arts colleges cost serious coin. So while the kids may be downloading brochures on A3 and the new 1-series, the reality is that what they really need is probably just a good, safe, inexpensive offering. And that's where a whole class of compact cars like the Versa Note come in.
I digress for a moment- when I came of automotive age in Flint, Michigan in the 1970s, I could have any General Motors compact I desired, which meant a Vega or a Chevette. With the Vega's most uncertain engine reliability, I went with the Chevette- which handled better anyway. And for the era, it was a reliable yet pretty darn primitive automobile with thirteen inch wheels and a Thoroughly Modern Buckboard ride. It was in many ways a Model T for its day, which is to say kinda awful, but it was mobility and I was pleased as punch to have it.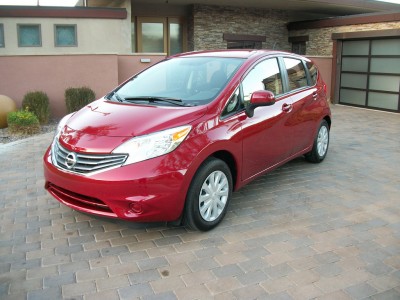 The point of my detour is to remind us that the standards for automobiles have advanced dramatically since then, and so while the pretty much universally panned Nissan Versa sedan, proud titleholder of the cheapest new car you buy competition- is decried by some journos as being nothing more than a Trabant, the reality is that while it may be an unengaging little slug, it's light years away from the econoboxes of a generation ago.
Plus, our test car isn't the dour Versa sedan but rather the new Note hatchback. The Note shared the sedan's wheelbase but is over a foot shorter and offers much more visually engaging styling and a handy hatchback to boot. Up front it has the up to date Nissan frown and toward the back it's a squarish shape that provides for maximum cargo space. It's very square-shouldered, rather like a big chest freezer with wheels, but that provides for a spacious cabin. It's more upscale than the Versa and a bit pricier as well, starting at $13,990 plus freight for a 5-speed bare bones special.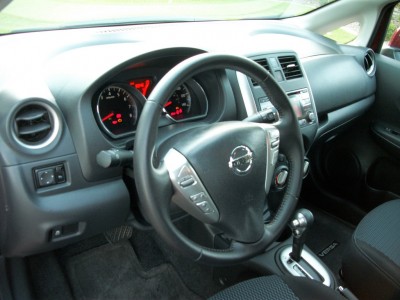 My test car is the highest trim level SV, which comes with a standard CVT transmission and a nicer interior with power windows and locks for a base price of $15,990. We're not done yet though, because there are no fewer than four upgrade packages to choose from and the bottom line can reach $19,300 with freight if you're imprudent with the option list. Our test SV was equipped with only the Convenience Package and floor mats, and listed for $17,605 after an $810 destination charge.
High trim level or not, once inside, the interior was a bit basic, but the seat cloth is interesting and the seats themselves are comfortable. There's even a driver's seat fold down armrest. The instrumentation includes a tach and a driver information center with basic data. The test car came with the SV Convenience Package that included a 4.3 inch color display, Satellite radio and a small but helpful back-up camera- well worth its $540 list price. There's an ocean of hard molded plastic- in fact, the dash surfaces so hard it seems they may as well have made it out of metal, but the workmanship is good and one must remember that they are not paying Orchestra Level prices. As far as the cheap seats go, it's not half bad.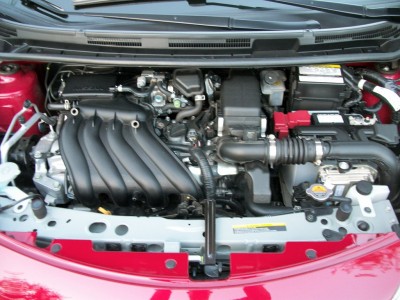 Start the engine and it's a mixed bag. The 1.6-liter four cylinder engine is actually quite refined, but the CVT transmission is not a favorite. I'm not thrilled with CVTs anyway, and then Nissan decided to put a hard first gear with shift points into it,  leaving you with all the droning of a CVT but thus negating pretty much the only advantage. The ride is quite decent overall – a bit bouncy in the back unladen but it'll be better with a month's worth of Thurston or Escaya's laundry in it. The power steering itself is typical novocain drive- overboosted electric with no sensation of road feel, but to my surprise, the brakes were very responsive and felt rock steady. The Note was respectably quiet inside, and another bright note was fuel economy- in my week I exactly duplicated the 31 city/ 40 highway estimates.
Let's be clear: the Note does not possess the heart and soul of a 911. It's not even up to the chassis level of a Volkswagen Golf, at about ten grand less we don't expect it to be. What it does offer is interesting styling, a roomy interior, a good safety rating, economical operation and a giant hatch that swallows a lot more than you would think, all with a price as tested of $17,605. As a first car, second car or kid car, it's really not a sour note at all.