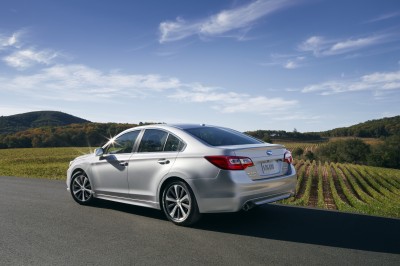 The parents of my high school best friend were the first people I ever knew to own a Subaru. After years of Chevrolets and Dodges, they defected to Mazda and Subaru, in their case a first-generation Legacy. My father was a GM employee, so our driveway held a steady stream of Chevys. The Subaru was uniquely-styled, all-wheel-drive, and just a little left of normal. It was the car for people who would have bought a Camry or Accord, but were just too cool for that. Much is still true as Subaru polishes its Legacy for 2015.
While never ugly, Legacy has not exactly been fashionable either. Styling has been focused on consistency over time to enhance the car's legendary longevity rather than exciting the masses. That's true of this model too, but designers gave it a big aggressive grille, piercing headlamps, and a coupelike profile. A wide stance on 18" alloys connects it to the rally-ready WRX while the rear profile is enhanced with dual exhaust outlets and angular wrap-around taillamps. The design will not offend anybody, but is aggressive enough to get noticed. I just wish they gave it a little more of that cool WRX look.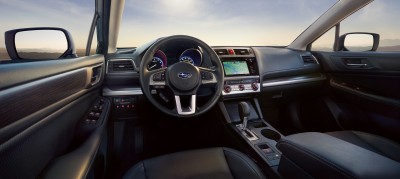 Luxury touches freshen the interior. Limited models have a new glassy touchscreen to control audio and navigation, but leave redundant knobs for volume and radio tuning. Awesome. A strip of silver buttons and knobs below automatically control the climate. Thoughtful touches include adjustable rear air vents, deep cupholders, cubbies in the lower dash and doors, and a thick leather-wrapped sport steering wheel. Heated front/rear leather seats, power sunroof, backup camera, and 576-watt harman/kardon audio system kick it. Safety is enhanced by Blind Spot Detection, Lane Change Assist, and Rear Cross Traffic Alert systems.
Check out the powertrain and you know some super cool engineers were involved. Instead of the typical inline four-cylinder engine, Subaru uses a 2.5-liter horizontally-opposed "Boxer" four-cylinder that delivers 175 horsepower and 174 lb.-ft. of torque. Porsche uses the same engine configuration – mainly because it keeps weight low in the chassis for improved handling. However, Porsche would never use the continuously variable transmission that is great for efficiency, but sometimes buzzes like a Piper Cub heading skyward. Active grille shutters help the car achieve 26/36-MPG city/hwy.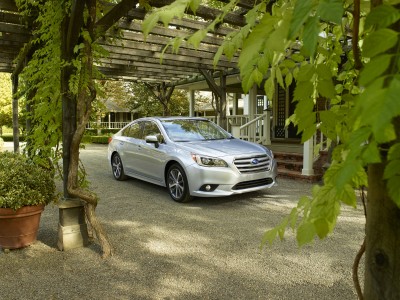 Other mid-size sedans achieve at least as impressive MPGs, but none do it while making all-wheel-drive standard. Subaru's torque-vectoring AWD is incredibly well-engineered, whether attacking tight two-lane twisties or busting through a foot of snow during the morning commute. Combine that with a chassis and steering that feel light and precise and you have a family-sized sedan like no other. Drive over any rough road you can find and nothing even thinks about squeaking, creaking or rattling. You constantly get the sense that engineers knew they couldn't just meet the competition – they had to do better.
I like the all-new Legacy. I also like the fact that it's built by a company that supports the LGBT community and environmental causes. It's not a joke — it's part of the company's core values. I'm also very proud that the Legacy is built 45 minutes from my house, in Lafayette, Indiana. A great car, from a responsible company, and built by thousands of American workers. My friend's parents would love it.
An as-tested price of $29,785 puts our loaded test car against the Honda Accord Sport, Toyota Camry, Nissan Altima, Chevy Malibu, Ford Fusion, Kia Optima, Hyundai Sonata, Mazda6, and Chrysler 200.
Storm Forward!
Send questions and comments to Casey at [email protected].
2015 Subaru Legacy 2.5i Limited
Five-passenger, AWD Sedan
Powertrain: 175hp 2.5-liter Boxer H4, CVT
Suspension f/r: Ind/Ind
Wheels: 18"/18" f/r
Brakes: disc/disc fr/rr
Must-have features: Handling, Style
Fuel economy: 26/36 mpg city/hwy
Assembly: Lafayette, IN
Base/as-tested price: $21,695/29,785