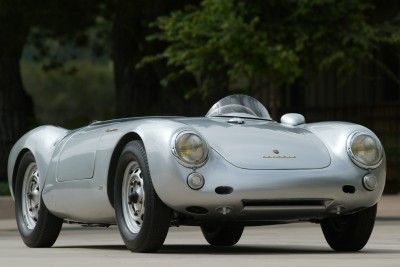 (Ed. note: In case you missed it, Porsche is now an LGBT-friendly automaker.)
When most people think of Porsche, they imagine the iconic 911.  Like the 356 before it, the car's rear-engine design allows for a unique shape — and um, "unique" driving dynamics.  Peel back a layer and you realize Porsche's greatest cars were mid-engine for balanced handing.  James Dean's Spyder comes to mind, as does the Carrera GT and today's 918 hybrid supercar.  Or, the Cayman S.
Compared to the 911, the Cayman is light and tight.  Where a 911 has begun to look unflatteringly middle-age, the Cayman retains sleek Porsche style.  Its familiar Beetle profile is stretched tautly over a longer wheelbase and 19" wheels with red calipers behind.  You can stare at the sexy curves for days.
Squint and you might realize the windshield is further forward and the roofline extends further rearward.  Recesses in the doors channel air to the engine.  LED lamps in the rear finish with modern touches.  A rear spoiler rises at speed to keep that rounded rump firmly planted.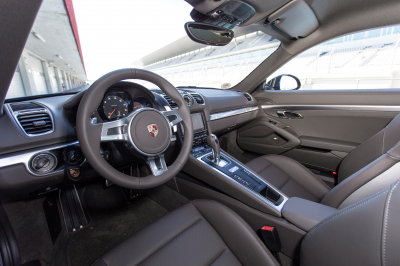 Inside, it's the right balance of classic proportions with the latest technology.  You can choose an endless array of colors, but I'd be fine with the brown leather in our car.  Every bit comes from pampered cows – whether on the dash, doors, steering wheel, or heated and cooled multi-adjustable sport seats.  The center console has a flybridge design, taken from the Panamera sedan.  A big center tachometer and three-spoke steering wheel keep up tradition – even if the tach is flanked by a multi-function display for the audio, vehicle computer, or navigation.  By all means, get the Burmester audio system.  Sweet singing cherubs!  Adaptive cruise control is optional.
Porsche backs up classic styling with mid-engine mischief.
Our Cayman S harbors a 3.4-liter flat-six with 325 horsepower.  Match it with a six speed manual transmission and you'll enjoy clicking it through its gates while trouncing naught to sixty in 4.7s and seeing 175 mph.  Start/stop technology saves gas, but is annoying, so I punched that shit off immediately. Fuel economy is rated a most reasonable 20/28-MPG city/hwy.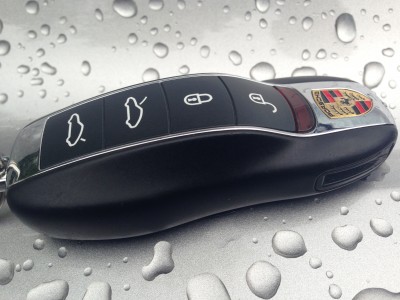 Driving a Porsche is unique.  I'm known for loving Corvettes, especially the new Stingray.  But, if a car could tempt me to commit vehicular adultery, it's the Cayman.  Steering is firm, but precise, able to be dialed as if by thought.  Move your right hand down and the shifter is perfectly located.  Gears are engaged with a firm clutch and mechanical feedback.  It's a machine, one that loves to be throttled so you can hear the engine singing in your ears.  It never feels fragile, encouraging you to romp it harder.
When you do, the adjustable active suspension system is ready to play.  Leave it in "Normal" for a compliant ride that tames rough city pavement expanse of highway.  Click into "Sport" to tense the suspension when storming tracks and backroads.  Although Caymans are rear-drive, a torque-vectoring system uses brake pressure applied to the inside rear wheel to tighten cornering.  Larger front brakes from the 911 Carrera bring this party to a brain-smashing close.
If there is a downside to the Cayman it relates to its upside.  Mid-engine cars handle well, but the engine sucks up all the luggage space.  Leave the wardrobe at home, you queen.  If you need to take a larger suitcase to the airport or the beach house, it likely won't fit in the storage bins under the "hood" in front or in the "trunk" at the rear.  You'll likely have it as passengers.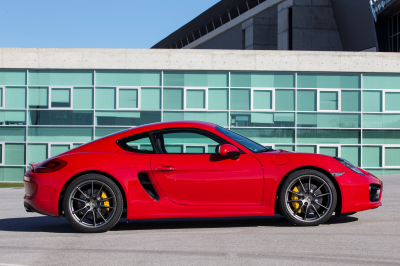 The Cayman S sprints, but it is not a muscle hunk.  It is a lightweight, well-balanced sports car that gives its joy in the finer points of driving and less through brute force.  It's also classically beautiful, reasonably comfortable, and will turn heads.  An as-tested price of $89,915 may turn more than your head.  Competitors include the Corvette Stingray, Nissan 370Z, Mercedes SLK, Jaguar F-Type, BMW Z4, Audi TT, and upcoming Alfa Romeo 4C.
Storm Forward!
2014 Porsche Cayman S
Two-passenger, RWD Coupe
Powertrain: 325hp 3.4-liter H6, 6-spd manual trans
Suspension f/r: Electronic Ind/Ind
Wheels: 19"/19" painted alloy f/r
Brakes: disc/disc fr/rr
0-60 mph: 4.7s
Top speed: 175 mph
Must-have features: Style, Performance
Fuel economy: 20/28 mpg city/hwy
Assembly: Osnabrueck, Germany
Base/as-tested price: $63,800/89,915