Tab Hunter, now-out movie star and recording artist, purchased a 1957 Mercedes 220S Convertible in December 1956 against the better advice of his manager, Dick Clayton.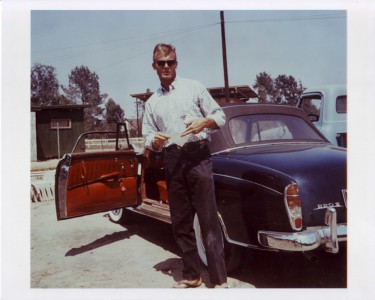 "I bought the Mercedes at the L.A. Auto Show and paid $6,000 — a lot of money back then," said Hunter.  "It was black with a red leather interior.  I picked it up at the factory in Stuttgart, Germany with Dick Clayton and drove it to Rome and the South of France for a month and a half.  I really should have kept that car.  It was nice."
When I interviewed Hunter in 2010, I had just driven the new Mercedes E-Class Cabrio at its preview outside of Knoxville, Tennessee.  It was easy to imagine Hunter buying one.  Any Mercedes convertible is special, but the bigger drop-tops have movie star presence.  Four years later, the E550 cabrio is even more glamorous.
There's something romantic about a thickly-insulated canvas top.  Our E550's is tautly fitted and stitched in brown.  It looks beautiful sitting atop a body painted Obsidian Black (dark metallic brown).  Accentuated rear flanks reference Hunter's 220S.
Facias were recently re-styled – the fronts with swoopy light tubes and LED headlamps; the rear with wrap-around LEDs.  Four distinct headlamps and horizontal taillights give the car a distinctively Mercedes look, but one that is wholly modern.  Aggressive ground affects and 18" AMG alloys complete the ensemble.
Hunter said he almost wrecked his 220S on Sunset Blvd. when he first heard his #1 song, Young Love, on the radio.  I enjoyed that song, delivered via Bluetooth though the E550's crisp harman/kardon audio system.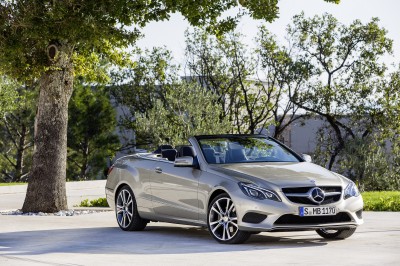 The rest of the interior is enjoyable too.  Black Ash wood trim, brown leather seats and wood-and-leather-wrapped steering wheel reek of craftsmanship.  The large center speedometer with flanking auxiliary gauges is traditional Mercedes, but E550 gauges are ivory colored and feature a large display in the speedometer center.  Mercedes' console joywheel controls navigation, audio, and vehicle computer.
Safety is enhanced by blind spot, forward collision, and lane departure warning systems.  Reinforced rear headrests pop up during roll-overs.
Billed as an all-season convertible, the E550 has a couple of neat tricks.  Besides the one-button top deployment, it has a windshield header spoiler that deploys at speeds over 25 mph to divert air over the cabin.  A wind deflector between the rear headrests rises when it detects rear occupants.  All of this virtually eliminates turbulence inside.  On cold days, turn on the heated seats and "AIRSCARF" for that ski lodge hot tub affect.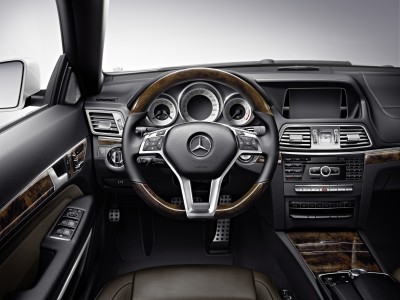 A chipper chap of any era would understand the E550's 4.6-liter bi-turbo V8 engine that spins out 402 horsepower and 443 lb.-ft. of torque.  Blitz off 0-60 mph in a scant 4.9 seconds.  All-wheel-drive is available on V6-powered E350 models, but E550s turns only rear wheels.  A paddle-shifted 7-speed automatic transmission and Eco/Sport/Manual modes gets it there without delay.  Fuel economy is rated 17/26-MPG city/hwy.
Driving the car is special.  An advanced suspension system can be adjusted for Sport and Comfort, the later giving the car a heavy float that feels very traditional Mercedes.  Set it to Sport if BMWs are in your sights.  There's a little cowl shake, but nothing unusual for a four-seat convertible.
It's easy to imagine a young, handsome actor choosing the E550.  It challenges American muscle, but its throaty exhaust conveys dignity.  Hues of brown are quite stylish.  With Mercedes, there's always a visual and visceral connection to earlier models while advancing the standard.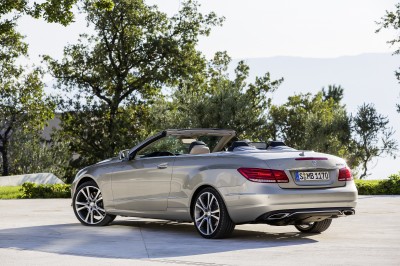 With an as-tested price of $82,335, the E550 is considerably more expensive than what Hunter paid for his 220S, but compares favorably to the BMW 4-Series/6-Series, Audi S5, and Infiniti Q60 convertibles.
Storm Forward!
2014 Mercedes-Benz E550 Convertible
Four-passenger, RWD Cabrio
Powertrain: 402hp 4.6-liter Turbo-V8, 7-spd auto trans
Suspension f/r: Ind/Ind
Wheels: 18"/18" alloy f/r
Brakes: disc/disc fr/rr
Must-have features: Style, Power
0-60 mph:  4.9s
Fuel economy: 17/26 mpg city/hwy
Base/as-tested price: $60,200/82,335