Lorde may never be royal, but she'd ride the vibe in a Range Rover Long Wheelbase.  It's a Texas-sized speed wagon that's a favorite of the British Royal Family, Saudi princes, and moderately-wealthy Americans.  It rides like a limousine and climbs like a Jeep – a luxury car that, unlike your boyfriend, makes no excuses.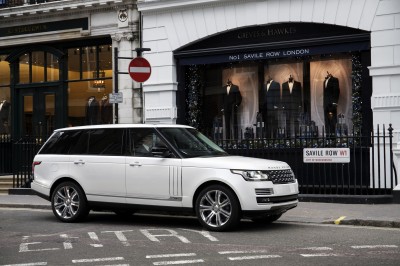 I've seen photos of QEII driving her personal Range Rover, but she'd be as comfortable in the back of our LWB as Her Majesty's hand-built Bentley.  Big leather thrones accompany a dancefloor's legroom.  Heated and cooled rear seats, power-adjustable, put occupants in front of personal video screens and under a panoramic sunroof.  The truly royal will opt up for the Autobiography edition and ride in Barco loungers separated by a full-length Madagascar-veneer console.  Power up the rear window shades to make the peasants go poof.
Riding up front is also uplifting.  Returning to the Range Rover after a couple of hours at a hot outdoor car show, my friend and I flipped on seat ventilators and massagers before dialing in our individual climates.  We were so glad we didn't have to suffer in some common SUV – you know, something like a BMW X5, Mercedes M-Class, or Chevy Tahoe.  Oh, the misery.  Beautifully-stitched leather, pillowed headrests, Walnut veneer, and stellar Meridian audio keeps you as comfortable as forward collision alert, adaptive cruise control, and lane departure warning systems keep you safe.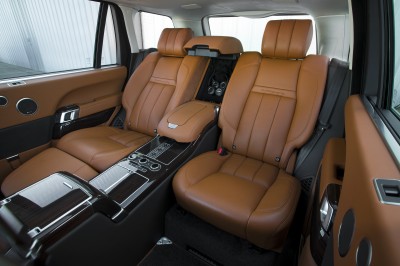 It's easy to forget you're riding in a very full-size SUV until you view the exterior.  It looks like every Range Rover before, but its aluminum-intensive body is more streamlined with rounded corners and flush glass to improve fuel economy and hush wind noise.  Only when you see the long rear doors do you realize somebody more important than the mayor may be riding inside.  Put it all over 22" wheels for that stately bulldozer style.
Running at some unmentionable speed, I stomped my foot into the carpet as the front end rose and the 5.0-liter supercharged V8 delivered 510 horsepower and 461 lb.-ft. of torque.  It all went to the full-time four-wheel-drive system through a paddle-shifted eight-speed automatic transmission.
It doesn't matter if you're hot-footing it across Arabian desert or just getting home from Key West in a wisp, it's giddy wonder experiencing a 5,000-lb. SUV scoot from 0-60 mph in 5.5s on to a top speed of 155 mph.  Gas mileage is a disgusting 14/19-MPG city/hwy, but all that power comes in handy should you have to out-run angry villagers or put a rogue Cadillac SRX in its place.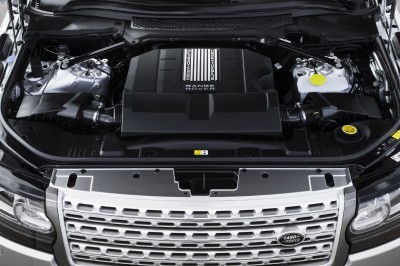 Apparently, all of the stomping speed caught a flock of birds off guard as the windshield chunked one into the underbrush an hour from home.  Ouch!  Fortunately, no squirrels or pet puppies were offed in the making of this story.
As smooth as the self-leveling air suspension works, you forget it can be adjusted to kneel for entry, ride in a normal height, or rise up to ford nearly 3 ft. of water.  Unlike a Bentley, it makes nursery rhymes of snow drifts and flooding creek beds.
Equally at home hauling tail across Dubai or crawling across British estates, the Range Rover LWB is also pretty handy for shopping on Rodeo drive and whisking surfboards to the beach.  If you choose to be driven, climb into the back, recline, and snooze as if you're flying a Gulfstream over the Pacific.  Either there, or throttling the big 'ol gal from behind the wheel, there's no trip to long.  Ask any queen!
An as-tested price of $122,915 puts our test vehicle against the Cadillac Escalade, Mercedes-Benz GL, and Lincoln Navigator.
Storm Forward!
Land Rover Range Rover LWB
Five-passenger, AWD SUV.
Powertrain:  510-HP Supercharged 5.0-litre V8, 8-spd auto trans.
Suspension f/r:  Adjustable Ind./Ind.
Wheels:  22"/22" f/r.
Brakes:  disc/disc fr/rr.
Must-have features:  Comfort, capability.
Manufacturing:  United Kingdom.
0-60 mph:  5.5s
Top speed:  155 mph
Fuel economy:  14/19-MPG city/hwy.
Base/As-tested price:  $84,225/$122,915.