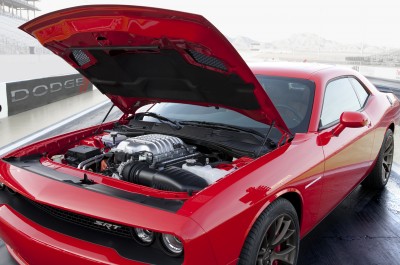 Unholy, ungodly, demonic, slithering serpent of evil, what hath though wrought?  Stalking somewhere between Heaven and Hades, the Dodge Challenger SRT Hellcat is the muscle car to usurp the natural order of muscle cars.  Sure, I'm a fan of the Camaro ZL1 and anything Shelby, but this is different.  Forget anything your daddy told you; it's simply the most sinister muscle car ever factory-delivered straight to a dealership.
The numbers make grown men cackle.  Challenger SRT Hellcat will run 0-60 mph in 3 seconds, click the quarter-mile in 10.8s, and reach nearly 200 mph.  Fully throttled, it burns 1.5 gallons of gasoline per minute.  Those numbers suck wind from lungs and make stomachs cramp even before the engine is revealed.
Under the Charger SRT's flat black sneering hood is a supercharged 6.2-liter HEMI V8 producing 707 horsepower and 650 lb.-ft. of torque.  I have no idea from which of Dante's levels that much power rises, but I'll not tempt the devil.  God is great.  Pray for redemption.  A "valet" keyfob limits power to "just 500 horsepower."  Don't wake me from this nightmare.  Step into the power and dreams colorize as the twin exhausts wail like an alien emerging from Satan's gut.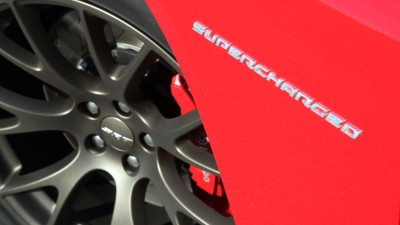 Hard core enthusiasts might go for the six-speed manual transmission, but I'm a fan of the new eight-speed TorqueFlite paddle-shifted automatic.  Here's why:  Supercars are great, but only if they can be enjoyed.  The automatic is quick, enables a reasonable 13/22-MPG city/hwy, and works with the electronic throttle to give drivers split personalities of docile cruising normally and fiery performance when desired.
Unlike in the old days, this beast has handling to back up the power.  Press the SRT button in the console to access the touchscreen and Bilstein's three-mode system that adjusts the suspension, traction control, and transmission.  Select Default, Sport, Track, or Valet mode to transform the car from easy cruiser to weekend track star.  I'd recommend using the Launch Control button to get off the line cleanly.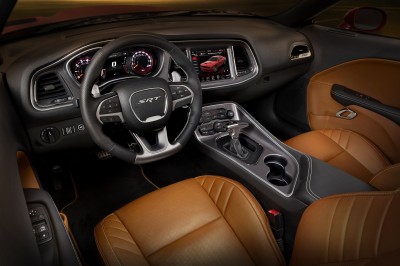 If the Hellcat was just about smoking 20" Pirelli P-Zeros, it would earn legend.  But, it is also a very nice car to drive day-to-day.  Two passengers fit better than four, but four can travel long distances with luggage stowed in a roomy trunk.  Fold down the rear seats for longer items.
Up front, Hellcats receive the same redesigned, driver-centric dashboard as other Challengers with Chrysler's UConnect infotainment system above and redundant knobs for easy adjustment of audio and climate beneath.  The faux aluminum look is cool.  USB ports and Bluetooth calling/audio come standard.  Big heated Nappa leather and suede seats are all-day comfortable.  Crank up the harman/kardon audio and you can almost hear its lovely sound over the exhaust at full throttle.
I expected the Hellcat to be borderline undrivable and an absolute chore in traffic.  It's none of that.  The magnificence in what SRT created is not just the obnoxious amounts of horsepower, but the way it feels refined on the highway, is not overly-stiff over rough pavement, and can deliver surprising gas mileage.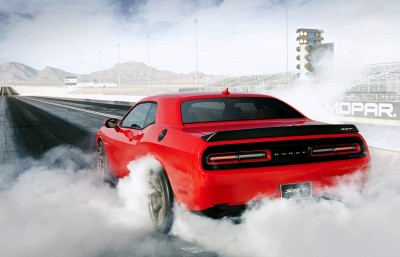 The car is big and heavy, but not difficult to drive.  I drove over five hours on Interstate and back roads with my daughter onboard.  It got a little squirrely when I tromped the throttle to pass a semi on a two-lane road, and she didn't appreciate the loud noise, but was otherwise behaved.  And, I taught a couple of pesky bumper huggers severe lessons about horsepower, but that's a tale for another time.  Let's just say it's pitilessly fast.
Nobody needs 707 horsepower.  But, isn't it glorious that you can get it?  Hellcats are about unadulterated want!  Since perhaps the Duesenberg SJ, no American car has better mastered the line between road and track.  It makes a base price of $59,995, or $65,070 as-tested, seem like just another sin requiring repentance.
Storm Forward!
Send questions and comments to Casey at [email protected].
2015 Dodge Challenger SRT Hellcat
Five-passenger, RWD Coupe
Powertrain: 707hp 6.2-liter supercharged V8, 8-spd auto trans.
Suspension f/r: Electronic  Ind/Ind
Wheels: 20"/20" f/r
Brakes: Brembo disc/disc fr/rr
Must-have features: Style, Performance
0-60 mph: 3s
Top speed:  199 mph
Quarter-mile:  10.8s
Fuel economy: 13/22 mpg city/hwy
Assembly: Brampton, ON
Base/as-tested price: $59,995/65,070